The Great Cloth Diaper Change Albuquerque
Albuquerque, NM
Bummer! Sales have ended.
Unfortunately, tickets for this event are no longer on sale.
Event Details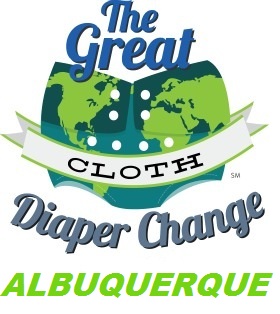 It's that time of year again!! The Great Cloth Diaper Change 2013 will be on April 20 at 10am! (Change will take place at 11am)
Come out to support and bring awareness to cloth diapers in New Mexico and beyond!
Arrive at 10am to register. The change takes place PROMPTLY at 11:00am. Bring a changing mat or blanket. As per Guinness regulations, babies MUST be shorter than 39". Each baby may only be accompanied by 1 adult in the changing area. No additional persons may be in the changing area with them unless they are changing a baby themselves. 1 adult, 1 baby. No exceptions. Others may mingle and observe outside the roped off changing area. There will be snacks and adults to supervise children outside the changing area if need be. 
The first 25 to arrive will receive a gift bag of goodies FREE!! Our raffle will be $1 per ticket, NO LIMIT on how many tickets you can purchase! The more tickets, the better your chances! Just ask the mama's who won multiple prizes last year! Don't want to pay?? Bring any clean, gently used cloth diaper for donation and receive 2 raffle tickets! Raffle proceeds and donations will go to the Real Diaper Association. Diaper donations will go to Giving Diapers Giving Hope.
Don't cloth diaper? Don't have a baby yet? Come anyway!! We will have a Cloth Education Station to answer ANY and EVERY question you may have about cloth diapering! Come see how easy these things are to use and gain hands on experience! There will also be local cloth/baby product/service vendors!


Please contact melissa@lovelypocketdiapers.com with any questions. We look forward to seeing you there!!