THE GOOD NEWS TALENT SEACH ATLANTA GA.

Saturday, June 28, 2014 from 10:00 AM to 12:00 PM (EDT)
Who's Going
Loading your connections...
3 of your friends are going.
Share it to get more people on board!
Share
Sara Haughty
San Francisco, California

Luke Picard
London, United Kingdom

Rick Vespucio
Florence, Italy
Event Details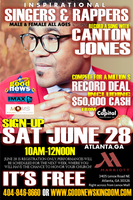 You must attend in-person to register in order to enter the contest. If you cannot make it, you must send someone on your behalf.
If your city is not listed, then pre-register. You will receive an email/phone call when a registration becomes available in your area.  For more info on registration call our office at 404.946.8660

Atlanta. GA - Saturday June 28, 2014  Marriott Buckhead Hotel & Conference Center 3405 Lenox Road NE, Atlanta, Georgia 30326  10am-12noon
YOUR REFERRAL NAME IS
BARBARA GOUDELOCK
 FOR TALENT RECRUITER
The Good News Talent Search
A talent contest for singers and rappers of all ages. The winner will record a song with Christian artist Canton Jones & showcase their talent during the New Years Celebrity Extravaganza in Atlanta GA. Inspirational & positive music only!
Frequently Asked Questions (F.A.Q.)

Last Updated: June 2, 2014 - Subject to further updates
What is 'The Good News'? 
'The Good News' is a talent competition & television show, where ordinary musicians compete for an opportunity to record with Christian artist Canton Jones & showcase their talent during the New Years Celebrity Extravaganza in Atlanta GA. Contestants will display their talent in multiple rounds locally and regionally until a winner is selected.
What type of music is allowed on 'The Good News'? 
The Good News was developed in order to provide a refreshing change to negativity and vulgarity of today music. Performers in this contest are allowed to express themselves through all music genres and religious backgrounds, however, profanity and sexually explicit material is strictly prohibited. The goal is to provide positive inspiration and ignite change in society through music. 'The Good News' is a family oriented program for performers and spectators of all ages. 
What type of talent are you looking for? 
Primarily we are looking for Singers & Rappers. Inspirational & positive music only! 
Are bands allowed? 
Due to time constraints, we will not be able to accommodate bands during the auditions. If you are in a band, then the lead vocalist(s) can enter the competition as a solo artist or a group (if there are multiple vocalists) If you play in instrument in a band, you can enter the competition as a solo instrument player. Your instrument, must be able to play on it's own, without being plugged into a power supply or sound system.
What is final prize for the winner? 
Record with Christian artist Canton Jones & showcase your talent during the New Years Celebrity Extravaganza in Atlanta GA. The winner will also compete for a Million Dollar Record Deal with
Capital Production Group
, including $50,000 cash.
What TV network will the The Good News air? 
IMAX TV
What are the cities this competition is traveling to? 
The Celebrity Status will visit over 50 cities throughout the filming of this project. (Large cities and small cities) 
Click here
 for registration cities and locations. 
(Locations are subject to change, additional cities may also be added)
How do I sign up in advance? 
You can pre-register 
here
. If there are no dates/times listed for your city, you will be contacted when a registration comes to your town or nearby. You can also register directly with a job candidate for
IMAX TV
. Even if you pre-register in advance, you will still need to register in person. If needed, someone may come on your behalf.
Is there any cost to register? 
No, registration is free.
What should I bring to the registration?
Musicians:
 If interested, bring a copy of your music to submit for the Good News Celebrity Mixtape.  This can also expedite your registration process. The mixtape submission slot is $60.00 for a guaranteed slot on the Good News Celebrity Mixtape. This is optional, NOT required. For more information on music submission fees contact our offices at 404.946.8660 Once again, bringing music is optional for registration since there will be no performing. Only sign-ups. 
There is no refund on reserving a mixtape slot. All sales are final.
How should I dress for registration? No requirements
How long is the registration process? The entire process should be about 10 minutes. (not including wait-in-line time) There is no performance on registration day.
If i pre-register online, do I need to register in person? Yes all artists must register in person in order to be scheduled for a performance the following week. The producers do not schedule performances online. The purpose of online pre-registration is to input your contact information in the system, so that you do not have to fill out a handwritten registration form.
If I cannot make the registration, can someone come on my behalf? Yes. Just make sure the person that registers for you picks up the instructions manual and delivers in to you in a timely manner.
Will everyone in line have the opportunity to register?  Yes
When will I know about the actual performances?  All contestants will receive an instructions manual once they have registered in person. 
If I am not selected, can I try again in the next city?  You are welcome to keep trying in multiple cities if you happen to not be selected in the first city; however, you should be aware that the process and the number of contestants in each city may be different.  
 If I have a manager for anything entertainment-related or a contract for my performing services, can I still participate? If requested, you MUST be able to demonstrate to the satisfaction of the Producer at that time that you do not have any of the following agreements in effect (written or oral):
A major music recording contract;
an agreement relating to the use of your name, voice and/or likeness;
an exclusive acting contract; and/or
any other contractual arrangement that, in Producer's sole discretion, would prohibit you from fully participating as a contestant and/or entering into any contracts required by Producer, including an exclusive management contract, recording contract and merchandising contract.
How many rounds are there?
There are a total of 3 rounds: 1)    Local 2)    Regional 3)    National
How does each round work?
During the local round, you will perform in front of a live audience.  You will be scored based on the judges and the audience. You will receive more details in your Instructions Manual. Information for the second and third rounds are confidential and will provided if you advance to that level.
Can i bring a camera to take pictures and/or record?
Cameras (video and still), audio recorders, and recording devices of any kind are strictly prohibited at any time.
Are you hiring? 
If you are looking for a job or internship, visit
IMAX TV
.
How can other foundations & businesses get involved? 
If you have a business, an internet radio station, a magazine, or any kind of media outlet or company we are looking for you! We offer partnerships and barter agreements to benefit your organization as well as ours. To find out how can receive free nationwide marketing for your company call 404.946.8660.
Who can I contact if I need more information or questions answered? 
You may call our offices at 404.946.8660.  
Eligibility:
You are in-eligible if you already have a major recording contract. You are also ineligible if you made it to the top 30 contestants of any major TV network casting such as "America Idol: The Search for a Superstar." Employees, shareholders, officers, directors, agents, representatives, and their immediate family members and those living in the same household of THE GOOD NEWS, participating television stations, advertising agencies, corporate sponsors or any person or entity connected with the production, administration or judging of the auditions, or any of their respective parent companies, affiliates, subsidiaries, agents or representatives are not eligible.  As long as you are eligible, you will be granted an equal opportunity to participate.
NO PURCHASE OR PAYMENT NECESSARY TO ENTER OR WIN.
General Conditions:
By participating, entrants agree to be bound by these rules and the decisions of the producers, the voting audience, and the panel of judges, which shall be final and binding. We reserve the right to use the auditioning process for publicity and other purposes, and to use the name and likeness of those who audition and who arrive to audition, including friends, family or any other individual accompanying the participant, as part of that publicity and for other purposes, without compensation unless prohibited by law. All federal, state and local laws apply. Dates are subject to change. THE GOOD NEWS, the production personnel, participating television stations, advertising agencies or any person or entity connected with the production, administration or judging of the auditions or the program, or any of their respective parent companies, affiliates, subsidiaries, agents or representatives are not responsible for and shall not be liable for: (i) any failure of transportation, bad directions, or inability for any reason to appear at an audition site or audition or appear before the judging panels; (ii) any injuries, losses or damages of any kind caused by participating in the process or being selected to or disqualified from continuing in the auditioning process and/or the show; or (iii) any printing, typographical or technological errors in any materials associated with the auditioning process.
Disqualifications:
NO WEAPONS, ALCOHOL OR NON-PRESCRIPTION CONTROLLED SUBSTANCES WILL BE PERMITTED AT ANY EVENT, AT ANY POINT, DURING THE COMPETITION.
We reserve the right to disqualify and/or exclude, in our sole and absolute discretion, any individual or contestant from any of the auditions for any reason, including without limitation, violation of any portion of these rules, or tampering with the entry process or the audition process. We also reserve the right to make modifications to the rules and procedures at any time. Being chosen to audition and/or compete at any level in the process does NOT ensure that you will be selected to continue to the next round.
When & Where

Atlanta Marriott Buckhead Hotel & Conference Center
3405 Lenox Rd NE
ACROSS FORM THE LENOX MALL
Atlanta, GA 30326


Saturday, June 28, 2014 from 10:00 AM to 12:00 PM (EDT)
Add to my calendar
Organizer
Savory Taste LLC.
Savory Tastes is a mobile culinary and wine promotional event extravaganza!  We love great food and great wine topped of with interesting people .  We offer a new and exciting event everytime bridging the gap between newbies and connoisseurs. Our events are designed to celebrate food , wine  and education throughout the Atlanta Metro area. Making it available to everyone wanting to indulge in the culinary arts and watch our featured chefs whip up their favorite dish live.
We bring foodies and wine lovers together in one environment, in a space where wine perveyors and chefs or resturants can showcase their finest wines or latest cuisines in an effort to suppliment their current marketing efforts.