The FLOW Returns featuring Councilwoman Cindy Bass
Philadelphia, United States
Bummer! Sales have ended.
Unfortunately, tickets for this event are no longer on sale.
Event Details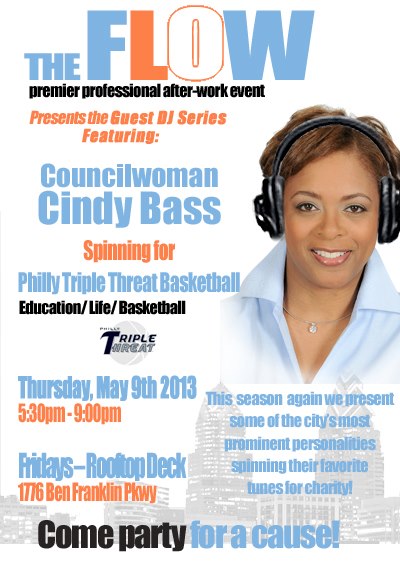 The FLOW is back for another great season!
As with last season, we are presenting some of the City's most prominent personalities spinning their favorite tunes for their favorite causes. The first FLOW of the season kicks off with:
Councilwoman
CINDY BASS
spinning for
TRIPLE THREAT FOUNDATION
Education / Life / Basketball
http://www.triplethreatphilly.com/
Triple Threat Foundation was formulated in August 2007 as a partnership between principle owners Eric Worley, Shawn Gee and Carnell Groomes. Due to the many obstacles and challenges facing today's youth, the above mentioned men decided to collaborate and form Triple Threat Foundation.
Triple Threat Foundation is committed to serving youth in and around the Philadelphia area in three distinct arenas; Education, Athletics, and Life. Educationally, members of the foundation will receive the necessary academic support to assure success in the classroom. Athletically, members of the foundation will compete on a well organized basketball team and be involved in other basketball related activities.
FLOW is hosted by:
Joe Meade, William Carter IV, Loree Jones, Tumar Alexander, Monica Burch, John Hawkins and Kafi Lindsay
Come out and enjoy a good time for a great cause!