The Difference TV - Studio Taping with Cynthia Ulrich Tobias
San Antonio, TX
The Difference - Cynthia Tobias
Hang On! You're currently in line...
Don't leave or refresh, you may lose your spot!
Event Details
The Difference TV wants to invite you to be a part of the next studio taping with our special guest, Cynthia Ulrich Tobias.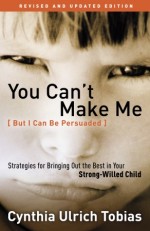 Cynthia Ulrich Tobias is the author of, You Can't Make Me: Strategies for Bringing Out the Best in Your Strong Willed Child. 
In this book Tobias helps the reader discover how to channel that passion and determination in positive ways as you build a healthy relationship. Through insights gained from strong-willed people of all ages, you'll…
·         better understand how their minds really work.
·         discover positive ways to motivate your strong-willed child.
·         learn how to share control without compromising parental authority.
·         apply key tactics to survive a meltdown.
·         get practical tips for parents who disagree, blended families, and single parents.
 Seen on: CBN and Focus on the Family