The CatPaw Hookah Tip Giveaway AND Suga Birthday Bash
Atlanta, GA
Bummer! Sales have ended.
Unfortunately, tickets for this event are no longer on sale.
Event Details
pictures are always available at www.thecoloredlife.com   or www.shinehog.com
Complimentary Chrome & Gold CatPaw Hookah Tip Give A Way TONIGHT
&
BDay Bash For The Notorious SUGA
TONIGHT Thursday 
at HALO
December 5th
FREE ENTRY BEFORE 11PM
(doors open 9:50 pm for Scandal Viewing)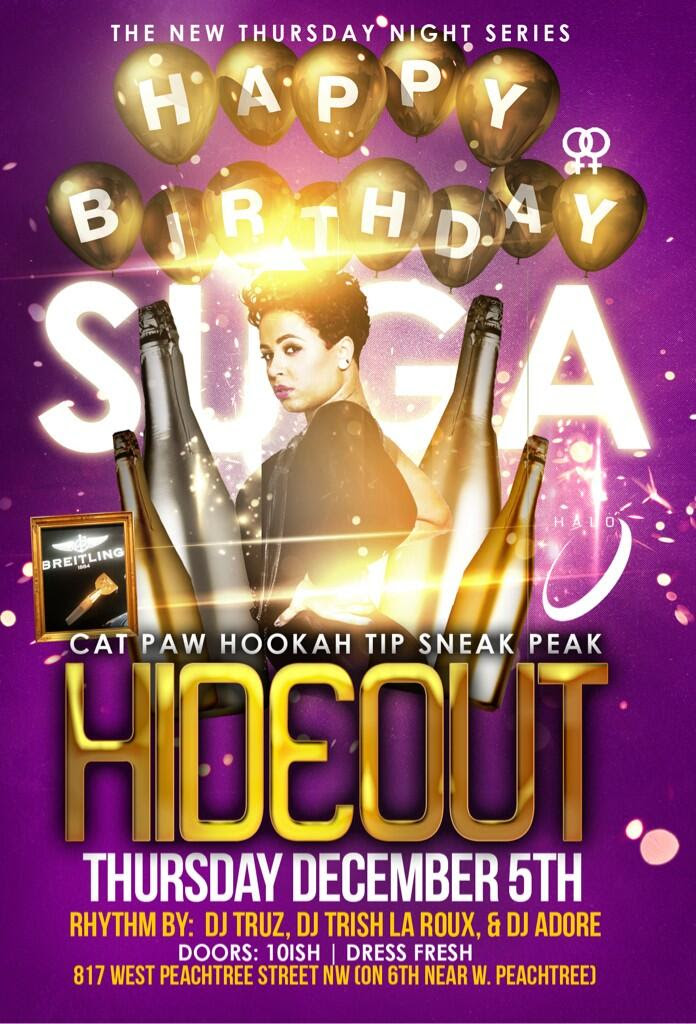 SHINEHOG.SMUGMUG.COM & THECOLOREDLIFE.COM
FOR PICTURES
Thursday At #HALO ALWAYs
Surprise GUESTS!
#Dress Code = Photoshoot FRESH
#Ryhthym=DJ Adore,DJ Truz,DJ Bombshell Boogie, DJ Trish Laroux, DJ Maestro
#Drinks=$5 Drinks Specials
The #HIDEOUT In REVIEW With
JACK HONEY & REMY V
for Hideout Photo Galleries
BAD CHICK CONTEST THEY IN FIRST PLACE!!
Our Favorite Bartender Pouring Up
Jack Honey!!
Celebrate Your BDAY or Special Occasion At the #HIDEOUT at #HALO
We Join The Ladies Every Thursday At Halo for the Hideout. Click the Above Pictures or Link For All Galleries From
The #HIDEOUT at #HALO
LADIES
MORE LADIES...
AND MORE LADIES...
PLUS LADIES!!!
VIP SECTIONS NOW AVAILABLE FOR SUNDAY AT BAR ONE
AND THURSDAY AT HALO.
FOR A COMPLIMENTARY SECTION AT BAR ONE CALL 678-698-2354 FOR HALO CALL 1-888-935-8729
JUICE BOX COMING FRIDAY DECEMBER 13th to MSR

 

 

 

The Return Of S-N-L and The Secret Party COMING SOON!!!

 

 

 

 

THE HIDEOUT at HALO

Doors 10:00 -3am

817 West Peachtree St

Thursday December 5th

 

 

 

Thursday Nights HIDEOUT at HALO Has Turned Into Atl's Premium Event For the LBGT Community....

 Make Sure You Come Enjoy This Fine Venue with Amazing Hookahs, Great Music and Hundreds of ATLs Trendsetting LGBT People. 

 

 

The #1 Dance Party in Atlanta GA is at MSR Every Friday

1271 Glenwood Ave

 

BDay Bash for Debbie aka BUBBA!!!

.....

Friday December 5th

SHINEHOG.COM & THECOLOREDLIFE.COM

FOR PICTURES

 

Friday Nights at MSR Have Become a Staple In Atlanta's Night Life for Women. Every Type Of Beautiful Woman In The City Comes Out On Friday Nights To Enjoy AMAZING Music, $7 Peach Margaritas, $7 Long Island Iced Tea, $3 PBR Beer & To Play Black Jack Against The Best! Banjee Girl Fridays is ATLs #1 Dance Party For LGBT Women.

 

 

 
REMINDER...
The Annual Red & Black Holiday Toy Party is this sunday at Bar one!!!
Please bring New Unwrapped Toys, Blankets and Jackets for the less fortunate. VIP Gift bags and open bar sponsored by VEEV
EVERY WEDNESDAY
Hip Hop Karoake
FREE ALL NIGHT
doors open 8pm at MSR
---------------------------------------------
NYE 2013 
Tuesday December 31st 
at 595 North