the Block Association Presents "Dear Summer" The Brunch To End Summer Of Brunches
New York, NY
Bummer! Sales have ended.
Unfortunately, tickets for this event are no longer on sale.
Event Details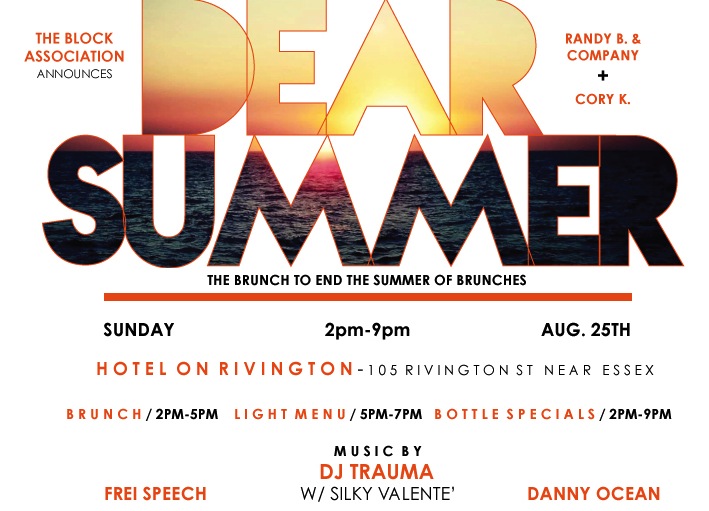 the Block Boys x Randy B x Cory K.
Present
"Dear Summer" The Brunch To End Summer Of Brunches
@ Hotel on Rivington 107 Rivington St (Off Essex St)
Music by DJ Trauma x Frei Speech x Danny Ocean Hosted by
the Talented Mr. Silky Valente
NO COVER (MEANS FREE) MANDATORY RSVP
www.blockdearsummer.eventbrite.com
Special Brunch Menu:
Prefix Brunch Menu w/2 drinks  $29.95 2pm -5pm.
and a limited lighter menu begins immediately after.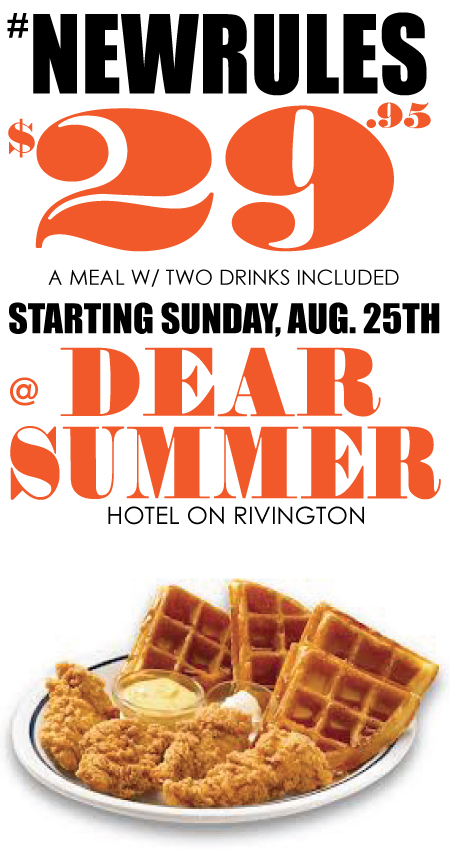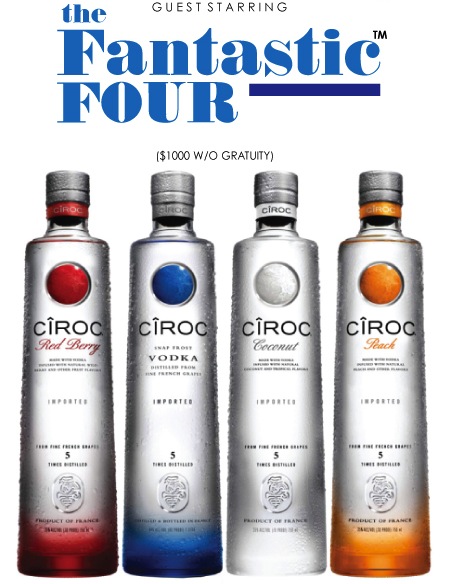 B'day parties , Bottle service and celebrations like wise are FREE to join us at this exclusive event, but plan NOW! and reach me at theBlockRSVP@gmail.com (PLEASE DO NOT RSVP THROUGH EMAIL IT WILL NOT BE HONERED)

$35.00 Pitcher of  Sangria
Bottle special prices are honored the entirety of the event.
DRESS CODE ENFORCED!
PLEASE REMEMBER THAT THERE ARE 
NO FLIP FLOPS, NO SHORTS,NO HATS, T-SHIRTS (V-NECKS ALLOWED) , ATHLETIC WEAR, or BOOTS ALLOWED!
SUGGESTED DRESS ATTIRE: 
LADIES:  Mature Sumer Attire
GENTS: (Pay Close Attention): Tailored jeans, polo shirts, classic colored button down shirts, Argyle shirts/sweaters, V-neck t-shirts w/summer blazers, printed pants, classic white sneakers, lofters, driving moccasins, Madras pants/shirts, plaid attire as well.
the Block Association asks that you to "spread the love." If you plan to attend and during your attendance decide to Instagram, Tweet, etc. here are some helpful aids to do so.
HASHTAGS:
#theBlockBoys #DearSummer #theBlkBagatelle #08252013 #LastSundayOfTheMonth

TWITTER & INSTAGRAM:
@theBlockAssociation
[WARNING - DISCLAIMER] - the Block Association is not responsible for whatever transpires during or after brunch, including but not limited to: incident damages, hearing impairment, broken heels, loss of memory, loss of girlfriend/boyfriend, lost keys, wallets, shirts, jobs, sleep or personal belongings, You are aware of the physical requirements of the activity in which you will partake in. Brunch At You Own Risk!]
FACEBOOK:  
Join the group here > "THE BLOCK" Facebook Group

Like us over here> "Friends by ASSOCIATION" -Facebook Like Page