The Art Of Raw Chocolatiering

Saturday, August 25, 2012 from 11:00 AM to 5:00 PM (EDT)

Royal Oak, MI
Who's Going
Loading your connections...
Event Details
The Art Of Raw Chocolatiering

*YAWN* Everybody's a raw food chocolate expert these days.
Well, the team at Heal Yourself Institute promises we've been in this business long enough to know that our upcoming guest chef & raw food educator, Miss Megan McMurray, owner of LA's premiere raw food dessert supplier Decadently Raw Confections and raw-vegan chocolate extraordinare cookbook author, can run circles around these self-proclaimed chocolate "masters!"

And by the way, the owner, Andrea McNinch, is truly a classically trained chef, who studied under one of only four master pastry in the world at the time, so we think we are a pretty good judge of who can throw down in the kitchen!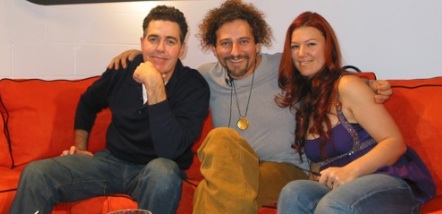 Pictured: Adam Carolla, David Wolfe, Megan McMurray

"If you want yourself some chocolate, these [truffles] will definitely do it, you will leave satisfied."
- Adam Carolla, radio personality, television host, comedian, and actor.
"Megan is a consummate raw food chef. She is a genius chef. I love decadent raw food, but I can't make it, I relay on her for that. She is a genius at that kind of stuff!"
- David Wolfe, world's leading authority on nutrition.
"Megan can THROW DOWN in the kitchen! But unlike all the other raw chocolate makers out there these days, Megan actually brings true nutrition into her craft."
- Andrea McNinch, nationally acclaimed nutritionist and raw food expert.
The Class
Join both Megan and the owner of both HYI & Regeneration Raw for the BEST EVER culinary + nutritional download you could have ever hoped for on raw chocolate! And the learning doesn't stop with chocolatiering! You will also learn how to make other decadent confections such as choco-covered pretzels, caramel, your own coconut butter and how to use a malanger! Plus, Andrea will deliver a full-on 30-minute lecture on the health benefits of raw chocolate, and Megan will also incorporate nutritional tid bits throughout class like the addition of superfoods into her tantalizing treats!
Class breakdown:

Fine Chocolate

White Chocolate

Superfood Chocolate

Chocolate Presentation Techniques: 1) layered chocolate 2) contrasting colored chocolates 3) lined chocolates 4) brushing chocolate across the mold technique

Molded Chocolates w/Assorted Filling:

demo will include

1) creating a chocolate shell 2) making fillings 3) filling mold 4) dipping fillings in chocolate

Melanger (will demo using a melanger)

Demo Making Coconut Butter


Demo Making Colored White Chocolate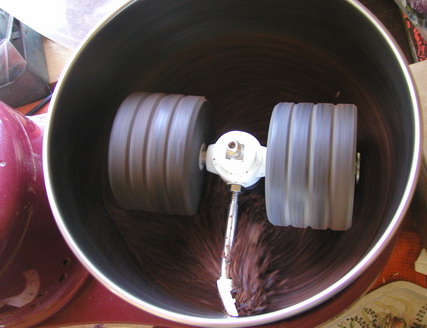 Truffles

Simple Solid Chocolate Truffles

White Chocolate Truffles Dipped in Superfood Chocolate

Superfood Chocolate Dipped Ganache Centered Truffles

Ganache Filled Chocolate Cups:

demo will include 1) decorative piping 2) layering 3) caramel
Confections
Superfood Dipped Chocolate Pretzels

Superfood Chocolate Turtles

Candy Bars: Snickers bar shown w/2 methods 1) Inside candy bar mold 2) dipping bar in chocolate
I am an organic, raw, vegan, dessert confectionista and chocolatier from Santa Monica, CA, certified as a raw food instructor at the Tree of Life. Essentially, I make healthy, nutritious, gluten-free "junk food." Anything you can think of... I can make a raw, vegan version.  My version tastes better than the original and are healthy, cruelty free and nutrient dense.

I have been eating raw for 7 years, gained training through my experience working at Planet Raw in Santa Monica and traveling the world visiting over 50 fine chocolate shops in over 10 different countries. I am self-taught through over 7 years of experimenting in my own kitchen and countless hours of reading classic chocolate and dessert books written by famous French chocolatiers. I am graduating with my Masters degree in raw vegan nutrition in July under Dr. Gabriel Cousens' instruction.

There are NO walk-ins! There is NO public entrance. Access is granted to class participants ONLY.  Full address (suite number) disclosure is given after registration.

When & Where


Heal Yourself Institute
100 West 5th Street


Royal Oak

,

MI

48067


Saturday, August 25, 2012 from 11:00 AM to 5:00 PM (EDT)
Add to my calendar
Organizer
Heal Yourself Institute
Heal Yourself Institute
There are NO walk-ins! We are NOT open to the public. Access is granted by appointment or class participation ONLY.  Full address (suite number) disclosure is given after registration or when your appointment has been booked. Thank you!
Better health isn't a science problem, but rather an information problem!
So GET INFORMED! Heal Yourself Institute (HYI) is Regeneration Raw's sister company and bases its core mission on the belief that EVERYbody has the infinite ability to heal if given the right tools and the knowledge of how to properly use them.
Simple 3 Steps:
1. Stop relying on others!
2. Get informed!
3. Heal yourself!
Once you figure out the tools that work with your body you are then able to reclaim your power on ALL levels by first learning who you are/how you function, then tapping into what you already possess (the infinite ability to heal) while giving your body the proper lifestyle changes and/or enhancements it needs to do its job.
We believe when YOU believe YOU can heal YOURSELF is when the real "magic" happens. We want you to stop relying on others and start utilizing what you were born with.
We are all different and unique beings and there are too many health & wellness practitioners still thinking allopathically: one diet, one herb, one yoga practice, etc. is the cure all end all. Isn't this what got us in trouble in the first place?!
At HYI we will take all the tools both Western and Eastern, both scientific and experiential, make them easy to understand, then figure out what YOU need from what you learned, and then make it all applicable to the modern, busy lives you live.
Here is a brief rundown of what we are currently offering and what to expect:
Programs currently offered (but aren't limited to):
*4-day Intensive Raw Food Certification Program
*3 or 7-Day Guided Green Juice Fasts
*Real Raw Detox
*Transition Detox
*Blood Sugar Control Detox
*Liver Cleanses (3 levels)
*Preparing for Pregnancy Detox
*Autism Recovery + Support Groups
*Food Addiction Recovery + Support Groups
Classes (listing only a few that will be offered):
*Raw Food Classes (such as nut-free raw, 30-minute raw, holiday raw, etc.)
*Herbal Classes
*Tonic Classes
*Healthy Cooking Classes (soy-free vegan, macrobiotic, gluten-free AND HEALTHY, etc.)
*Knife Skills
*Children + Parent Classes (ages 3-9)
*Tween Programs ages (10-15)
*Yoga
*Meditation
*Birthing Classes
*Colon Health
*One-On-One Consults with Andrea ARE BACK! This will include TONS!
*3-Day Advanced Raw Food Certification Program
*Food Styling + Photography Classes
*Social Media Classes for Health & Wellness Practitioners
*How 2 Food Write
*Add-ons to the detox programs will include (but are not limited to):
*Fertility Booster
*Auto-Immune Regulator
*Hormone Regulator
*Endocrine Recovery
Opportunities:
If you are a practitioner, chef, healer, nutritionist, etc. looking to rent space or host a class, please contact us for details. We also have a recipe test kitchen for those looking to create a cookbook. And also, if you are looking to host a food show via the web or TV we are equipped for this.