The 21-Day Sugar Detox Talk & Book Signing - San Diego, CA
San Diego, CA
Bummer! Sales have ended.
Unfortunately, tickets for this event are no longer on sale.
Event Details
Join me at Barnes & Noble in San Diego, CA (Mira Mesa) for a book signing and Q&A about my new book, The 21-Day Sugar Detox (and of course I'll also take questions about Practical Paleo as well). If you would like to hear the talk and Q&A portion, please arrive at or before 2pm as I will be speaking for the first portion of the time, then signing thereafter.
Just a heads up...
We will be having a short talk / Q&A at the event's start time - so please arrive early/on time if you would like to hear this portion of the event before you get your book signed and come to meet us. We don't want you to miss out - and sometimes folk assume the timeframe listed on the event means an "open house" sort of event, which isn't the case. It's simply a start and end time.
Also note that if you are unable to make the event that cancelling your RSVP via the email ticket/confirmation you received will greatly help us out. The events are all near capacity so we don't want to turn anyone away if folks aren't going to be able to make it who are holding spots. You can cancel your ticket(s) by clicking through on the link in your original confirmation from Eventbrite, please do not reply to this email.

Thanks and see you there!
Diane (and Hayley & Bill!) 
Note: You may bring previously purchased books to this event, but it's always encouraged to supoprt the hosting store whenever possible.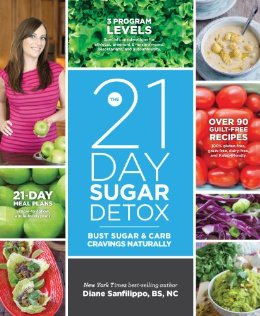 The 21-Day Sugar Detox is a clear-cut, effective, whole-foods-based nutrition action plan that will reset your body and your habits! Tens of thousands of people have already used this groundbreaking guide to shatter the vicious sugar stronghold. Now it's your turn!

Use the easy-to-follow meal plans and more than 90 simple recipes in this book to bust a lifetime of sugar and carb cravings in just three weeks. Three levels of the program make it approachable for anyone, whether you're starting from scratch or from a gluten-free, grain-free, and/or Paleo/primal lifestyle.
And... because we love you guys and want to help you meet as many of your favorite Paleo authors as possible in one event, you will be able to...

They'll be on-hand to meet you, answer your questions, and sign your books!