The 1st Annual Dream Girl Luncheon

Saturday, August 8, 2015 from 11:00 AM to 2:00 PM (PDT)
Event Details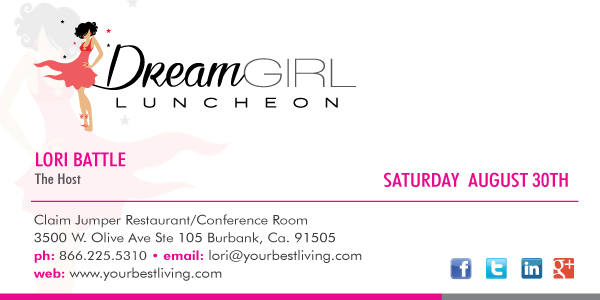 As the growing market of women entrepreneurs increases it is imperative that we embark upon as many opportunities as possible to expand our reach. We also need to create a sisterhood that will empower us, and allow us to gain access to valuable information that will catapult us to the next layer of success! If you are a female entrepreneur, aspiring entrepreneur, career oriented woman and have been looking for a networking event for like-minded women, who are fired-up about their passion and not afraid to dream outloud, then you don't have to look any further! 
The Dream Girl Luncheon is an answered prayer for the female entrepreneur just like you! No longer do you have to figure out how to connect with.... entrepreneurs, business coaches, powerful speakers, valuable resources, mentorship - all within a motivating & inspiring environment that will provoke your DREAM to grow. We're bringing it all to you plus a splash of entertainment too! All of the above and more will be happening at the Dream Girl Luncheon! It's an event where you can Come with your dream and leave with endless Possibilities! 
This event was created to inspire, empower, and bring women together to push their dreams forward! Whether you have a small dream or an enormous dream, your dream matters and will change not only your life, but will impact someone else's life too! Come to the Dream Girl Luncheon and press play on your dreams! If you have a business product you would like to display at the luncheon or if you are interested in ad space in our program, then please email info@dreamgirlluncheon.com  for more information. We would love to help you! We look forward to seeing you there Dreampreneur!
Don't miss the most anticipated women's sponsored event of the summer!
When & Where

Claim Jumper Restaurant

Burbank, CA 91505


Saturday, August 8, 2015 from 11:00 AM to 2:00 PM (PDT)
Add to my calendar
Organizer
Lori Battle, Life Coach Lori
CEO/Founder of YOUR BEST LIVING, Coaching Designed by Lori a company that promotes and empowers women in reaching their full capacity Professionally and Personally.

Lori is a Professional Motivational Coach specializing in Entrepreneur Empowerment for women. At the age of 20 Lori became an entrepreneur and by the time she was in her mid 20's she had multiple successful businesses.  She understands many of the challenges women face as they embark into entrepreneurship and many of the obstacles that come along with operating a successful business model.  Which is why she has committed a great deal of her time to helping other business owners and aspiring entrepreneurs reach ultimate success through her success coaching and networking working events.
Lori is the poster child for "WOW" (women who overcome & withstand)! Facing many roadblocks and challenges herself personally and professionally, she has overcome so much in her life and turned lemons into lemonade through her relentless faith and determined mindset.

She leads by example, and inspires many through her insightful and honest style of Coaching.  Lori's experience is vast and she continues to push herself beyond any limitations and is currently working on her 1st published book due this winter, that is promising to change the landscape of so many women's professional and personal lives.  She's helped countless women and men reach their dreams of success and she is confident she can help you too!
Follow Life Coach Lori on Twitter @Yourbestliving or like her page on Facebook @www.facebook.com/yourbestliving.  Thank you for your continued support!

Stay tuned....there is much more to come from America's next favorite Coach!
The 1st Annual Dream Girl Luncheon