Looks like this event has already ended.
Check out upcoming events by this organizer, or organize your very own event.
Taller para iniciar un negocio en Silicon Valley

Weekly Event - Every Wednesday: 5:30 PM to 7:00 PM (PST)
Event Details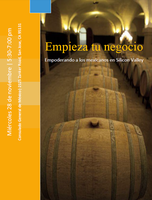 Inicia tu negocio con el pie derecho
En sesiones de una hora y media, los participantes planifican el lanzamiento de su negocio a su propio ritmo.  El curso te llevará de la mano en el diseño de tu plan de negocios que incluye tu modelo de negocios, análisis de la industria, plan de marketing, plan operacional y proyecciones financieras.
Este curso es para ti si te encuentras en una de las siguientes situaciones:
·         Deseas compatibilizar tu vida familiar y profesional, tener tiempo para las personas y actividades importantes en tu vida.
·         Dificultad de encontrar un trabajo acorde a tu capacidad o ascender en la empresa en la cual trabajas
·         Deseo de probar una idea de negocio
·         Necesidad de ganar dinero mientras estudias
Muchos mexicanos han tenido éxito en sus negocios al observar nichos en el mercado, segmentos desatendidos y de alto poder adquisitivo. Tu puedes hacerlo también.
Si tienes dudas sobre la validez de tu idea de negocio, si quieres aprender sobre los financiamientos disponibles para iniciar un negocio, si dudas en empezar un negocio por tu situación migratoria, este curso es para ti. Aquí encontrarás las respuestas necesarias para empezar tu negocio
Si eres padre o madre puedes traer tus hijos al curso.
Calendario
miércoles | 5:30pm - 7:00 pm
Diciembre 
·        5 de diciembre
·        12 de diciembre 
Enero 
·        9 de enero
·        16 de enero
·        23 de enero
·        30 de enero  
Febrero
·        6 de febrero
·        13 de febrero
·        20 de febrero
·        27 de febrero 
Marzo
·        6 de marzo
·        13 de marzo
·        20 de marzo
·        27 de marzo

 Temario
Módulo 1: Mercadotecnia
Define your producto/servicio
Identifica tu cliente objetivo
Entrevista a tus clientes
Reconoce tus competidores
Análisis de la industria
Describe tu ventaja competitiva
4 P's de Mercadotecnia (precio, plaza, promoción y producto)
 Módulo 2: Plan de Negocios
 Módulo 3: Operaciones
Equipo
Describe el proceso de tu producto
Identifica los recursos para tu negocio
 Módulo 4: Finanzas
Genera reportes financieros razonables
Interpreta los reportes financieros
 Módulo 5: Tipos de Financiamiento
Módulo 6: Permisos y Documentos para Iniciar un Negocio
Módulo 7: Elección de la Forma Jurídica
Actividad del negocio
Responsabilidad de los empresarios
Aspectos fiscales
Ventajas e inconvenientes de las formas jurídicas
 Módulo 8: Estudio de Casos
Empresa A
Empresa B
Empresa C
Empresa D
Empresa E
Empresa F
Where

Consulate of Mexico
2125 Zanker Road
San Jose, CA 95131


Weekly Event - Every Wednesday: 5:30 PM to 7:00 PM (PST)
Add to my calendar
Organizer
Consulate General of Mexico in San Jose
The Consulate General of Mexico in San Jose is a consular mission representing the Government of Mexico in the Santa Clara County, the Salinas Valley, the Monterey County and the adjacent counties of San Benito and Santa Cruz. It is one of ten diplomatic missions in the State of California which provide consular services to Mexican citizens and visa services to foreign nationals. Its mission is to carry out Mexico's foreign policy, handling Mexico's bilateral relationship with the Silicon Valley especially in the political, economic, and cultural fields.
Taller para iniciar un negocio en Silicon Valley