Surviving Year 1 with (9) Panelists

Wednesday, November 28, 2012 from 7:00 PM to 10:00 PM (PST)
Event Details
 Sponsored by:
Surviving Year 1 is one of the first steps to building a successful technology startup.  It proves that you have the sticktoitveness to stay for the long haul and overcome obstacles as they appear.  Regardless of your chosen industry, year 1 is the most challenging.
You will come to this event to gain insight from other survivors about how to sustain a business through its first year.  Our Guest Panelists will share with you their war stories, failures, success, emotions and the ingredients they used in their first year in business to setup their companies for huge success in coming years to follow.
 Topics: 
Business formation, Advisors, Client Acquisition, Branding, Hiring, Milestones, Pivoting/Adapting, Board, Networking, Surviving vs. Succeeding
 Agenda:
7:00 - 7:45PM, Mixing
7:45 - 8:00PM, Announcements by Peter Friis & Aaron Abram
8:00 - 9:00PM, Discussion Moderated by Aaron Abram (Founder of TCD.LA)
9:00 - 9:30PM, Audience Q&A Moderated by Adam Popescu (Journalist/Social Media Guru)
9:30 - 10:00PM. More Mixing
 
 (9) Panelists:
Zohar Levkovitz
Founder & Former CEO

 

Amobee was acquired by Singapore Telecommunications for over $300 Million. 



Amobee, the company defining mobile advertising, offers comprehensive, end-to-end mobile advertising solutions and services for advertisers, publishers and operators.
M.B.A. from the Kellogg School of Managment, Northwestern University
Chairman of the US board of SpaceIL
SpaceIL's mission is to make Israel the 3rd country to land on the moon.  SpaceIL is a non-profit organization established by a multidisciplinary team of Israeli space enthusiasts to compete with privately-funded space teams in the Google Lunar X Prize.
Aaron Broder
Founder & CEO

The world's largest online branded sales company and a division of Evolve Media. It is an exclusive branded sales company, representing more than 100 leading entertainment and lifestyle communities online.    
 Gorilla Nation is a recognized expert in entertainment and lifestyle digital marketing. 

CoFounder & CEO
Evolve Media Corp is an integrated digital media company focused on vertical publishing, advertising sales and marketing for its clients.  Their mission is to produce and monetize premium digital content, offerring programs to online marketers that deliver Content, Context and Creative with Scale.
M.B.A. from University of Wisconsin at Madison & a J.D. from UCLA
Eddy Lu
CoFounder & CEO

Grubwithus is a community where friends and future friends create and join group meals.  Meals are hosted at restaurants and typically have 6-10 people at each table. 
Grubwithus strives to bring people together over food.  They invite you to book a seat and join the "in real life" movement with them.
Grubwithus is a graduate of 'Y Combinator' and raised $6.6 Million from Y Combinator, GRP Partners, Andreessen Horowitz, NEA, Ashton Kutcher, Yuri Milner & others.
He graduated from the University of California at Berkeley with a BA in Computer Science.
Joseph Essas
Chief Technology Officer (CTO)


OpenTable is a leading provider of free, real-time online restaurant reservations for diners and reservation and guest management solutions for restaurants.  The OpenTable network delivers the convenience of online restaurant reservations to diners and the operational benefits of a computerized reservation book to restaurants.  They have more than 25,000 restaurant customers and have seated more than 325 million diners around the world.  

Joseph previous served as the CTO of eHarmony where he was responsible for overseeing and guiding the technical development, operation and growth of the company.
Prior to that, Joseph served as VP of Engineering of Yahoo! where he managed engineering teams for the search marketing division.

Prior to that, he served as VP, Technology/Company Development at IdeaLab.
Eli Portnoy
Founder & CEO

(Acquired by Telenav for $22.5 Million , 18 months after inception.)
ThinkNear.com helps target mobile ads to consumers at precise locations.  With Access to billions of mobile impressions and cutting-edge location technology, they make sure that your message reaches customers ready to buy what you sell.  ThinkNear raised $1.63 Million from TechStars, IA Ventures, Qualcomm, Metamorphic Ventures, Google Ventures & others.
ThinkNear is a NY TechStars graduate and has the biggest acquisition for any TechStars alum.

He earned his B.A. in International Relations and Political Science from the University of Pennsylvania and an M.B.A. from Harvard Business School.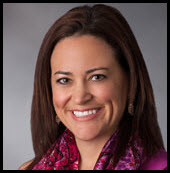 Robyn Gould
Associate Attorney (Business)



Cooley LLP is a law firm that specializes in working with emerging technology companies.  They recently opened up their Santa Monica, CA offices facing the ocean. 
Clients include:  Google, Facebook, LinkedIn, eBay, TiVo, Yelp!, Adobe Systems, Brocade, E*TRADE, Nintendo, Qualcomm, Electronic Arts, Hotwire.com, Mozilla (Firefox), Napster, PayPal, Rosetta Stone, Quest Software, Skype Comm., The Motley Fool, Network Solutions, and more...
Robyn's practice focuses on the formation and representation of private equity and venture capital funds, including representation of issuers and venture capital funds in public and private financing transactions, as well as, emerging growth companies in financing transactions and matters of general business and corporate law.

Robyn received her J.D. from the University of California, Berkeley School of Law (Boalt Hall) & her B.A. from the University of California, Los Angeles (UCLA), graduating

 

summa cum laude

 

and elected to Phi Beta Kappa.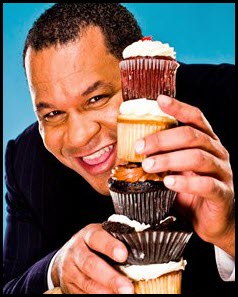 William "Chip" Brown
Owner 

BigManBakes is the premier cupcake bakery to the Hollywood elite and everyone inbetween.  William "Chip" Brown was studying in UCLA Medical School studying to be a doctor when to impress a fellow student, baked a cake.  Since then, word spread in the hospital, to the doctors, to A-list celebrities, producers, director about these amazing, tastey cupcakes.  Today, BigManBakes has multiple locations in Downtown, Los Angeles, has a partnership with the Staples Center.
Featured as the top cupcakes by (OWN) Oprah Winfrey Network and Nestle's. 

Winner on the Food Network's "THROWDOWN with Bobby Flay".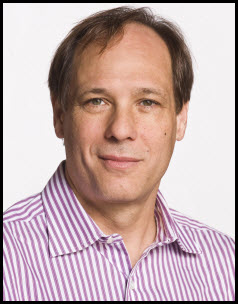 JJ Yore
VP, General Manager & Creator 

 The Marketplace portfolio includes:  Marketplace Morning Report, a weekday hourly news service; the daily half-hour Marketplace afternoon drive-time program; Marketplace Monday, a weekend personal finance show, Marketplace Tech Report, a 4 minute daily technology report, & Marketplace's website, podcasts, and other digital content.
JJ is a creator & oversees the business/editoria operations of Marketplace.  He is responsible for Marketplace's growth and for setting board editorial direction for its content on air and online.

Marketplace is the most popular business radio program in the country with 8 million listners. 


JJ is a graduate of Columbia University's Graduate School of Journalism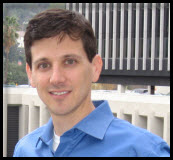 Jason Feffer
Co-Founder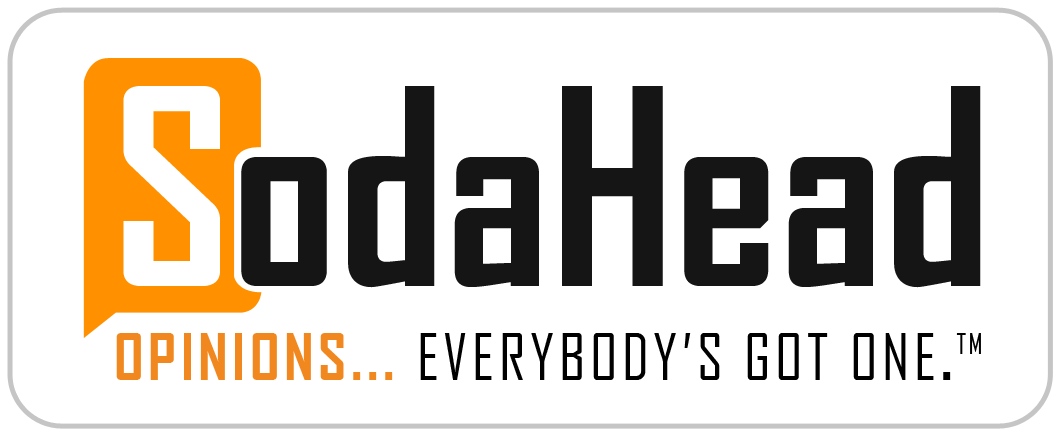 SodaHead.com, a leading opinion community focused on discussing today's hottest topics. SodaHead is a website that facilitates users to express their opinions, share their ideas and ask others their views through questions and answers. SodaHead covers a range of topics from politics, entertainment, pop culture, music, sports or anything else in the news.
SodaHead also provides best in class polling technology for world class media companies including ESPN, ABC News, Good Morning America, LA Times, Warner Brothers Television and Anderson Cooper.
Prior to launching SodaHead.com, Jason was the Vice President of Operations and served on the executive committee of MySpace overseeing advertising, revenue reporting, policy enforcement and government relations. Jason was instrumental in launching MySpace in 2003 and helped to grow its membership to 100 million. He was MySpace's fourth member.
He graduated from the University of Southern California's School of Cinematic Arts with a Bachelor of Fine Arts in 1993.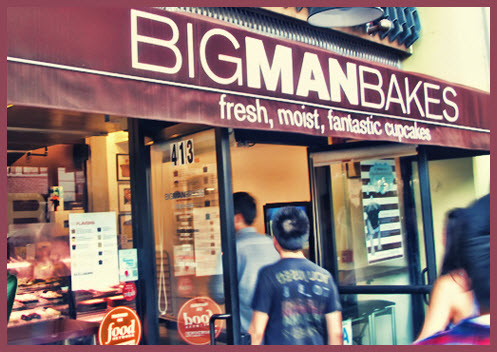 the treats:  BIGMANBAKES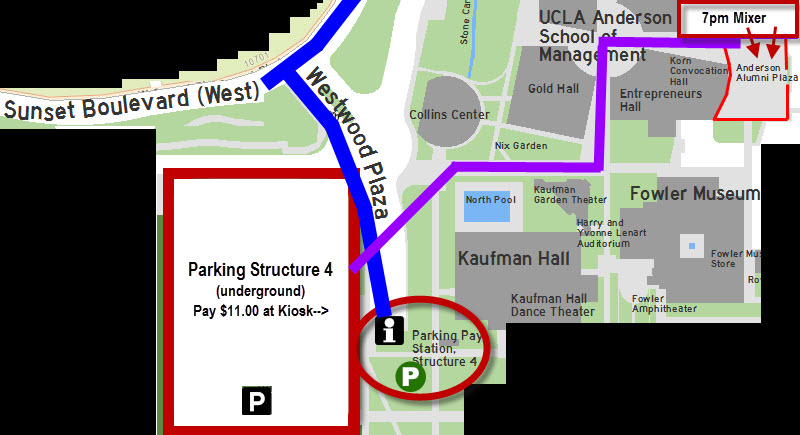 UCLA Parking Structure 4 & Driving Directions
7pm Mixer is going to be held outdoors at UCLA Alumni Plaza (pictured on the upper right corner of the diagram).  The Main event will begin at approx. 7:30-7-40pm @ Korn Hall which is adjacent. You'll need to park @ Parking Structure 4 (underground) & pay at the kiosk $11.00.  We reserved 300 spots.  *Tell the attendant that you are going to the "Surviving Year 1" event.

From Wilshire Blvd. & Veteran Ave., Los Angeles, CA  90024
(click for map then click large map at top of pg. for a map)
Note: You must take Sunset Blvd. to get to Parking Structure 4
Head northwest on Veteran Ave. toward Kinross Ave.  Turn Right onto Sunset Blvd. Take the 2nd right onto Westwood Plaza.  Enter underground to Parking Structure 4 and pay attendant at Kiosk $11.00.  Let them know that you are there for "Surviving Year 1."
When & Where

Korn Hall, UCLA Anderson School of Management
110 Westwood Plaza
Los Angeles, CA 90024


Wednesday, November 28, 2012 from 7:00 PM to 10:00 PM (PST)
Add to my calendar
Organizer
FounderPanel / Aaron Abram
Top Founders on Top Panels
At FounderPanel we put top entrepreneurs on stage and ask them questions that nobody else will.  They reveal the secrets of how they built their empires.
Panel Companies:  Rackspace, Tinder, Shopzilla, OpenTable, HungryGirl, Boingo, JibJab, Amobee, Cornerstone OnDemand, Activision, MyLife, Yammer, HauteLook, TeleSign, Clearstone Venture Partners, Tender Greens, El Pollo Loco, DirecTV, Luxe Hotels, Launchpad LA, Amplify, & StartEngine.
Aaron Abram is Producer & Moderator at FounderPanel.  Outside of events, he is the Co-Founder of Osurv; mind reading technology that marketers use to predict customer behavior.  Customers include Caesars Entertainment, Starbucks, GoPro, & Casio.  Aaron is also a Guest Lecturer at UCLA where he teaches entrepreneurship.

SPONSORS: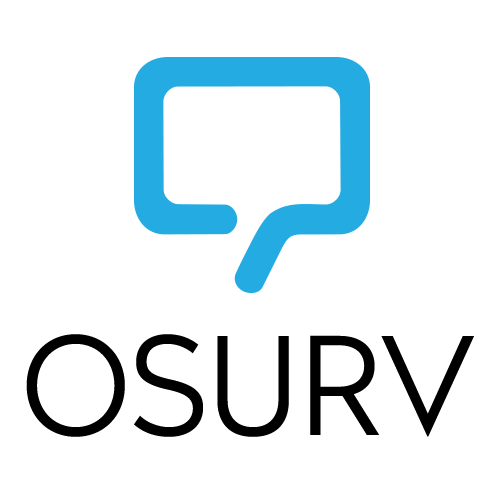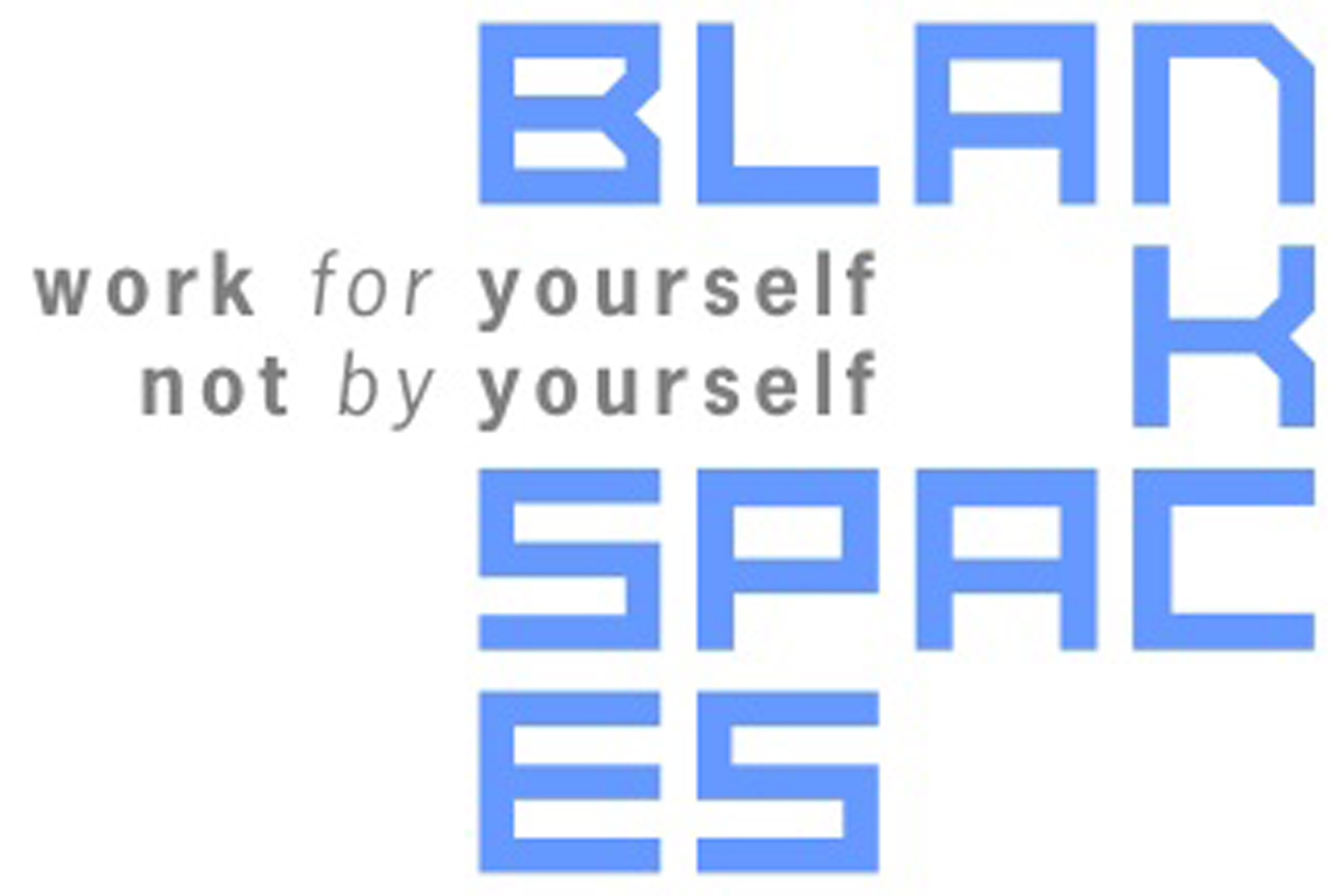 Surviving Year 1 with (9) Panelists