SunKissed@ZENGO feat. ::: SILKY ::: Wobs | Enzo Muro | Tim Koranda
Santa Monica, CA
Bummer! Sales have ended.
Unfortunately, tickets for this event are no longer on sale.
Event Details
As we settle into our summer season we will continue to feature some of the best LA has to offer in local DJ/Producer talent. As an added bonus we are SOOOOO EXCITED this week as we also begin our once a month special feature that will bring you top shelf international talent to the West Side at SunKissed ... This month we are featuring....

::: SILKY ::: 

Saturday July 6th 2013
at Zengo Santa Monica!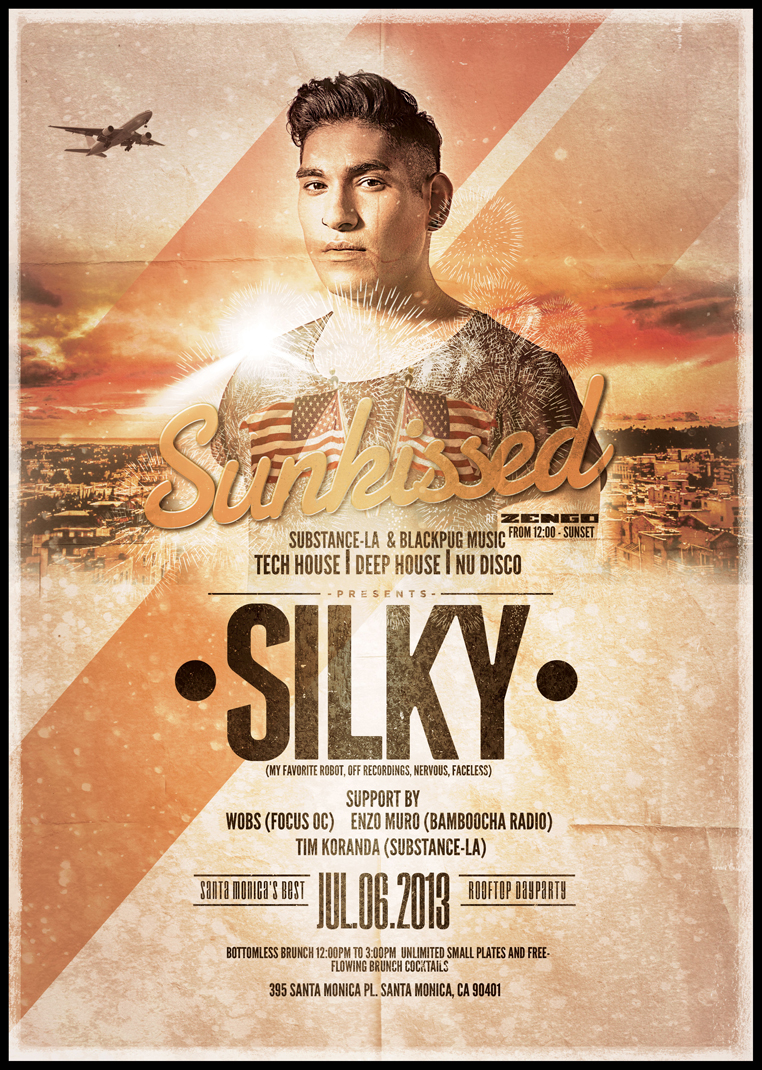 SunKissed@ZENGO feat. ::: SILKY | WOBS | ENZO MURO | TIM KORANDA :::

21+ Free w/ RSVP here:

This is a Beach Based Rooftop Bar & Lounge Day Event filled with great food, even better drinks, oozing with casual class, and ridiculously good music that will make u feel warm and fuzzy in the Sun all day long. SUBstance-LA events have been known to produce extended, and sometimes irreversible smiling.

So bring ur dancin shoes n lets do this Santa Monica!

West Side Deep House / Tech House Lovers... Make no mistake about it... This Is Your Jam!

Powered by All New QSC KW Series Sound
Bringing the Phat Warmth for those lovely baselines and a little bit a BOOM to Santa Monica!
Over 5000 watts of QSC KW Series Wood Enclosure Sound System Excellence Powering this Party and its shows!

This Saturday July 6th!

Featuring:

::: SILKY :::
https://soundcloud.com/silkydj

Silky has been well known on the international music circuit for over 10 years, whilst making a solid name for his skilled and technical music productions behind the scene for some time.

Originally mentored by the 'Godfather of House' Frankie Knuckles, Silky is a vinyl-lover at heart and his old-school mixing techniques and exclusive cutting edge track selections only serve to amplify his roots in early electronica, house and techno. However, what is the sound of Silky? It can only be described as innovative and captivating deep underground music, dark and emotive yet driving and uplifting. 

His career has seen him work regularly alongside some of the biggest talents in the industry such as, Guy Gerber, Gregor Thresher and Argy to name but a few, as well as headlining a number of events globally including, Sullivan Room (New York), The Standard Hotel in downtown Los Angeles and Kee Club in Hong Kong. 2012 has been a particularly strong year with a number of releases/remixes and attention from Magazines such as DJ Mag amongst other online publications. 

His latest single, a collaboration with Canada's My Favorite Robot (Crosstown Rebels, Visionquest), a dark, acid-tinged cover of the Tears for Fears classic 'Shout' entered straight into the Beatport Indie Dance & Nu Disco chart at No. 22 in December and is still currently climbing. With heavy support throughout the summer from the likes of Seth Troxler, Noir, Clive Henry, Andrew Grant, Droog and many more. 

Kicking off the New Year by playing the opening of BPM Festival in Mexico, 2013 will see Silky launch his new record label 'Faceless Recordings' alongside good friends Climbers and Barber. This year will also see Silky release a number of very exciting solo singles and collaborations with some of the industry's most revered artists including his recent alliance with Jonny Cruz under their alias 'Discern'. Further forthcoming releases/remixes on labels such as My Favorite Robot Records, Off Recordings, Mexa, Nurvous, Suruba & Omid 16B's Alola Recordings are due just before the summer season. 

::: Wobs ::: (Focus OC)
https://soundcloud.com/wobs

Never one to fall prey to the trends of the day, Wobs has forged a name for himself by sticking true to the formula of playing music that he loves. His signature blend of deep and funky tech house have earned him a well respected reputation in Southern California.

Wobs was first thrown into the mix of the dj world when he was discovered by One Entertainment in 1999. As his dj career began to grow, so was involvement with the music. In 2003, Wobs became a resident for a small Orange County club called Focus Tuesdays. Almost 9 years later, the club still remains one of the most respected and most consistent house clubs on the west coast. 

Over these years, Wobs also found himself becoming fully immersed in the business side of music. His passion was discovered by Wally Callerio and offered the job of A&R and marketing for Digibag.com, one of the first online digital download stores. His taste in music was also recognized by west coast breaks favorite Simply Jeff and brought on as the house buyer at DJ Culture.

::: Enzo Muro ::: (Bamboocha Radio)
https://soundcloud.com/enzo-muro

https://www.facebook.com/Bamboocha.Radio
https://soundcloud.com/enzo-muro
https://www.facebook.com/EnzoMuro

Enzo Muro's first taste of electronic music began during the late 90's back in Peru. Since arriving in LA in 2004, he has been dropping beats from Hollywood to Mexico and everywhere in between. His style is as diverse as his venues, from deep house to techno, always keeping with it a touch of his latin roots.

Currently he hosts Bamboocha Radio's LA Underground Radio show. Since its beginning in October 2011, the show has brought Guest DJs from around the world together and into the homes of listeners for a couple hours of sick beats.

SUBstance-LA Resident:

::: Tim Koranda ::: (SUBstance-LA)

http://www.TimKoranda.com/
http://www.soundcloud.com/TimKoranda
https://www.facebook.com/TimKorandaDJProducer

Los Angeles based DJ/Producer and SUBstance-LA founder Tim Koranda takes people on a journey throughout LA's top venues. His signature Deep Soulful Tech House and Techno sounds deliver Underground grooves that keep LA's feet moving.

Upcoming Dates to Remember:

July 13th
SunKissed@ZENGO feat. ::: Zach Hill | Steven Dimitri ::: 
(Vinyl Tribe)