SunKissed@ZENGO feat. ::: Germano Kuerten | Tim Koranda | Federico Alonso | Hernan Joel | Mike Angelo :::
Santa Monica, CA
Bummer! Sales have ended.
Unfortunately, tickets for this event are no longer on sale.
Event Details
We continue our quest to bring consistent quality sounds to Santa Monica this week at ::: SunKissed :::
feat. :::  Germano Kuerten | Tim Koranda | Federico Alonso | Hernan Joel | Mike Angelo :::

Also Celebrating The Birthday of Amy Mullay!
and Germano Kuerten's Brazilian Tour Send Off!
Saturday June 15th 2013
at Zengo Santa Monica!
21+ Free w/ RSVP here: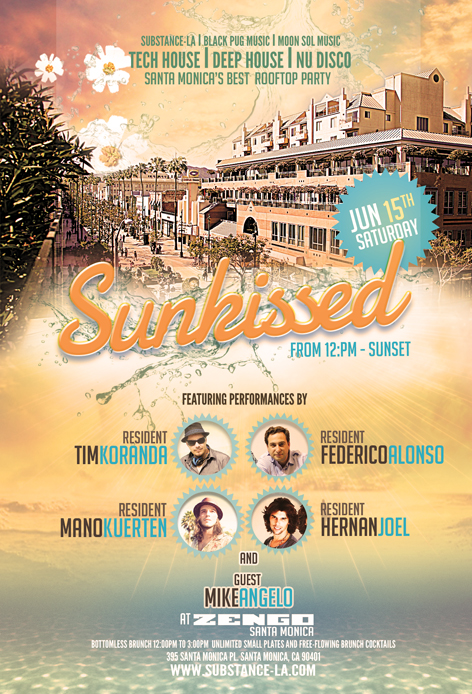 This is a Beach Based Rooftop Bar & Lounge Day Event filled with great food, even better drinks, oozing with casual class, and ridiculously good music that will make u feel warm and fuzzy in the Sun all day long. SUBstance-LA events have been known to produce extended, and sometimes irreversible smiling.

So bring ur dancin shoes n lets do this Santa Monica!

West Side Deep House / Tech House Lovers... Make no mistake about it... This Is Your Jam!

Powered by All New QSC KW Series Sound
Bringing the Phat Warmth for those lovely baselines and a little bit a BOOM to Santa Monica!
Over 5000 watts of QSC KW Series Wood Enclosure Sound System Excellence Powering this Party and its shows!

Saturday June 15th:

Featuring:

Mano / Germano Kuerten (MoonSol Music)

http://dj.beatport.com/germanokuerten
https://soundcloud.com/germanokuerten
https://www.facebook.com/germanokuerten

2012 was an immense year for Germano Kuerten. In January starting the new label MoonSol Music he released his own vision of Brazil's influenced House, Back to Brazil EP. Containing heavy leading drum lines, and melodic classic elements of jazz and house, as the Saxophone beautifully performed by good friend Art Espinosa. The EP quickly jumped up the charts to become #1 in House Music Releases on Beatport and #8 on the overall top Releases. That same month Germano flew to Playa Del Carmen invited by tribal House legend Saeed Younan for the Younan Music Showcase at the Bpm Festival.

His music has already been supported by some of the finest artists and taste makers in Eletronic music like Saeed Younan, Paolo Mojo, Roger Sanchez, Coyu, UGLH, Horatio, Miss Nine, Olivier Desmet, Doc Martin, Larry Tee, Alessio Colina, Randy Jackson (Michael Jackson's brother) and Dev from the Cataracts to name a few.

Tim Koranda (SUBstance-LA)

http://www.TimKoranda.com/
http://www.soundcloud.com/TimKoranda
https://www.facebook.com/TimKorandaDJProducer

Los Angeles based DJ/Producer and SUBstance-LA founder Tim Koranda takes people on a journey throughout LA's top venues. His signature Deep Soulful Tech House and Techno sounds deliver Underground grooves that keep LA's feet moving.

Federico Alonso (Black Pug Music)

http://soundcloud.com/ba2la
http://www.content-radio.com/
http://www.blackpugmusic.com/

After more than a decade of throwing down some of the best Tech House sets alongside some of the hottest talent in the world in both Orange County and Los Angeles, Federico together with his partner Cristian Sagemuller are producing tracks together and continue their labor of love to please dance floors from San Diego to Las Vegas and beyond. They also promote their weekly engagement
"I Love Dirty House Music" at Brussels in Laguna Beach as well as participate in Content Radio, an online radio station in which all artists can upload their one hour mixes and program their own playbacks.

Their unique sound has an influence of groovy bass lines, tech sounds, latin drums and occasionally those sexy vocals that can only be described as "Matraka Sound".

Hernan Joel (Black Pug Music)
The Prince of Deep....

http://hernanjoel.podomatic.com/
http://soundcloud.com/hernan-joel

Hernan Joel is a child of the Vinyl era that digs deep into his rich collection of tunze accumulated from his many years as a DJ in the LA Underground scene to supply his sets with only the sexiest afternoon soundz for our ears!

Special Guest:

Mike Angelo (Alive n Direct, Dirty Laundry, Best Kept Secrets Rec)

https://soundcloud.com/mike-angelo

Brought to you by SUBstance-LA & Zengo Santa Monica

http://www.SUBstance-LA.com/
http://www.richardsandoval.com/zengosm/

SUBstance-LA events feature a rotating list of hand picked Underground Selectors from LA and beyond. SUBstance-LA combines Underground Sounds on The West Side of LA with environments that are rich in Atmosphere, Culture, and Proper Sonic Fidelity.

SUBstance-LA events are hosted in only the finest settings around West LA which we hope will help to build a home for the Deep House | Tech House | Nu Disco sounds on The West Side.

Zengo is an artful blend of Latin-Asian styles and flavors. A beautiful restaurant / lounge located right off the Santa Monica Pier at Santa Monica Place overlooking the Santa Monica Promenade from its roof deck patio perch! This locale is a great place to spend the day. ZENGO offers a private street level elevator on Broadway so you have easy access to the beach and shopping on the promenade throughout the day. Get there early for their optional $35 ::: 11-3 Bottomless Brunch ::: with its Unlimited Small Plates and Free-Flowing Brunch Cocktails your attitude will be properly adjusted for pocket change and just in time for our headliners to take flight all while bathed in morning sun and excellent tunez!

This is not just any other event! This is a rallying cry for Dance Music lovers all over The West Side of LA who have been patiently waiting for something of SUBstance to rise from the ashes of the same bottle service fed vibe on repeat that exists throughout today's LA nightlife scene.

West LA! Show Some LOVE!

Finally we have Quality Underground Sounds West of The 405 Out of the dark alleys and into the Sun! A centrally located place to hang out, listen to great music, socialize with friends surrounded by everything else the Santa Monica Promenade / Pier / Beach has to offer all in one day!