Srinergy Solar Tour 2012
Novi, MI
Bummer! Sales have ended.
Unfortunately, tickets for this event are no longer on sale.
Event Details
 Srinergy will host a bus tour of residential and commercial solar installations on Saturday, October 6.  The tour will begin at Srinergy's headquarters in Novi. Srinergy is joining the American Solar Energy Society (ASES) and hundreds of installers and  grassroots organizations to showcase solar-powered homes, schools and businesses -- in Michigan and across the U.S.--for the 17th Annual National Solar Tour, the world's largest grassroots solar event.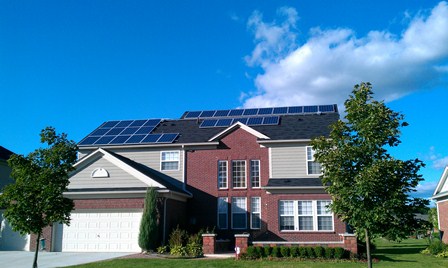 The Srinergy Solar Tour 2012 which runs from 1 p.m. to 5 p.m., will start with information and refreshments in Srinergy's offices, followed by a bus tour showcasing a variety of Srinergy-installed solar PV systems including projects in Novi, Farmington Hills, Canton, Detroit and Ann Arbor. 
   The event is open to the public.  There is a requested donation of $10 per person, with partial proceeds to be used for Srinergy's Solar4Schools Campaign, which promotes the education of solar energy throughout schools in the Detroit Metro area. 
 Come Join us as we Celebrate Solar in Michigan!
Environmental Contributions of 5 Projects on Solar Tour is equivalent to Planting 137 Acres of Forest & Eliminating the production of 1,584 Metric Tons of CO2