Event Details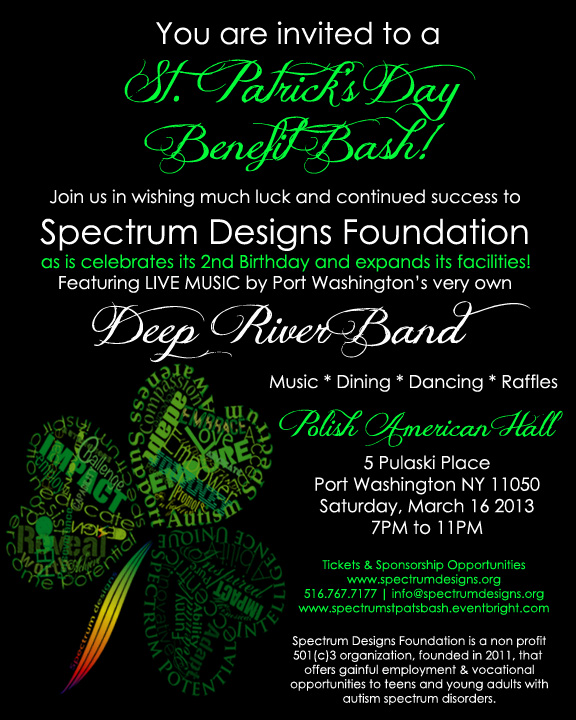 $50 per person!
Live Music, Comedy, Dancing, Food and Drinks included
Reserved table seating only for those with 10 or more!
 
Thanks to the generosity of our sponsors,
100% of the Proceeds from this event go to our cause!
$5000

Pot of Gold Event Sponsor
Patrick McCarthy (McCarthy - Carbone PC)
& The Michael McCarthy Foundation
$1500
Beverage Sponsor
Friends of Spectrum Designs

$1000
Shamrock Sponsor
Michael & Charlene Prounis
$500
Lucky Leprechaun Sponsors
Cuoccio & Dragone Families
Lori & Steven Scrobe
Friends of Spectrum Designs

See you all next Saturday!
To Learn More About Spectrum Designs Please Visit
 CLICK HERE FOR MAIL IN SPONSORSHIP AND TICKET SALES
We would like to offer our heartfelt thanks to the individuals and companies who donated toward our raffle board!
A Special Thank you to :
Mr. Sy Fiet and the following importers:
Roadhouse Wine Merchants in Glen Cove
Tricana Imports in Plainview
Stan and Clara Sugrue for the Trip to the Florida Keys
Bobby and Meredith Shield for the TWO Boars Head BBQ parties for 25 People
For the Ipad Mini, Nook and all the other AMAZING gift cards and prizes we would like to Thank:
Loren King
Anna Dragone
Susan Cuoccio
Stella Spanakos
Angie Lazaridis
Nicole Sugrue
Allison Schear
Allison rushforth
Hope Catalano
Dee Dee Olsen
Mary and James Murtha
Debbie and John Bowman
Nancy and John Pagganucci
Timothy and Carolyn Scully
Roberta Seid
Rebecca Mckee & 13th  Child Autism Consulting
Janet Redler, Nicholas Bardsley and Janet Redler Tourism & Tourism
The following Port Washington Businesses that contributed
gift cards and Items!
Thank you for your generosity
La Parma on the Bay
Shield Hardware
Good Things Skate Shop
Initial Stop
Sweet Alchemy
Edible 306
Dolphin Bookshop
Show Vault
Long Island Fitness
Hand in Stone
Painting with Flowers
Polish American Club of America
Women's Club of Flower Hill
Wild Honey on Main
Spectrum Designs
Four Sixteen on Main B & B
For the Food Donations we'd like to thank
Franks Pizzeria of Port Washington on Main Street
Antonino's of Manhasset

Dearest Friend, 
It is with great enthusiasm we write to you.  Spectrum Designs Foundation is approaching our 2nd year of operation and our vision of creating a sustainable business that could employ those with special needs has become A REALITY! Furthermore, we have increased the awareness of the capabilities and employability of those with Autism among the general public! This is monumental in creating a genuine inclusive and accepting world for those with special needs.
Unfortunately, the need to increase our service capacity translates the increased numbers of teens and young adults who are in need of services. Currently, 1 in 88 individuals are diagnosed with an autism spectrum disorder. Autism is a lifelong neurological condition which affects the way one communicates, socializes and interacts with the world around them.  This makes it very difficult for them to participate in the workforce. It is not uncommon for many young people with autism to lead lives of isolation and seclusion.  Spectrum Designs was founded to fulfill a critical need; to address the dearth of employment and training opportunities available to young people with special needs once they exit out of the school system.
It is with your help and generosity that Spectrum Designs can continue with its mission  to assist young  people with disabilities  to  live fuller  and  productive lives  through  the  world  of work  and meaningful employment.
We kindly ask that you join us on March 16th, 2013 at our 2nd annual St. Patrick's Day Benefit Bash!         It is sure to be a festive evening with live music, dining, cocktails and raffles. This year, we will have Port Washington's very own "Deep River Band" performing live all night!  Ellen Karis- "The Greek Goddess of Comedy" will be the evening's MC. It is sure to be a rocking and memorable evening.  
Please consider taking a sponsorship in your company or family name and show how you believe in the capabilities of individuals with special needs. Additionally we ask that you consider our products and services for your family affairs and company needs. Please visit www.spectrumdesigns.org

Spectrum Designs Foundation now employs over 20 individuals with autism and similar lifelong disabilities. Spectrum has developed into so much more than just a small scale t-shirt business - we have now become a place of hope and inspiration.  We look forward to seeing you on March 16th!
Buy here online!
Or download our Mail in form!
When & Where
5 Pulaski Place


Port Washington

, 11050


Saturday, March 16, 2013 from 7:00 PM to 11:00 PM (EDT)
Add to my calendar