SPARTAN - "Unleashed" vol.4

Sunday, August 23, 2015 from 10:00 AM to 11:00 PM (AST)
Event Details
Time:  9.00 AM – 11.00 PM
Place:  Fitness First Bahrain / BTC Manama
Date 23.08.2015
Instagram: #spartan4unleashed - All participants follow!! The hub for Q&A's, media and updates. Please keep it clean.
Sponsors:








Prizes:
4 return tickets to Dubai ( Bahrain / Dubai ) provided by Air Arabia, 4 pairs of latest design Adidas trainers, Supplement packs provided by Powerhouse fitness, Optica glasses and more, Custom designed and signed Spatran "Unleashed" long sleeve shirt for the best performer...and more 
Entry requirements:  Open to all, consultation with a trainer and local club FM
Number of team members: 4 and will be done in relay of 2 teams at a time in 1.25h intervals.
Spaces: Limited
Registration Through "Eventbrite" only!!!
Registration open from 10/07/14 to 10/08/15...don't miss it!
Background:
SPARTANS - The most respected warriors in history - hands down! They are renowned for their strategy, spirit, unity, skill, power and most importantly their superior overall fitness. Of course, the training principals and methodology have evolved since then. Regardless, if you train you should still possess balance of power, strength, stamina, energy, agility and cardiovascular endurance.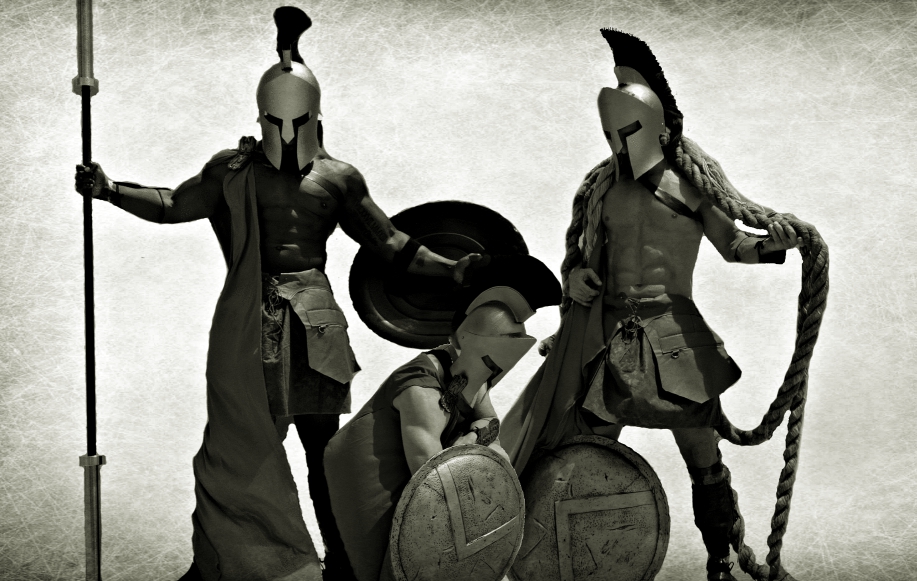 With this we present you the next Spartan Challenge vol.4 "Unleashed"!
SPARTAN CHALLENGE VOLUME.4 - "UNLEASHED" 23rd AUGUST 2015 is once again upon us and we would like to extend an invite to all in Head Office and Clubs in the region to send their strongest warriors / athletes / members to compete in this gruelling challenge.

Spartan - "Unleashed" Vol 4. has been put together to push you beyond the limits of so called "mental and physical limitation".

This year we will be working in small clans / teams (4 Warriors per team) competing for victory...and each team mate will play an integral part in either.........VICTORY OR DEFEAT!!!!!. All Sparta expects is your Teams 100% effort and commitment

This workout is unlike anything you have experienced in your home club, guaranteed!......What can you expect?? An amazing personal achievement and deeper understanding of yourself through hard work, unity and unconventional training methods which faded out over the years or have been replaced by modern gadgets or training approach.

We are dumping you deep into the high end of PRO athletic / unconventional training where all the elements of fitness are pushed to the Max in each workout / combination / segment. Embracing this format of training is a real challenge due to its speed, load ratio, movements, stability, execution and overall rhythm.

You might be a an amateur athlete or seasoned pro...this course "may" still brake you!!

"If and only If" fully accepted for what it truly is....with your spirit, unbreakable unity, common goal, razor sharp focus and grueling hard team work...it will change your complete outlook on what working out is really all about, what "team work" phrase truly means and how to attain what once you thought might be...impossible.

"The sound of Spartan blacksmiths forging armors is getting more and more resonant...here in BTC we know the sound too, too well." It's time to crank up the heat... assemble and give it all my brothers and sisters...Whooo
Haaa!!!


Release: BTC Spartan 4 "Unleashed" workout series
Endurance
Rowing tension level 10 - 2.15k, stationary bike tension level 10 - 2.15k, treadmill run - elevation 5 degree - 2.15k. The transition time will be counted as part of overall time for this event.
Power
Tyre flips 6 reps, 25kg bulgarian bag swing / squat combination 6 reps / pull ups 6 reps / 24kg kettlebell swings / ball slams with 15kg slamm ball 6 reps. This sequence is to be repeted for full 6 rounds as fast as possible. The transition time will be counted as part of overall time for this event.
Athletics / Unconventional
Battle rope slams with high jump 100 reps / ball smashes 100 reps / box jumps 100 reps. The hight of the jump box will be the same for all competitors. The smash ball weight used for this even will be 20 kg. This is time based event
Random pick - Primal or Athletics / unconventional
Primal
Wounded bear crawl, frog jumps, elephant walk, primal attack / long jump, donkey kicks, aligator crawl and duck walk - The best and most effective moves on the planet...hands down! These moves will be performed in sequence as seen. The challenge is to perform 3 rounds correctly and as fast as possible with no break.
Sheer strength
Three massive movements! Bench press / squat and deadlift. The aim of this event is to exhert as much of a load as possible in 15 minutes by performing these three moves. The strategy is entirely up to competitior. 
Acumulative weight of 6000 kg will earn team 1 minute deduction from overall time. Every additional 2000 kg will earn extra minute deduction from overall event time.
Stability and core strength - Farmer walk / burpies with plank to death finish.
Points to rememember:
1, Every competitor is going to be monitored by an event marshal in terms of repetition count, exercise form, full range of motion and time, correctness of execution!
2, Competitors can't argue on the marshal count.
3, Every competitor is allowed to take break after each stage for 2 min. A longer break will disqualify
Food intake and hydration before competition:
A very important thing to remember is that you have to be well rested, hydrated and have adequate amount of glycogen stored in your muscles and liver. You will be going through a high intensity training format which will challenge you to the core!
1. To avoid any complications, discomfort and possible dangers don't fuel your body shortly before competition. You will need to have at least 2 meals containing between 65 to 75 % of carbohydrates metabolised at least 2-3 hours before the event.
2. Allow at least 10 to 15 minutes for proper warmup before entering the pit.
3. Keep hydrated with water at all times. Try not drink too much on one go.
4. Breathing is a key! Breathe properly! You will be briefed on correct breathing techniques before entering the pit.
5. ABSOLUTELY NO enhancers!!! No pre-workout mixes, boosters, artificial or natural. 
Remember…being a true Spartan is not by the birth right....but by the fight you put on!
Good luck to you all!!
Important:
THIS IS A PERSONAL CHALLENGE…NOT A COMPETITION OR A RACE…THIS COURSE IS DESIGNED TO PUSH YOU TO YOUR LIMITS
When & Where

Fitness First, Manama - BTC
Bahrain Trade Centre, Moda Mall
Manama, Bahrain
Bahrain

Sunday, August 23, 2015 from 10:00 AM to 11:00 PM (AST)
Add to my calendar
Organizer
Fitness First
Fitness First Middle East is a franchise owned and operated under licence by Landmark Group, a leading retail and hospitality conglomerate in the Middle East and India. We have over 60,000 members in 62 clubs across the UAE, Bahrain, Qatar, Saudi Arabia, Jordan and Kuwait. We offer world class facilities including; best in class equipment, dedicated free weights areas internationally accredited fitness professionals, free group exercise classes and multiple membership privileges.
Fitness First started small, as a single health and fitness club in Bournemouth in 1993. We're now the largest privately owned gym, health and fitness club group in the world with over 1 million members in more than 400 Fitness First clubs, but we still have that one club mentality - every single Fitness First member counts.
SPARTAN - "Unleashed" vol.4