SPARTAN - " Tough as nails " vol.3

Wednesday, November 12, 2014 from 12:00 PM to 9:00 PM (PST)
Who's Going
Loading your connections...
3 of your friends are going.
Share it to get more people on board!
Share
Sara Haughty
San Francisco, California

Luke Picard
London, United Kingdom

Rick Vespucio
Florence, Italy
Event Details
Time:  12 pm – 9 pm
Place:  Fitness First Bahrain / BTC Manama
Date:  12.11.2014
Sponsors: TBD
Prizes: For all who Complete the challenge successfully: TBD
Entry requirements:  Open to all, consultation with a trainer and local club FM
Number of participants:  Any but competing 4 ppl at a time - max
Registration: Online or BTC club ( Talk to any Personal Trainer )
Registration: from 12/10/14 to 11/11/14*
Background:
Spartans - The most respected warriors in history - hands down! They are renowned for their strategy, spirit, unity, skill, power and most importantly their superior overall fitness.
Of course, the training principals and methodology have evolved since then. Regardless, if you train you should possess balance of power, strength, stamina, energy, agility and cardiovascular endurance. 
When we say "Spartan"...we mean EVERY sense of the word! At Fitness First Bahrain we obey by the principals of true Spartan - not only pushing physical boundaries but working as a unit. We are proud of the Spartan spirit that enables us to work hard and influence the interpersonal growth of each of our clients.
With this we present you the next Spartan Challenge. Spartan challenge vol.3  - Tough as nails!
Wednesday 12th of November* our team of Spartans at Bahrain Fitness First will be hosting this event for not only our Spartan members but our wider Fitness First Spartan team! Our last two challenges were exceptional but this time round...we need you! We are inviting all clubs from GCC to send a trainer / representative or their toughest Spartan member to take part in the third challenge which we expect to be " groundbreaking "!
Challenge:
Exercises that challenge the competitor physical strength, power and cardiovascular endurance. The exercise stations will be numbered according to the challenge sequence. The challenge will consist of 4 segments: Power, muscular endurance, strength and cardiovacular component. 
Stage 1 - Power / endurance - Long jumps / burpies

Male - jump over 170 cm marker back and forth for 5 minutes. Burpie after every jump ( regular, no pushup required)
Female - jump over 130 cm marker back and forth for 5 minutes. Burpie after every jump ( regular, no pushup required)
Requirement: Male - 50 burpies / 5 minutes, Female - 45 burpies / 5 minutes
Stage 2 - Muscular endurance

Choice: 2 pieces of equipment from kettlebells, dumbbells or barbell. Participant must perform 1 full set of 13 repetitions of 5 exercises with 2 chosen pieces of equipment. Exercises and sequence as follows: Shoulder press, front squat, row, alternate lunges, pushups. After finishing the sequence with 1st piece of equipment competitor must move to 2nd piece of equipment and start the same sequence immediately.
These 2 cycles must be finished in 10 min or less.
Weight for Male  - 14 kg and 16 kg kettlebells and dumbbells, 35 kg and 40 kg for barbell
Weight for Female - 8 kg and 10 kg kettlebells and dumbbells, 20 kg and 25 kg for barbell
Stage 3 - Strength 
Male - 1st round of leg press with 1.5 times of bodyweight load x 6 repetitions, deadlift with 1.2 times of bodyweight load x 6 repetitions, chest press with 1.2 times of bodyweight x 6 repetitions
Male - 2ns round 1st round of leg press with 1.5 times of bodyweight load x 3 repetitions, deadlift with 1.5 times of bodyweight load x 3 repetitions, chest press with 1.5 times of bodyweight x 3 repetitions

Female - 1st round for leg press with 90 kg x 6 repetitions, lat pulldown 40 kg x 6 repetitions, shoulder press 10 kg x 6 repetitions
Female - 1st round for leg press with 110 kg x 3 repetitions, lat pulldown 45 kg x 3 repetitions, shoulder press 15 kg x 3 repetitions
These 2 cycles must be completed in 15 minutes or less.
Stage 4 - Cardiovascular endurance - Run
4th and final stage of competition is 1.5 km run. All male and female competitors must complete 1.5 km in 7 minutes or less.

Please refer to online videos or documentation how to perform above mentioned exercises correctly.
Spartan "Tough as nails" vol.3 official limited edition gear - GET YOURS!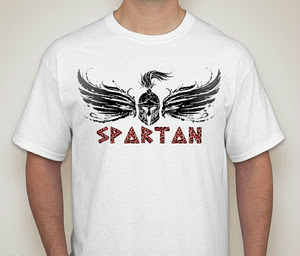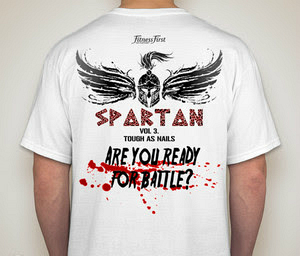 Points to rememember:
1, Every competitor is going to be monitored by a referee in terms of repetition count, exercise form, full range of motion and time, correctness of execution!
2, Competitors can't argue on the referee count.
3, Every competitor is allowed to take break after each stage for 2 min. A longer break will disqualify
4, Introduction of Flagging system -  The competitor is allowed to make only 5 mistakes, on the 5th you will forfeit the challenge. Your safety is priority.
5, Introduction of point system - Every competitors starts with 300 points. 50 points will be deducted after 1st second to 59th second over the time limit. Every minute after the competitor will be deducted 100 points. After depleting the alocated 300 points the competitor will be disqualified.
Example: 1st stage: John's time: 6 min 10 sec - ( 5 min limit ) + 1 min 10 sec over the limit =  -150 points
Food intake and hydration before competition:
A very important thing to remember is that you have to be well rested, hydrated and have adequate amount of glycogen stored in your muscles and liver. You will be going through a high intensity circuit which will challenge you to the core!
1. To avoid any complications, discomfort and possible dangers don't fuel your body shortly before competition. You will need to have at least 2 meals containing between 65 to 75 % of carbohydrates metabolised at least 2-3 hours before the event.
2. Allow at least 10 to 15 minutes for proper warmup before entering the pit.
3. Keep hydrated with water at all times. Try not drink too much on one go.
4. Breathing is a key! Breathe properly! You will be briefed on correct breathing techniques before entering the pit.
5. ABSOLUTELY NO enhancers!!! No pre-workout mixes, boosters, artificial or natural. 
Remember…being a true Spartan is not by the birth right....but by the fight you put on!
Good luck to you all!!
Important: This is A PERSONAL CHALLENGE…NOT A COMPETITION OR A RACE…THIS COURSE IS DESIGNED TO PUSH YOU TO YOUR LIMITS
When & Where


Fitness First, Manama - BTC



Manama

,

Bahrain


Bahrain

Wednesday, November 12, 2014 from 12:00 PM to 9:00 PM (PST)
Add to my calendar
Organizer
Fitness First, Pepsi..and more
Fitness First Middle East is a franchise owned and operated under licence by Landmark Group, a leading retail and hospitality conglomerate in the Middle East and India. We have over 60,000 members in 38 clubs across the UAE, Bahrain, Qatar, Saudi Arabia, Jordan and Kuwait. We offer world class facilities including; best in class equipment, dedicated free weights areas internationally accredited fitness professionals, free group exercise classes and multiple membership privileges.
Fitness First started small, as a single health and fitness club in Bournemouth in 1993. We're now the largest privately owned gym, health and fitness club group in the world with over 1 million members in more than 400 Fitness First clubs, but we still have that one club mentality - every single Fitness First member counts.