SOLD OUT EARLY! Speed Dating Event Ages 40-52 in Westport at Californos

Tuesday, March 19, 2013 from 7:00 PM to 9:00 PM (CDT)

Kansas City, MO
Who's Going
Loading your connections...
Event Details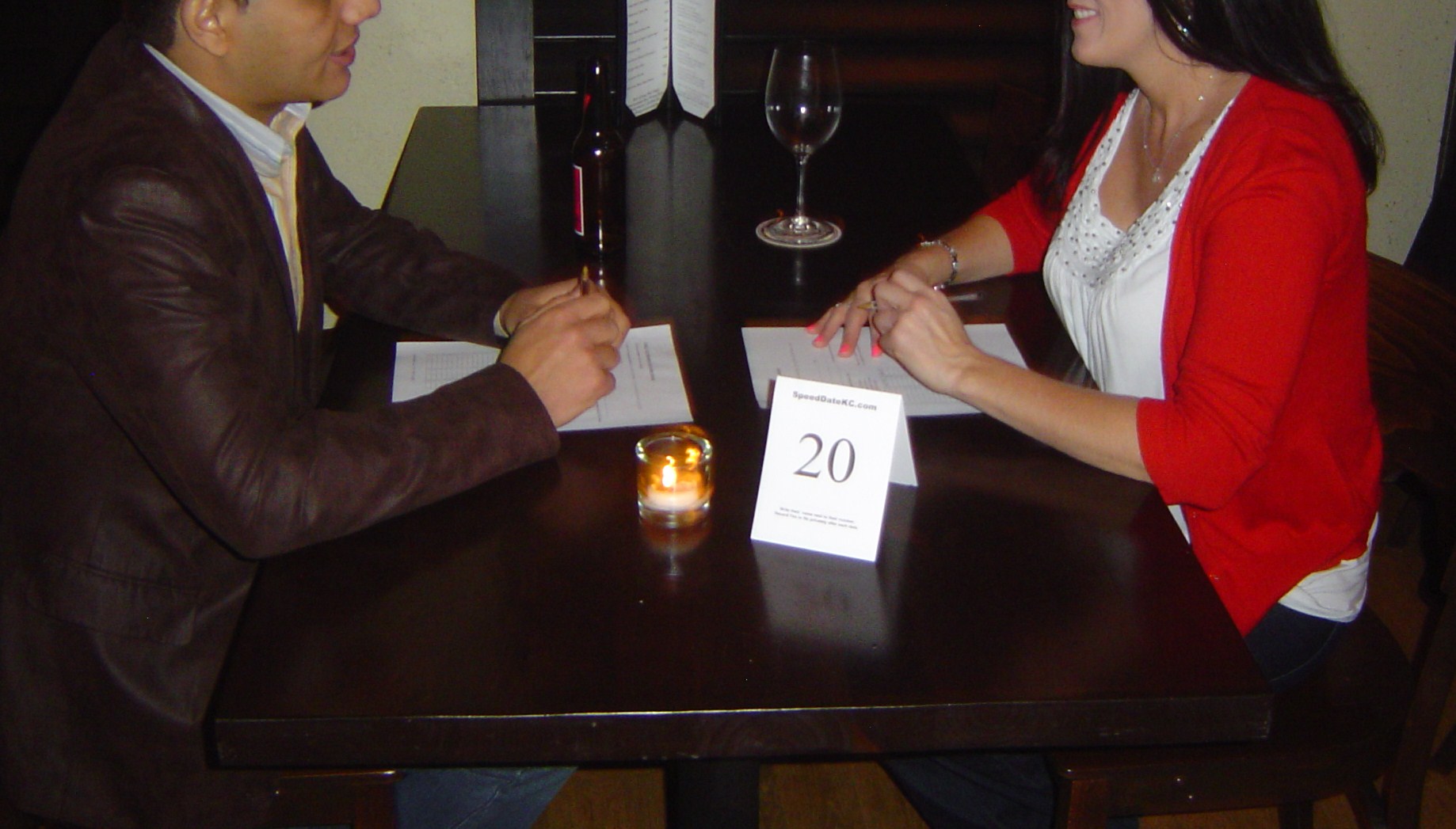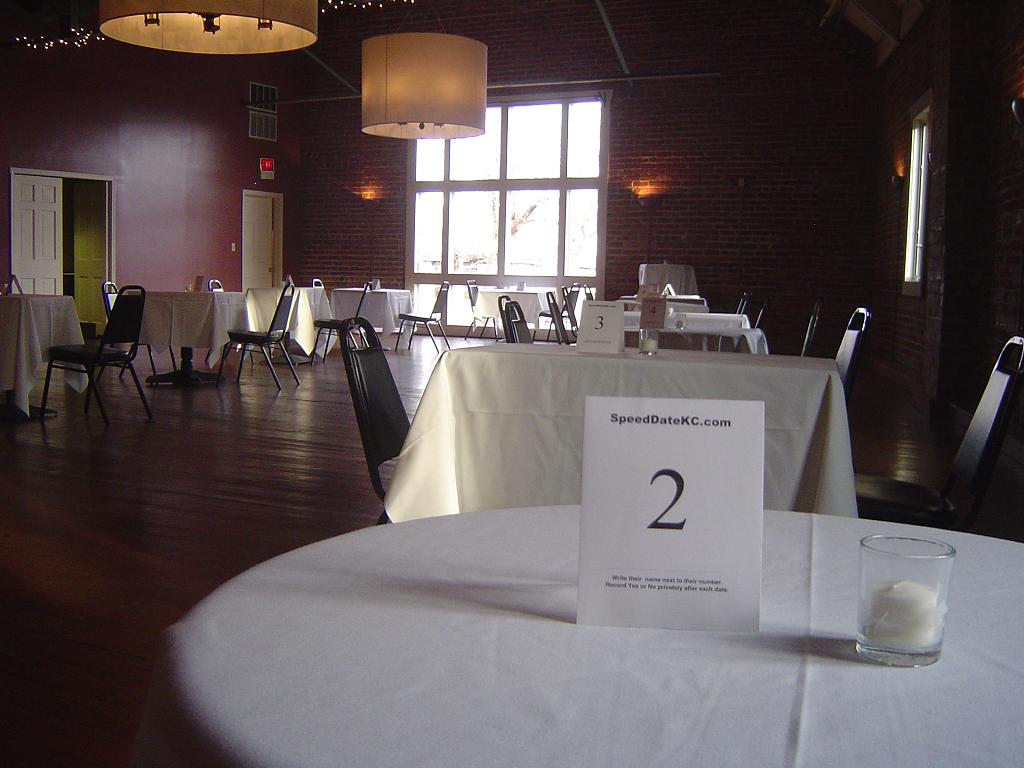 ALL TICKETS SOLD OUT
13 DAYS EARLY!
____________________

Upcoming Events:

April 22 AGES 22-35 in O.P.
April 29 AGES 36-50 in O.P.
To view these events look in "Organizer" box
to the right under "Upcoming events"
*Rotate after every 5 minute mini-date, circle yes or no on a score sheet, the next day you will receive email contact information of any mutual matches from the event!
*15 single men meet 15 single women in one event!

*Let the score sheets do the work for you! You don't have to ask anyone out and be rejected. You don't have to awkwardly say no to someone you don't feel comfortable with. Pre-screen your second dates!

*Many attractive and friendly people at these events!
   SpeedDateKC.com  
The "time" is right!
15 dates in ONE night!
Events sell out EARLY!

Speed dating is back in Kansas City!

March events are at CALIFORNOS in Westport!
A perfect venue for singles to meet speed date style.

15 tables are reserved for the event in a private area of the restaurant.

15 single men will meet 15 single women for 5 minutes each. Rotation style dating guarantees everyone will meet.
YES or NO score sheets for each "date" are turned in to the event host at the end of the event. Any mutual matches are sent via email the next day giving you contact information for future second dates.
The "dates" are no pressure, face-to-face, and just a brief conversation which will give you a quick idea of who you would like to meet again.

Please arrive 6:45-7:00 to check in with event organizer. Event starts promptly by 7:05. Event should end around 9:00. Arrive early if you wish for dinner in the nice restaurant or stay afterwards for wide beer and wine selection in the cool bar. Or go out and about in lively Westport.

*Food and drink purchases are not required during this event.
Statistics from previous SpeedDateKC.com events:
October events averaged 15 singles per event.
November events averaged 23 singles per event.
December events averaged 33 singles per event.
January events SOLD OUT with 40 tickets sold per event!
February events SOLD OUT with 40 tickets sold per event!
*Feb. extra event (49 and over) had 90% sell out (36 tickets)!

On average 78% of all attendees make mutual matches!

Events were recently held in O.P. , South KCMO, Downtown, and Brookside

How does Speed Dating work?
 Enter CALIFORNOS front door, turn left to a hallway and stairs leading to a private area reserved just for our speed dating event. After checking in with the event host or hostess, you will be given a numbered name tag, score sheet, pen, and starting seat assignment. 15 single men and 15 single women will be seated at 15 separate numbered tables.  At 7:00 the dates begin, but they happen fairly quickly. You will have just 5 minutes to talk with your first "date". After 5 minutes of conversation with the first date a signal to the group will cause the men to rotate to the next table and meet with their next female "date". Just have a short casual conversation and you should know right away if there is any chemistry. As you rotate through dates #1 through #15 you will privately circle "yes" or "no" next to their name and number on your private score sheet. At the end of the night you will turn in your score sheet with your choices to the event host, as will all the men and women. The next day you will receive an e-mail from the event host with the names and emails of any matches that also marked "yes" next to your name and number on their score sheet. Then it is up to you to contact your matches with a friendly hello through e-mail and set up a second date. They will be looking forward to hearing from you because not only did you pick them, they picked you!
 Basically, after meeting up to 15 singles, you get to choose the one or one's you'd like to meet again on a scoresheet. Pick as many as you like, but the next day you will only receive the email addresses of those that you picked that picked you as well. 78% of the attendees so far have made one or more mutual matches during an event!

 Who goes?

 All sorts of single people, but mostly single professionals who are seriously looking for a new companion with similar interests. Singles similar in age to you. Single men and women who are frustrated with the aggravations of online dating. Lots of nice looking people usually exceeding people's expectations. Date-ready people wanting to prescreen potential second dates. Singles that were disappointed with free events or pay at the door events with 75% no show rate (SpeedDateKC prepay speed date events guarantee high attendance rates, nearly 100%!)
How to dress, nervousness, no pressure or expectations

 Dress casually and comfortably for these events. Keep in mind making a good first impression is important, but don't over or under do it. You want to be your natural self and be relaxed. Be sure to smile!
 Come alone or come with a friend. About half of the attendees come alone and about half come with a same gender friend or opposite gender friend.
 Everyone is a little nervous beforehand and that is natural. After the first rotation everyone finally relaxes and realizes how much fun the event is and that there is no pressure. You don't have to ask anyone out for a second date or turn anyone down for a date, the score sheets will do all the work for you! The next day you will receive your mutual match's email contact information.
 Actual Testimonials:
"I met a kind and wonderful man and couldn't have asked for more. Still dating!" -December '12

 "7 years ago at a speed dating event, I met my match, we ended up dating, getting engaged, and now we are happily married. If I were still single and looking for someone to date speed dating is the easiest way."

"I moved here because of my job from another state, meeting potential dates was hard for me, but speed dating put me face to face with lots of interesting men."

"Also a great way just to meet people who want to be friends or to hang out with."

"Thanks for doing this! Keep doing these events!" -attendees after 11 events in October, November, December, January and February.
"Great event, fun classy organization! Thank you!" -Feb '13
"No risk, I felt at ease knowing that everyone's choices on the score sheets were private." Feb '13

 What if I don't get any mutual matches?
 It is unlikely, but it can happen. 78% of attendees so far have made one or more mutual matches at an event. Some people get MANY mutual matches. One event even had 92% of attendees get mutual match results! You will have 15 people to meet and an opportunity to circle yes on your score sheet for one or more people. The more YES's you circle on your scoresheet the better your chances.When is the last time you met 15 local single people in your age group in ONE night face to face? Even if you don't meet your match at your first event you are being proactive, meeting new people, and getting one step closer to meeting your mutual match(es).

Previous/Future SpeedDateKC.com events
City wide events!

11 speed dating events so far in Oct, Nov, Dec, Jan, and Feb. and growing!
October events were at Johnny's Tavern 119th St. in Overland Park

November events were at RC's Restaurant and Lounge in South KC
December events were at John's Big Deck Sports Bar Downtown
January events were in Brookside at Blue Grotto and SOLD OUT.
February events were in South KC at Murray's and SOLD OUT.
March events are at Californos in Westport.

The idea is to move these events around Kansas City and get as many new singles excited about this face to face concept as possible.

Not only will venues change but also age ranges of events will change from month to month to help ensure you do not meet the same people at back to back events.

About the event organizer:

I am dedicated to customer satisfaction and giving a quality, professional, positive experience as I would expect as a speed dating client. I personally greet everyone at the door and make them feel welcome at the events from start to finish. I have personally attended speed dating events years ago when they were thriving and know what people want in an event of this type. I have been making each event better and better trying to build a reputation as a respected and qualified speed dating event organizer. Mutual matches and results ALWAYS sent next day! NO cancelled events! Expedient answers to any questions! Service and quality experience guaranteed!
Guarantees, Refunds, and Transfers Policies

In the case that you attend an event  in which you do not meet at least 8 single people of the opposite gender, you will be given a full refund. (There has not been a pre-paid event yet with less then 14 of each gender!) In the case that you purchase a ticket and then for some reason you cannot attend the event, refunds or transfers of tickets to future events are not allowed. However, transfers of tickets are allowed from the ticket buyer to a same gender person in the same age group to the same event with at least 24 hours notice prior to the event to the event organizer.
Have questions about SOLD OUT EARLY! Speed Dating Event Ages 40-52 in Westport at Californos?
Contact SpeedDateKC.com
When & Where


Californos Westport Restaurant & Bar
4124 Pennsylvania Avenue


Kansas City

,

MO

64111


Tuesday, March 19, 2013 from 7:00 PM to 9:00 PM (CDT)
Add to my calendar
Organizer
SpeedDateKC.com
Dedicated to a full event, a quality venue and experience, and expedient results!