SMPTE PDA Now Webcast: High Frame Rates

Thursday, September 13, 2012 at 1:00 PM (EDT)
Event Details
High Frame Rates – A Technical Discussion on the Impact it Will Have on Motion Imaging Workflows
Thursday, 13 September 2012
17:00 UTC / 13:00 Eastern / 10:00 Pacific
Login Details to Be Provided
Guest Speaker: Jim Whittlesey, Deluxe
With an eye on the ever evolving motion imaging technology horizon, high frame rate (HFR) content is the next challenge to impact the entire theatrical workflow. So what are the benefits of HFR technology? How will HFR affect the media workflow, including:
lest we forget,  "The theatrical experience"
What challenges stand between current workflows and widespread adoption of HFR? Please join our very special guest speakers as they explore the essentials of High Frame Rate media.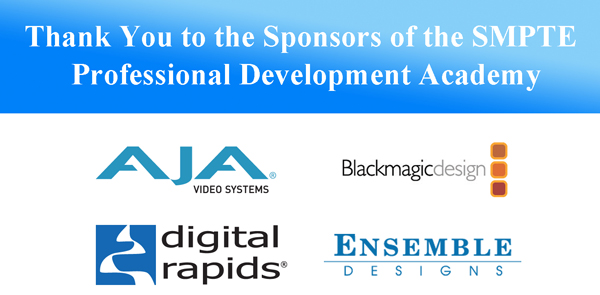 Have questions about SMPTE PDA Now Webcast: High Frame Rates?
Contact SMPTE
Organizer
SMPTE
The Society of Motion Picture and Television Engineers (SMPTE), is the leading technical society for the motion imaging industry.
SMPTE members are spread throughout 64 countries worldwide. Over 200 Sustaining (institutional) Members belong to SMPTE, allowing networking and contacts to occur on a larger scale. Touching on every discipline, our members include engineers, technical directors, cameramen, editors, technicians, manufacturers, designers, educators, consultants and field users in networking, compression, encryption and more.

SMPTE was founded in 1916 to advance theory and development in the motion imaging field. Today, SMPTE publishes ANSI-approved Standards, Recommended Practices, and Engineering Guidelines, along with the highly regarded SMPTE Journal and its peer-reviewed technical papers. SMPTE holds conferences and local Section meetings to bring people and ideas together, allowing for useful interaction and information exchange.


SMPTE strives toward its goal through:
Membership: Promoting networking and interaction
Standards: Developing industry standards
Education: Enhancing education through seminars, exhibitions, and conferences