| | |
| --- | --- |
| Screening Persons through Observational Techniques (SPOT), Rock Springs WY 10/30/14 | |
Event Details
 Screening Persons Through Observational Techniques
This training is be offered as part of the Wyoming School Safety and Security  Initiative
 Please Read the Entire
Course Description Before Enrolling
Date:                    October 30, 2014 
Time :                   8:00 am - 12:00 pm
Course Length:   4 Hours
Location:             Western Wyoming Community College
                              Room 1309
                              2500 College Drive
                              Rock Springs, Wyoming 82901
Cost:                     None
To Enroll you will need a FEMA Student Identification number. You can get one at the link below.https://cdp.dhs.gov/femasid/
Description
Goal of course: 
School personnel or other personnel who have extensive contact with the public are in the best position to identify unusual packages, suspicious substances, and people who are acting suspiciously, However, they need to acquire skills in what to look for and how to respond
This Training will provide participants with knowledge, skills, and abilities to apply the screening of persons by observational techniques (SPOT) while accomplishing their regular duties.
In this course, participants are provided an overview of threat and vulnerability analyses and how these can be used to establish effective defenses. Participants are also provided with an overview of security operations that can be applied for prevention and detection of potential threats.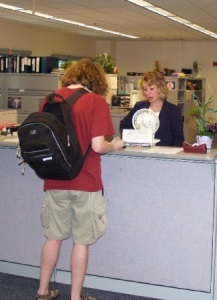 Participants can incorporate this course into planning for school safety and security.
Some of the course subjects are conducting behavioral assessments, implementing screening operations, conducting non-intrusive inspections, scene control, evacuation, and media relations and device interdiction,
Primary audience: Wyoming school districts employees and private school employees.
Two weeks prior to the training, any remaining vacancies will be offered to public safety personnel, local state and federal government agencies
Enrollment Point of Contact:
Russell Clark
Wyoming Homeland Security Training Program
307 358 1920
Attendee List
Sort by:

Date

|

First Name

|

Last Name
Where

Western Wyoming Community College
Room 1309
2500 College Drive
Rock Springs, WY 82901


Organizer
Wyoming Homeland Security Training Program
Contact:
1556 Riverbend Drive
Douglas Wy 82633
Office (307) 358-1920
Fax (307) 358-0994
email russell.clark@wyo.gov
---
An important Note about our Training  

In order to qualify for this training you must have a local, county, or state  agency affiliation or belong to a first response / receiver organization.  Please feel free contact us if you have any questions about your eligibility to attend training.
You must complete the entire online application in order to be placed on the class roster.  Your phone number  and email address are extremely important if we have to contact you for a class cancellation or change
About us:
Working together with the Wyoming Office of Homeland Security, the Wyoming Law Enforcement Academy operates the Wyoming Homeland Security Training program. The program is responsible for the facilitation of training management for all U.S. Department of Homeland Security, and FEMA training programs in Wyoming.
This program also maintains the Wyoming First Responder Training database and collects training records for all recognized first responder disciplines to maintain a current resource of responders. From the training database, qualified first responders are issued the Wyoming First Responder Identification card.
---
Website www.whstp.com
Online Learning www.whstplearn.com
Friend us on facebook http://www.facebook.com/pages/Wyoming-Homeland-Security-Training-Program/266324171403
Wordpress  http://wyohstp.wordpress.com/
Screening Persons through Observational Techniques (SPOT), Rock Springs WY 10/30/14