Schools That Can 2013 National Forum Hosted By Schools That Can Milwaukee

Wednesday, April 24, 2013 at 5:00 PM

-

Friday, April 26, 2013 at 1:00 PM (CDT)
Event Details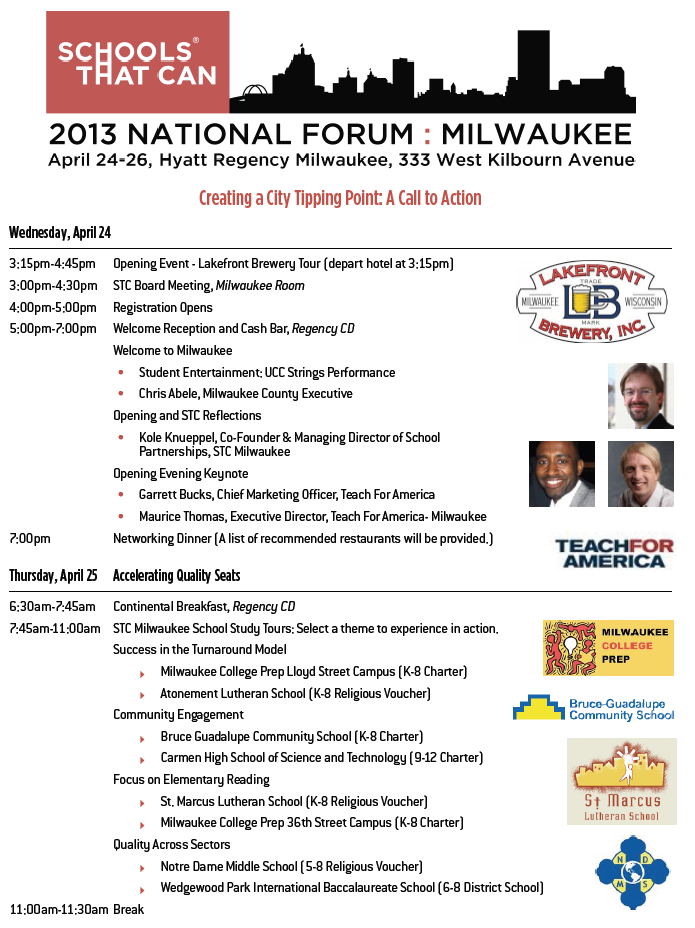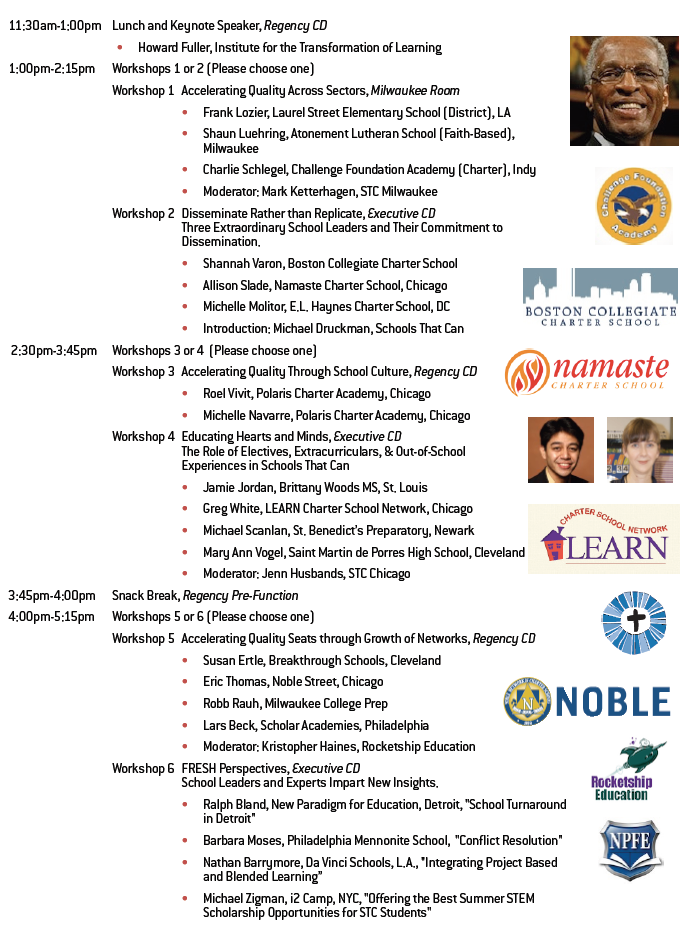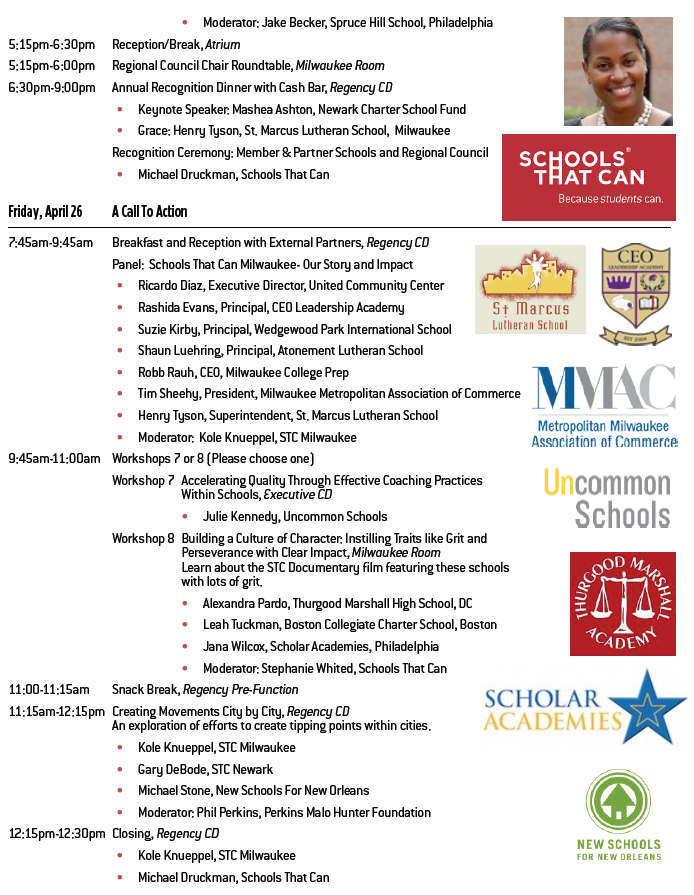 Event Overview
The 2013 STC National Forum will be held in Milwaukee!  This year's Forum will include powerful keynotes, insightful workshops & panels, and visits to the most transformative schools in the city. The forum will focus on themes of collaboration and reaching tipping points for change, both within schools and in larger educational communities.
________________________________________________________________________________
3 Enrollment Steps
1. Determine your school visit preference (you will be asked to select one during the online registration)
2. Register for the 2013 STC National Forum
3. Book your hotel using the website below in order to receive the group rate
________________________________________________________________________________
School Visit Options
School visits at this year's STC National Forum will consist of touring two schools followed by a panel discussion focused on a specific theme.  Below you will find the school groupings bundled by the theme that will be discussed.  Please review the options below as you will be asked to select one school bundle during the online registration.
Success in the Turnaround Model
Milwaukee College Prep Lloyd Street Campus (K-8 Charter School)
Atonement Lutheran School (K-8 Religious Voucher)
Having undergone an intense turnaround effort, Atonement has recently achieved impressive results and is an exemplar for how a commitment to culture and academics can dramatically alter a school's trajectory.  Milwaukee College Prep Lloyd is one of three campuses in the high-performing MCP charter network. MCP took over the lowest performing charter schools – one of the lowest performing schools overall – in the state 3 years ago and has transitioned the climate there to one of positive collaboration and high achievement.
Community Engagement
Carmen High School of Science & Technology (9-12 Charter School)
Bruce Guadalupe Community School (K-8 Charter School)
Founded 5 years ago, Carmen High School has had great success serving a primarily Latino population on the south side of Milwaukee by emphasizing college and career readiness, high academic standards, and 21st century skills. Bruce Guadalupe places community and culture at the center of their drive to emphasize high expectations and college readiness in a bicultural environment. Both schools use assessment data (EXPLORE, PLAN, ACT, state assessment and local assessments) as key drivers of academic rigor and student achievement.
Focus on Elementary Reading
St. Marcus Lutheran School (K-8 Religious Voucher)
Milwaukee College Prep 36th Street Campus (K-8 Charter School)
St. Marcus has emerged as one of the preeminent religious voucher (Choice) schools in Milwaukee. Emphasizing excellence in students' roles in their family, church, community workplace, and country, St. Marcus is currently amidst an ambitious facilities and enrollment expansion.  MCP 36th is one of three campuses of the high-performing Milwaukee College Prep charter network.   MCP has been uncompromising in their belief that "Knowledge plus character pave the way to college and beyond."  Both St. Marcus and MCP have achieved some of the highest results in Milwaukee, particularly in the area of elementary literacy.
Quality Across Sectors
Notre Dame Middle School (5-8 Religious Voucher)
Wedgewood Park International Baccalaureate School (6-8 District School)
Serving an all-female, primarily Latina population, Notre Dame Middle School has established itself as one of the highest-performing schools in the city.  Notre Dame emphasizes leadership skills, critical thinking, and social justice in a bi-literate (English and Spanish) setting.  One of few International Baccalaureate schools in Milwaukee, Wedgewood Park is a large public middle school in Milwaukee Public Schools.  Wedgewood's I.B. curriculum emphasizes holistic learning, intercultural awareness, and communication skills.  Both schools are exemplars of school quality and success within their respective sectors.
  ________________________________________________________________________________
Hotel Reservation Information
Hotel reservations can be made at the Hyatt Regency Milwaukee. 
To get the nightly hotel group rate of $134 you can use this website or attendees can also make reservations by dailing 1-888-421-1442 and referencing the STC Forum.

 ________________________________________________________________________________
Forum Agenda
The Forum agenda will be released soon, please check back for updates. 
________________________________________________________________________________
Forum Contact
Liz Lavelle
Schools That Can Milwaukee
414-988-5359
*By registering for the Forum you give permission for your email address to be shared with others attending the Forum.  Your contact information will not be sold or distributed to people not attending the Forum. 
2013 STC Forum Cancelation Policy:  Cancelations prior to April 4, 2013 will receive full refunds, no refunds will be distributed after this date.
When & Where

Hyatt Regency Milwaukee
333 W Kilbourn Ave
Milwaukee, WI 53203


Wednesday, April 24, 2013 at 5:00 PM

-

Friday, April 26, 2013 at 1:00 PM (CDT)
Add to my calendar
Organizer
Schools That Can Milwaukee
Working to be a catalyst for transformation, Schools That Can Milwaukee is partnering with high-performing and high-potential Milwaukee schools to:
Support expansion and replication of high-performing schools

Identify best practices of high-performing schools and replicate these attributes at other schools throughout the community, accelerating their movement to excellence

Collaborate with other local organizations to recruit high-quality school models and leaders to Milwaukee.
With a goal of 20,000 children in high-performing urban schools by 2020, STCM will grow from three founding schools to more than 50 high-performing member schools in Milwaukee.  To find out more, visit us at our website.
SPONSORS