Rise of the Startups - Seeqnce Accelerator Program

Saturday, August 25, 2012 at 6:30 PM

-

Sunday, August 26, 2012 at 2:00 AM (EEST)
Event Details
Event Checklist
Doors open at 6:30 PM.
Pitches start art 7 PM sharp.
Party starts at 11 PM.
Food, provided gratiously by our Sponsor Crepaway, will be served at 9 PM.
Drinks, provided by our Sponsors 961 Beer, Grey Goose, and Dewars 12, will be served throughout the event.
Over 500 are registered to attend.
Only 70 seats are available in the Pitch Area. Come early to secure an unreserved seat.
Valet Parking will be available to facilitate parking. Standard 5000LL fare.
Dress Code is Casual Chic. Dress to enjoy the warm rooftop breeze.
+1s, 2s, and more are welcome, but priority is for those who are registered.
As per our request, the ISF and State Security will be onsite, at the base of the Seeqnce building, to actively maintain order and security for all attendees.
This August 25, Lebanon will witness the Rise of the Startups.
Seeqnce will be creating 8 Internet Startups simultaneously, at a time when electricity is scarce, there's civil war next door, and everyone's on vacation.
"It is not the critic who counts.
The credit belongs to the man who is actually in the arena, whose face is marred by dust and sweat and blood, who strives valiantly;
who, at the best, achieves greatly, and who, at the worst, fails while daring greatly, so that his place shall never be with those cold and timid souls who knew neither victory nor defeat." --Theodore Roosevelt
Join us on Saturday August 25, from 6:30pm sharp on the Seeqnce Rooftop in Hamra, for the Grand Finale of the 2012 Seeqnce Accelerator Program Selection Phase.
This closing event will feature:
2012's Largest Showcase of Internet Startups in Lebanon.
Vetted Entrepreneurs delivering World-Class Pitches for investment in their Seed-Stage Startups from 7pm to 11pm.
Simultaneous Investment in up to 8 Internet Startups in Lebanon - more than all of Lebanon's 2011 Seed-Stage Investments?

The Summer's Hottest Mixer / Party / Networking Event with the "Rise of the Startups" theme.

Over 500 entrepreneurs, investors, industry leaders, professionals, students, et al.
Entrepreneurship inspired graffiti, stencils, and street art.

Refreshments & Startup Food.
---

In the News

Going against the tide has put Lebanon's entrepreneurship scene back on the map, with featured articles in the leading international publications:
The Economist (Print Edition)

- August 2012:
http://www.economist.com/node/21560243

The Wall Street Journal

- July 2012:
http://online.wsj.com/article/SB10001424052702304211804577504363296468878.html

http://techcrunch.com/2012/07/05/from-the-heart-of-beirut-startup-accelerator-seeqnce-plans-to-thrive/

---

The Backstory
436. EPIC.

Four Hundred and Thirty Six from 30 countries across 6 continents signed up for the Arab World's most ambitious startup acceleration program, the Seeqnce Accelerator Program.
Throughout June, July and August, designers, hackers, marketeers participated in the Selection Phase of the 2012 Seeqnce Accelerator Program (SqP2012).
First, we interviewed them.
Then, we Shuffled them, repeatedly testing both their personal skills as well as their ability to work in groups.
In parallel, we put them through Mixers, where they had to sell their ideas: convincing, cajoling, inspiring others to form teams around them [ideas].
Once in teams, we Challenged them, pushing them to their physical, mental, emotional, and spiritual limits in a 48-hour Hack/Design/Pitch marathon.
At every step, we lost a few. Only the strong and brave pulled through. The Entrepreneurs.
With the Grand Finale drawing near, the stakes are high: 76,500 USD will be invested in each of the selected startups. On August 25, up to 8 Startups will Rise on the Seeqnce Rooftop in the heart of Beirut, Lebanon.
Location & Contact
Address: Central Bank Street, Jallad Bldg, Rooftop [it's the 1st building before the Central Bank of Lebanon on Hamra Street, same building as Iraqi Airways, next to the Hypco Gas Station]
Telephone: +961 1 742 540
E-mail: contact (at) seeqnce [dot] com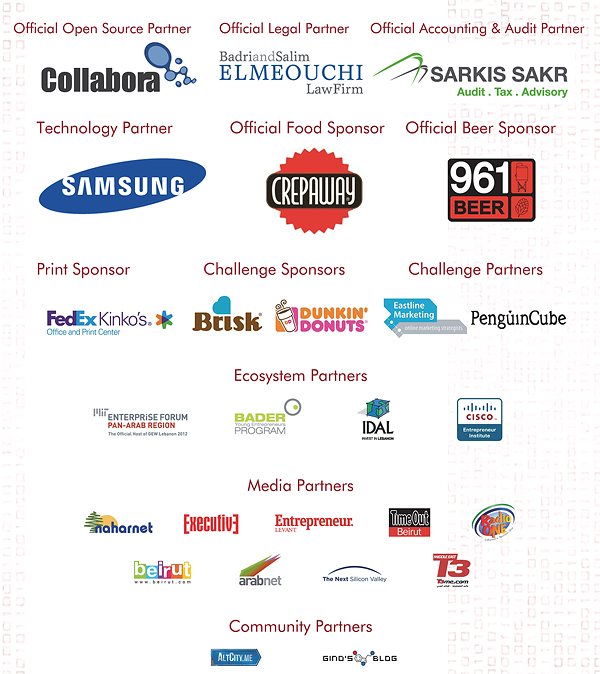 Have questions about Rise of the Startups - Seeqnce Accelerator Program?
Contact Seeqnce
Attendee List
Sort by:

Date

|

First Name
When & Where


Seeqnce Rooftop
Central Bank Of Lebanon
,

Beirut


Lebanon

Saturday, August 25, 2012 at 6:30 PM

-

Sunday, August 26, 2012 at 2:00 AM (EEST)
Add to my calendar