Raw Families in the Real World...

Monday, April 8, 2013 from 7:00 PM to 9:30 PM (PDT)

San Francisco, CA
Who's Going
Loading your connections...
Event Details
Are YOU and Your Family
Ready For a Change?
Do you feel like you know there's a better way to live and
eat, but you just don't have the tools to make it happen for
yourself and your family? It's time to clean the blood,
rejuvenate the body and clear your mind!
Join Karen Ranzi, Author of the book Creating Healthy Children, for this essential informational discussion where you will find out:
What to do when our family members are sick

How to achieve permanent weight loss

How to increase energy and motivation

What steps to take to improve digestion and assimilation

How to have better concentration & mental focus

Strategies to increased resistance to illness

Practices to increase emotional well-being

The path to healing A.D.D. & Autism.
Creating Healthy Children is an empowering transformational book that will profoundly improve your family's physical, emotional, mental and spiritual wellbeing. In this book, Karen Ranzi guides you on the path to creating happy and healthy families, confident of their disease-free future. Rather than medicate diseases, infections, and learning difficulties, Karen's unique and proven approach simply eliminates the causes of health and weight problems through the healthful raw vegan lifestyle.
Raw Families in the Real World...
Yoga Society of San Francisco
2872 Folsom Street   San Francisco, CA 94110
Raw Treats and Lecture from 7PM - 9PM
Tickets are $10 advance - $15 at door

* Karen's book will be for sale and there will be time for questions and answers as well as book signing after the talk. www.superhealthychildren.com

Delicious Raw Food Available A La Cart prepared by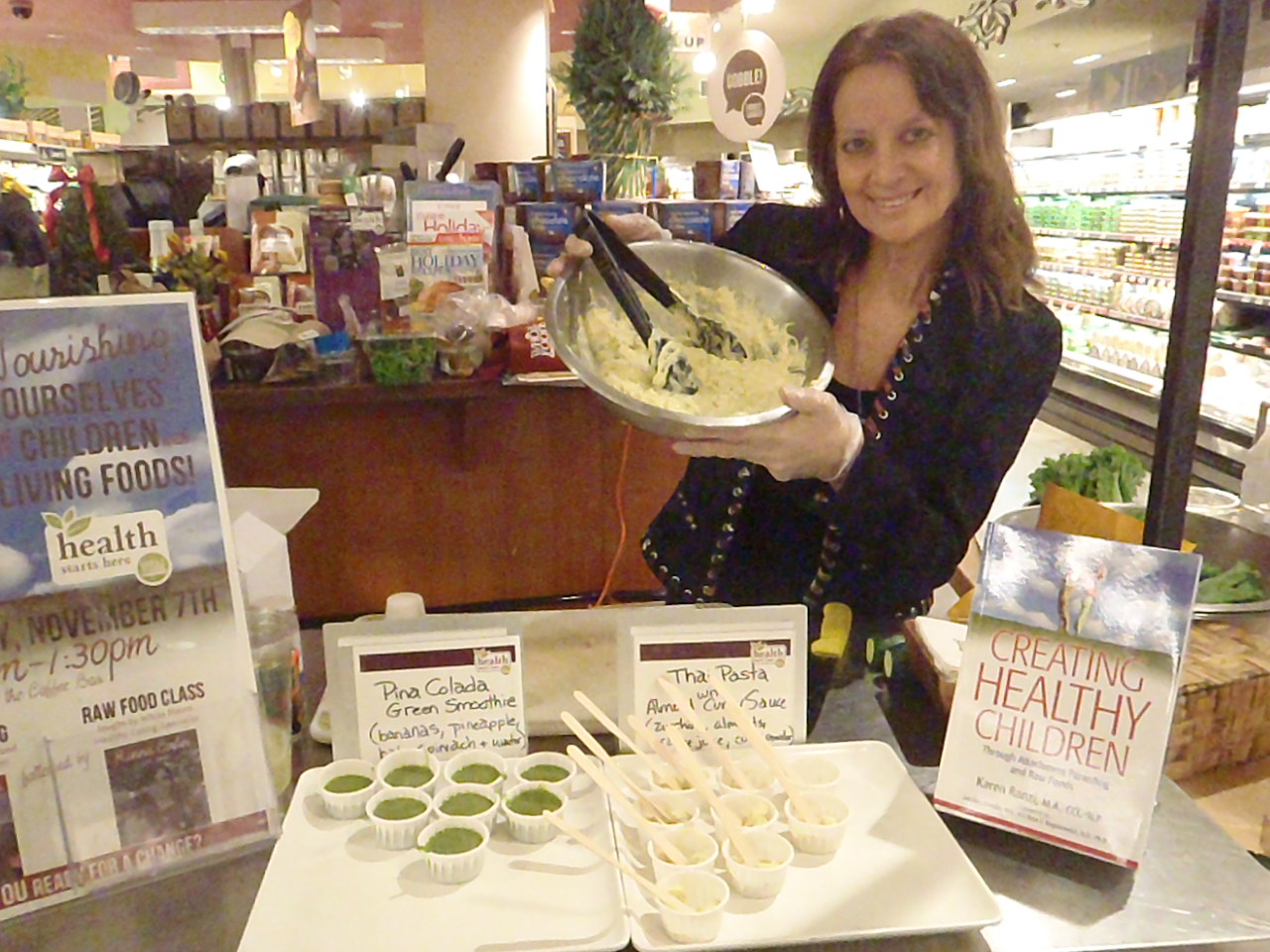 Karen Ranzi:
Author, speaker, speech pathologist, and living foods consultant and raw vegan chef, Karen Ranzi, M.A. authored and published her groundbreaking book, Creating Healthy Children. Her upcoming book is all recipes and articles about healthy living titled "Raw Food Fun for Families."
Karen travels throughout the United States and abroad delivering her impassioned message about raising healthy families. She has presented for universities, schools, health institutes, and associations. In June 2012, Karen was the keynote speaker at the "Health Congress 'Flowers of Life,'" south of Moscow, organized by the Russian Association of The Raw Food Movement and Naturopathy.
Karen received enthusiastic audiences during her health and wellness workshops at the University of South Carolina, Penn State University, and Ramapo College. She is a writer for Get Fresh Magazine, VegWorld Magazine, Vibrance Magazine, and Super Raw Life Magazine. Karen is Health Expert Advisor for SAFbaby.com. Karen has been interviewed by Steven Prussack, host of Raw Vegan Radio, on "Interviews with the Raw Vegan Masters" and "RAWpalooza," and has been a featured guest on
numerous TV and radio talk shows including episodes on Dr. Gary Null's Progressive Radio Network and "Living Consciously" with host Monty Taylor. Karen was also a featured guest on "The Conscious Foods Summit" and Matthew Monarch's "Conscious Parenting Summit." Karen spoke for an audience of 250 chemists at the February 2012 Symposium of The New York Society of Cosmetic Chemists. Her topic focused on "Nutrition for Beauty and Health of the Skin: How Early Feeding Habits Affect the Skin
in Later Years." June 19, 2012, Karen was a featured speaker on "A Wholistic Approach to Skin Health and Beauty" at the New York Health & Beauty Expo at the Jacob Javits
Center in New York City.
More recently, Karen was interviewed on "Creating Healthy Children" and "Eating to Avoid the 'A' Disorders" on the Living Healthy Show, currently showing on 14 cable television channels and Peg Media. In November 2012, Karen was interviewed by Mitchell Rabin, host of "A Better World TV and Radio" and The Dr. Don Show. Karen was nominated "Green Housewife 2012" by Bergen Health & Life Magazine. On May 28, 2012, Karen Ranzi talked as author expert on "Attachment Parenting" with New York Radio Host Mark Riley on WWRL 1600 AM Radio following the overwhelming national response to the sensational cover of the May 21st Time Magazine in which a three year old boy was breastfeeding.
In addition to her work in nutrition, Karen holds a Masters degree in speech
pathology from New York University, and is a speech therapist working with
children of all ages for over 30 years, specializing with autistic children for the past 12 years. She incorporates nutrition therapy into her work with children on the autism spectrum and has observed impressive progress in their communication skills and reduction of stereotypical behaviors.
Every June, Karen supervises twenty speech pathology graduate students from Northeastern universities as they work with autistic children at Camp Kaleidoscope of Vermont, a unique camp program for autistic children and their families. Karen increases her students' awareness of the impact of whole food vegan nutrition on the children's health and wellbeing, which includes the benefits of a gluten-free/ dairy-free lifestyle, eliminating processed foods and increasing fresh raw plant foods.
Karen found the natural path that enabled her son to heal from asthma, chronic ear infections and multiple food allergies in 1994. By means of her education, life-changing personal experiences and sincere desire to share her message, Karen has been able to guide thousands of individuals and families toward developing excellent health.
For more information, see
www.superhealthychildren.com
www.facebook.com/CreatingHealthyChildren
www.youtube.com/superhealthychildren
this event is sponsored by:
Bay Area Revolutionary Raw Conscious Cuisine Meet Up Group
When & Where


Yoga Society of San Francisco
2872 Folsom Street


San Francisco

,

CA

94110

Monday, April 8, 2013 from 7:00 PM to 9:30 PM (PDT)
Add to my calendar