Race & Seek Chicago 2014

Saturday, May 17, 2014 from 12:00 PM to 5:00 PM (CDT)
Who's Going
Loading your connections...
3 of your friends are going.
Share it to get more people on board!
Share
Sara Haughty
San Francisco, California

Luke Picard
London, United Kingdom

Rick Vespucio
Florence, Italy
Event Details
Race & Seek is the Greatest Urban Adventure Race on the Planet! An adventure race that will challenge you both mentally and physically, pushing you to the limit, as you and your friends explore your city for a chance to win $500!
Race & Seek consists of 14 clues that are spread out over 2 legs, with an optional Bonus 'Seeker' clue.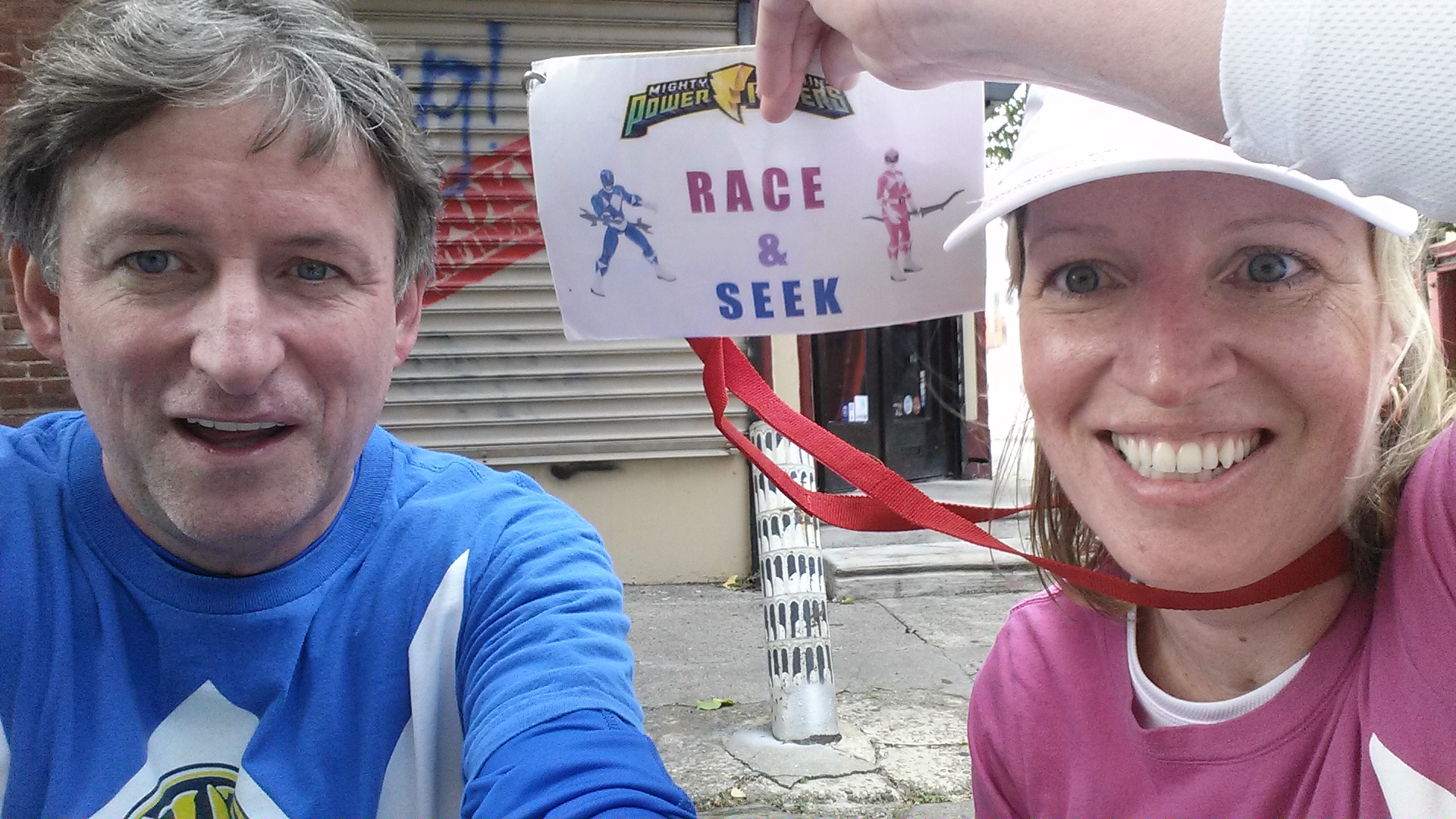 Registration Begins: 11:00am
Announcements: 11:40am
Charity Teams Start: 11:55am
Regular Teams Start: 12 Noon
Race Ends: 5:00pm
When & Where

Dick's Last Resort
315 N Dearborn St.
Chicago, IL 60654


Saturday, May 17, 2014 from 12:00 PM to 5:00 PM (CDT)
Add to my calendar
2014-05-17 07:43:20
Race & Seekers!
Excitement is building! Race & Seek Chicago is just 1 day away!
Thank you for entering the Greatest Urban Adventure Race on the Planet! We are just 1 day away from Race & Seek Chicago, and we can't wait for everyone to experience something Fresh in Urban Adventure Racing.
***UPDATE****
1. If you are having trouble signing the waiver online, waivers will be available to sign at the race. So Please Arrive Early!
2. PLEASE BRING YOUR VOUCHER TO THE RACE IF EVERYONE ON YOUR TEAM ISN'T REGISTERED.
3. Only one person on each team needs to have social media accounts (Facebook, Twitter). Only one person on the team should post when required.
4. The race starts at Dick's Last Resort, so arrive early!
5. ALL AWARDS WILL BE GIVEN OUT AT 4PM!!! WE WILL NOT GIVE OUT AWARDS ANYTIME BEFORE 4PM, UNLESS A MAJORITY OF THE TEAMS HAVE COMPLETED THE RACE!
*******
This email will be arranged into numbered sections, so that you can get to the information that you want to know more quickly.
Section:
1: Announcements
2: Charity
3: Race Day Info
4: Things To Know
Section 1: Announcements
Cash Prizes                Best Team Shirt/           Seeker Clue Prize
                                      Best Costume
1st Place:  $500               1st Place: $150         Secret prize to the first
2nd Place: $300               2nd Place: $100          5 Teams to solve the
3rd Place: $200                3rd Place: $50                  Seeker Clue!
**Race & Seek does not allow Solo Racers! All racers must be on a Team or you will not be allowed to race!**
***Everyone on your Team must sign a WAIVER! Make sure everyone on your Team logs in and signs their Waiver!***
Section 2: Charity
This year Race & Seek is working with Alex's Lemonade Stand Foundation – To Fight Childhood Cancer, as the charity that race donations will go to. This year we are offering a 5 minute head start to Teams who donate a minimum of $10 per Team Member. Remember that this is a race, and every second counts when you're competing against 100's of other teams. The link to donate is:
http://www.alexslemonade.org/mypage/1112707
Even if everyone on your team does not donate, you still can donate, and make a change in a child's life.
FYI: In our last race of 2013 in Philadelphia, the first place team received the 5 minute head start.
Section 3: Race Day Information
Where Should I Arrive
The Start point of the race is:
Dick's Last Resort
315 N. Dearborn St.
Chicago, IL 60654
When Should I Arrive
Check-in: Starts @ 10:30am - 11:45am
Announcements: @ 11:45am
Charity Team Start: @ 11:55am
Race Starts: @ 12:00pm Noon
What Do I Need To Bring
Since we will have all of your team information, an ID is not required.
-Map (only if you want to),
-Smart phone (To help solve clues, to phone friends who may have answers, to take pictures and videos)
-Twitter & Facebook account (Some clues REQUIRE your team to post the answer to Twitter or Facebook)
-Team Shirt/Costume (No ugly race shirts in Race & Seek. We are all for team creativity and individuality)There will be a 1st 2nd & 3rd place prize for the best Team Shirt!
What Are The Rules Of Race & Seek
- Race & Seek is not your normal urban adventure race, but is the only race that is the closest to The Amazing Race.
-Race & Seek consists of 14 clues.
-The team with all clues solved and the Fastest Time will win the race! (If you have the fastest time, and only have solved 12 of the 14 clues; the team who comes in with all 14 clues solved will be deemed the winner and have the new fastest time, because they completed the entire race.) So completing all of the clues is very important. But don't forget that you can replace one of the 14 clues with the Bonus Seeker Clue; so don't get discouraged. The race is designed to be challenging, and fun at the same time.
-For every question wrong, your team will receive a 20 minute penalty
Section 4: Things To Know
You may want to bring some money for things you may need during the day, and to pay for public transit if you need it.

You can go back and correct wrong answers during each leg, the checkpoint is open for a long period of time, so you will have time to go back and correct your answers if you would like. If you want to win, you need to have the correct answers.

Make sure that you bring a device (Smart Phone, Tablet, Whatever you choose to bring) that can receive emails, text, and that can post photos and video to Facebook & Twitter. Most smart phones have these capabilities, but this is just a reminder.

We will give out an email at the beginning of the race, so if you have questions you can email us during the race. If enough people are having a problem with a clue, we will email hints out.

You may want to bring extra batteries or something to charge your smartphone/device during the race.

The only form of transportation that can be used during the race is your feet, trolleys, buses, and trains. No taxis, cars, skates, bikes, or other forms of transportation may be used during the race.

In Race & Seek ALL CLUES MUST BE COMPLETED to stay competitive for the 1st - 3rd place prizes.

Each clue will inform you of how many members of your team must be in the photo or video. The majority of the clues must have all members in each photo or video. So don't be shy, because you may need to talk to strangers.

For Race & Seek Chicago we will use the hashtags #RaceSeekCHI on Facebook, Twitter, and Instagram. So make sure you tag all of your photos and comments with #RaceSeekCHI!

 

 

If You Still Have Questions

Make sure you check out our FAQ and ABOUT sections @ www.raceandseek.com , or email us @ info@raceandseek.com.

 

Make sure your Entire Team:

-Likes Race & Seek on Facebook (www.facebook.com/RaceSeek)

-Follows Race & Seek on Twitter (www.twitter.com/RaceSeek)

-Follows Race & Seek on Instagram (www.Instagram.com/RaceSeek)

 

 

More emails to come before the race! So get ready to #RaceDifferent!

 

Your Friends In Adventure Racing,

 

 

 

Race & Seek Staff