Puppet Making Craft Workshop at Huntington Free Library
Bronx, NY
Bummer! Sales have ended.
Unfortunately, tickets for this event are no longer on sale.
Event Details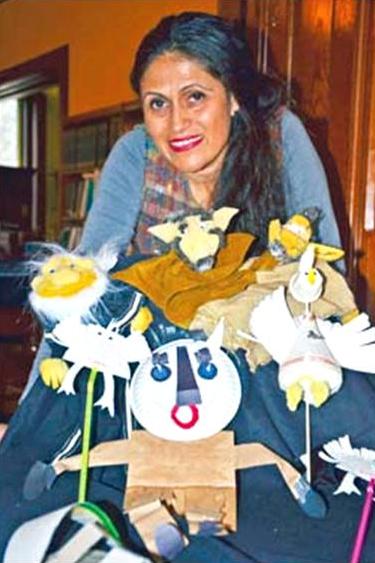 Lucrecia Novoa's fascinating, large-scale puppets and masks are currently on view in the horror and fantasy exhibition "In The Realm of Dreams & Fears" at the Longwood Art Gallery @ Hostos (450 Grand Concourse at 149th Street).
Marvel at her work at this exhibition and then spend a fun-filled afternoon with her as she helps you to create a small-scale puppet that you will be proud to display.
The workshop runs from 12:30-3:00pm. Admission is free. The Huntington Free Library is located at 9 Westchester Square (next to the Apple Savings Bank). This workshop is free and open to the public. All are welcome.
Lucrecia Novoa studied Fine Arts in University of Chile and the Massachusetts College of Arts. The turning point of her career was when she attended the Art of the Mask course offered by Eric Bornstein in 1996. Under Eric's patient guidance, she learned not only techniques of mask masking, but also how to mold gestures and expressions into the masks. She began producing fantasy creatures using large masks and sophisticated costumes and soon sought her own characters, based preferentially on dark figures representing witches, monsters and ghosts. Over the years, Lucrecia has been involved in several workshops, shows and theater. She's assisted on student art workshops and had a very fulfilling experience with her dramatic adaptation of a Mexican story (Lucia Zenteno), which included masked characters, live music and bilingual (Spanish and English) dialogue. Lucrecia has organized her own workshops and exhibits over the last few years. Of particular significance were the exhibits in the Waltham Public Library, which displayed my drawings, paintings, and masks in three consecutive years.