PRS 126: Demonology Overview (Webinar Series)

Sunday, April 28, 2013 at 1:00 PM

-

Monday, June 3, 2013 at 4:00 PM (EDT)
Event Details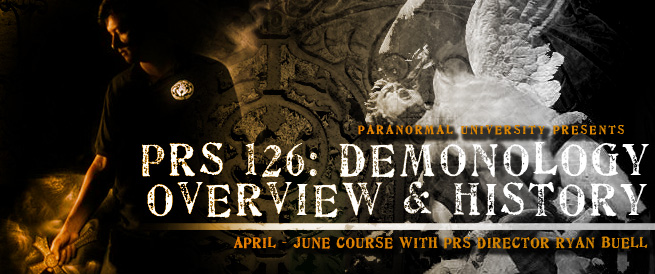 Take a deeper look in to the darkness.
Summary:
Ryan Buell (founder/director of PRS) will give a 5-lecture, month-long historical overview in to the world of demonology.  From the ancient cultural views, the origins of Satan & Hell, to the rite of exorcism, students will gain a well-rounded overview when it comes to the demonic phenomenon.  Students will learn about various religious (Mesopotamian, Jewish, Muslim, Christian faiths) and cultural views on the demonic, and how they influenced one another.  Focusing on the mainstream Christian culture, the class will learn about the origins of Satan (again, from an historical view) and his influence on religion.  Then, from the Inquisition, St. Thomas, King James, the Witch Trials and more, how fear in the demonic influenced our culture today.  On top of the historical overview, the class will study popular demonic cases throughout history, as well as evidence supporting the existence of the demonic in the 20th and 21st centuries.  Although this class will not try to convince the class of one particular viewpoint, an attempt to present all sides will be given, and the student will have the materials to make up their own minds on whether or not demons do exist.
Additionally, the class will receive three real PRS cases that involve claims of demonic hauntings and possession.  Throughout the course of the class (along with participation on the virtual classroom), we'll dissect these cases.  Students will watch real video and audio evidence and more.
Additionally, this course will be offering an extra curricular part to the class, where students will read select case studies from Malachi Martin's, "Hostage to the Devil," (book materials not included in class, you can order it through Amazon.com or check with your local bookstore) and discuss/debate the claims of demonic possession.  Extra curricular classes are offered to enrich the experience of the course, where students participate more and are encouraged to conduct research and evaluate claims, both critically and theologically.
Registration is open starting Monday, April 1st, 2013 at 3:00pm EST.
Class Times: Sundays: April 28th, May 5th, (Wednesday) May 15th, May 19th, June 2nd.
Extra-Curricular Classes: At 9pm EST.  April 29th, May 4th, May 16th, May 28th.
Cost: $100.00 per person (includes everything listed above)
TO GET MORE INFORMATION AND DOWNLOAD THE SYLLABUS, GO TO:
http://paranormalresearchsociety.org/blog/prs-126-demonology-overview-by-ryan-buell/
When
Sunday, April 28, 2013 at 1:00 PM

-

Monday, June 3, 2013 at 4:00 PM (EDT)
Add to my calendar
Organizer
"PARANORMAL: THE EXPERIENCE" 2014 CANADA TOUR
TOUR SCHEDULE
OTTAWA
April 3rd / April 4th
TORONTO
April 5th / April 6th 
VANCOUVER
April 8th
CALGARY
April 10th / April 11th
EDMONTON
April 12 / April 13th
WINNIPEG
April 15th
HALIFAX
April 17th