Preserve and Protect Your Vision
Walnut Creek, CA
Bummer! Sales have ended.
Unfortunately, tickets for this event are no longer on sale.
Event Details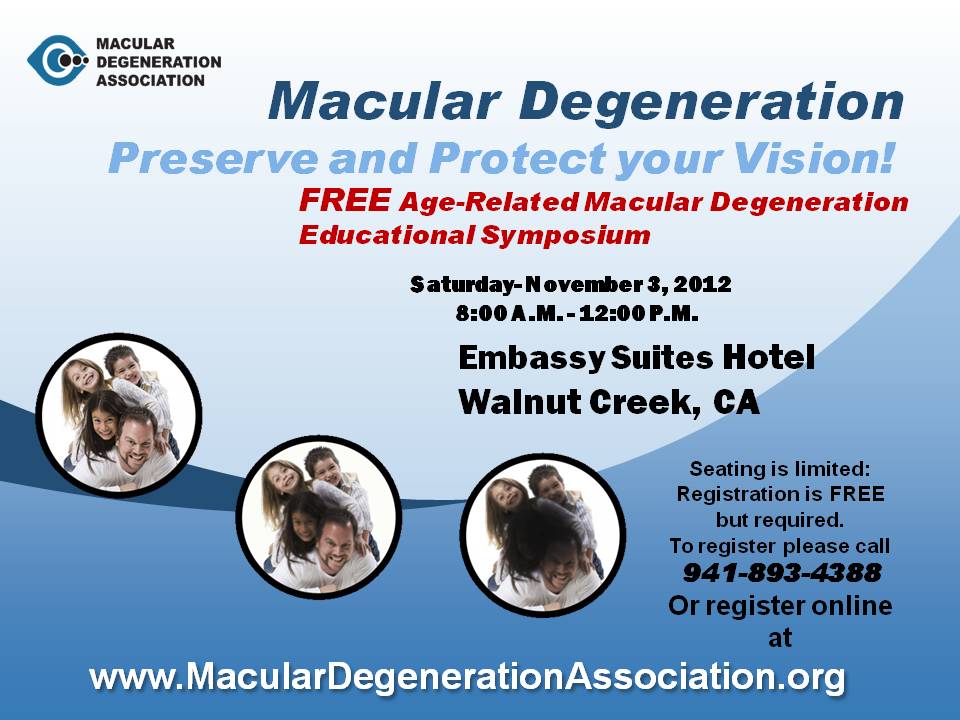 Saturday – November 3, 2012   8:00 A.M. - 12:00 P.M.
Embassy Suites
1345 Treat Boulevard
Walnut Creek, CA 94597
Registration starts at 8:00 am with Exhibitions. The lectures will begin promptly at 8:30 am. Mid morning refreshments will be provided. At the end of the program you will be able to participate in question and answer session. 
Seating is limited: Registration is FREE but required. Register  by phone toll free at 1-800-253-0985 or email danielle@maculardegenerationassociation.org 
On Saturday, November 3, 2012 the Macular Degeneration Association (MDA) will host an educational symposium in Walnut Creek, CA at Embassy Suites, located at 1345 Treat Boulevard Walnut Creek, CA 94597. This event is designed to give an overview of age-related macular degeneration (AMD), including the progression of the disease and the dangers of vision loss as a result. The symposium will also cover precautionary methods that may delay the onset of AMD and reduce retinal damage.
Exhibitors and featured event speakers will offer participants many opportunities to learn about the latest advances in macular degeneration research, precautionary methods, medications, treatments, and low vision therapies.
For more information on this symposium and for information on upcoming MDA educational events contact us at: danielle@maculardegenerationassociation.org or call toll free 1-800-253-0985