Peace in the Park San Francisco
San Francisco, CA
Bummer! Sales have ended.
Unfortunately, tickets for this event are no longer on sale.
Event Details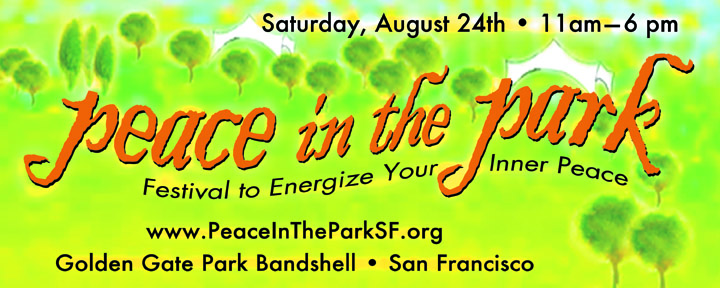 About Peace in the Park:
Many of us feel that the demands of life have become so intense as to make inner peace in our personal lives almost impossible. Added to that, we may feel powerless to help those elsewhere experiencing conflict and strife. The Brahma Kumaris serves those wanting to bring greater peace, compassion and understanding into their lives, both to increase their own well being and act as a support to others.
Peace in the Park festival brings together the diverse San Francisco and surrounding communities for a rejuvenating day of peaceful activities for all ages and backgrounds. On August 24th, the festival will feature world music and visual artists; tai chi, hatha yoga; life-changer seminars, kid's activities, exhibits by local non-profits and meditation experience where individuals can explore a variety of ways to energize their spirit. At the lovely Bandshell of Golden Gate Park, this event will demonstrate how to nurture peace even while living in a fast-paced urban environment. The event is offered free of charge to the community. More information at www.PeaceInTheParkSF.org
1-min video - http://j.mp/17P2Fi1