PATTERN LAB at The Koffa DG (FINALLY A PLACE WHERE YOU CAN LEARN TO SEW WHAT YOU WANT)

Saturday, September 24, 2016 at 4:30 PM (PDT)
Event Details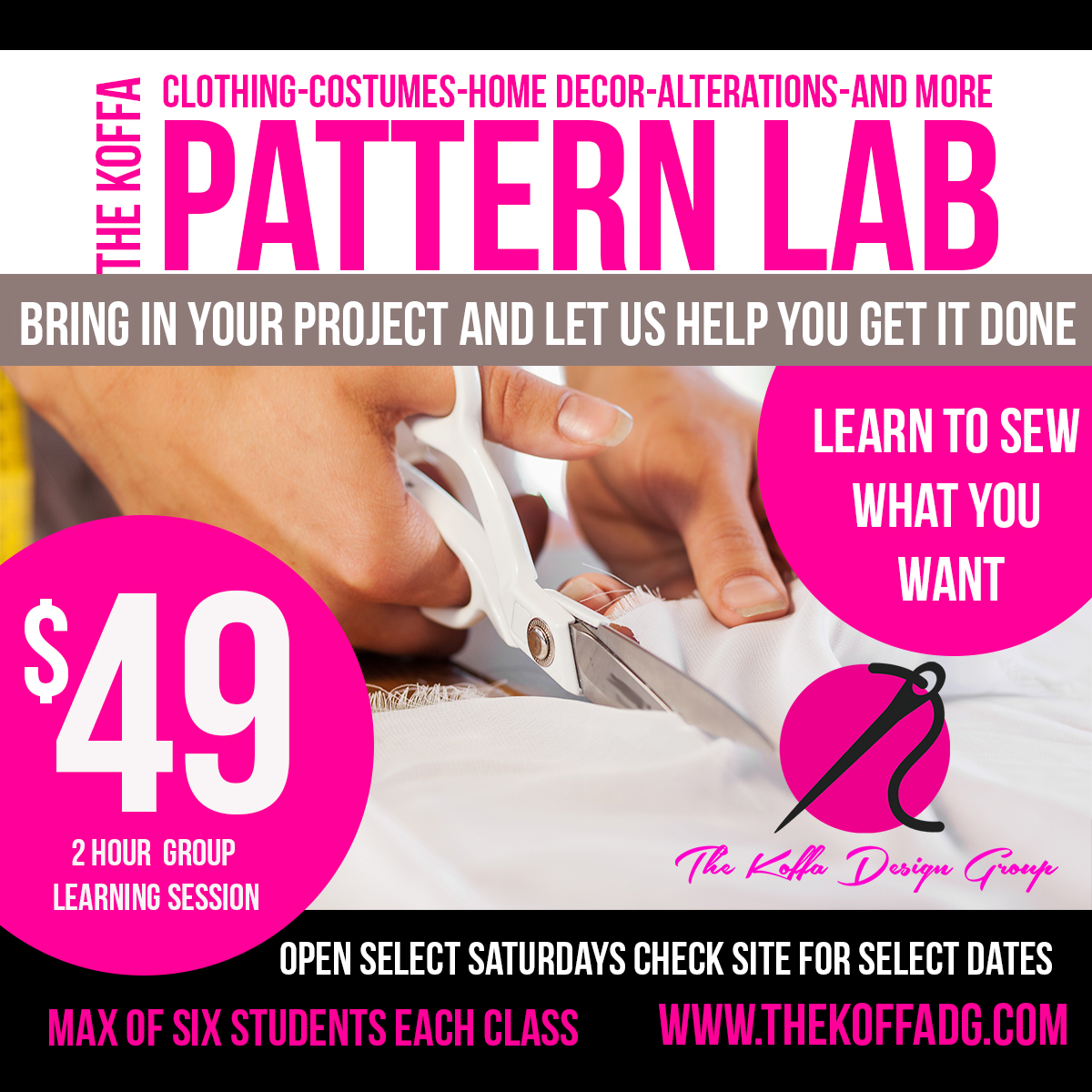 Please read the full details below as there is great information about our Pattern Lab. Pattern Lab is a 49 dollar 2 hour session where students can bring in personal project and learn how to complete them.
Projects can include but are not limited to learning how to sew a dress that you have be wanting to sew for a whiel versus creating a costume to an expo like comic con or event.
Your instructor for the Pattern Lab will be one of our staff here at The Koffa Design Group.
Student enrolling in this course must have minor experience using a sewing machine as this course serves as an intermediate to advance course based on our course offering.
After taking a class at our studio, the key to getting better at sewing is practice as this class is the first step to taking you towards you sewing journey.
Please read this message in full, because it has some great information ;-)
We are excited to teach you how to use and sew on a sewing machine.
We are located in a business park in the Central Sector Pasadena (East of Pasadena City College and North of the Huntington Library) Make sure to plan your trip according if you happen to be traveling outside of the San Gabriel Valley Area. Our Building is sign free and all entrances are open during the day but for safety of office staff and guest front door automatically locks after 5pm on weekdays, and on weekends (so if you have class scheduled at these times please use our back entrance and ring the door bell key on the key pad located on the top mid left section beside the door.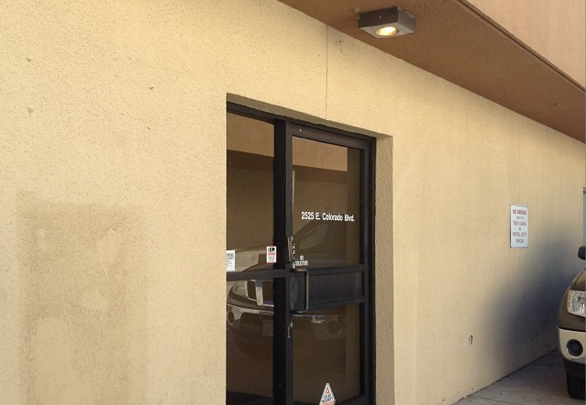 Side Rear Entrance of Building and The Inside of our Creative Office

We like start our classes

on time

so all students can get the best and most out of the class so please arrive on time or the earist you can arrive 10 to 15 mins early to check in an set up if needed.

Note: Students using the Pattern Lab to sew must supply there own materials but will have access to using our machines, pattern table, and scissors. Students must supply thread own thread to match the projects that they are working on.

Additional information for students would like to use and bring their own sewing machine make sure that you have all parts to use your machines and bringing a thread for your machine in recommend so you can go home with a threaded machine.;-)



For students who do not have a sewing machines: If you do not have a sewing machine, we have machines in class that you will learn on with thread.





Supplies for all to use:

Because, students are working on projects that may require pins and may need them to keep them together when they take their working project home student must supply there own pins and sewing notions needed to complete their project. The Koffa Design Group does have a retail station that has sewing supplies that can be purchase during the student visit.

We forward to working with all!
Note to Students taking the Class on Sunday: Our Building door is locked on the Colorado entry on Sunday and Saturday evening. It will be open 15 mins prior to the class start and will close once class starts. If you come to the door and it is not open, please call or text and I will open the door for you.
To all students please enter on the rear of the building. The front door is locked on the weekends and the rear door is right by our Suite 112.
Have an amazing day!!!

40 North Altadena Drive Suite101
Pasadena, CA 91107
Please use the rear entrance of the building.




There is lot parking that may be limited.


Note to Street parking: And some street parking is not timed (please read the fine print on signs to insure you are parking correctly.)

If you need help finding us once you arrive, you can call 626-552-8944. If students call during class, we may not answer.
When & Where

The Koffa Design Group
40 North Altadena Drive
Suite 101
Pasadena, CA 91107


Saturday, September 24, 2016 at 4:30 PM (PDT)
Add to my calendar
Organizer
The Koffa Design Group
Course driven studio that offers fashion courses for individuals who have a passion for learning fashion design and fashion business techniques.
As of June 20th, 2016, The Koffa Design Group is Located at 40 North Alta Dena Suite 101, Pasadena, CA 91107
PATTERN LAB at The Koffa DG (FINALLY A PLACE WHERE YOU CAN LEARN TO SEW WHAT YOU WANT)