Paleo Tour Event in Austin, TX
Austin, TX
Bummer! Sales have ended.
Unfortunately, tickets for this event are no longer on sale.
Event Details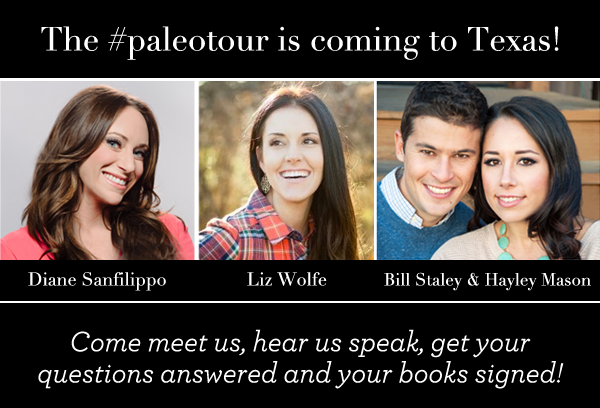 Join us at Barnes & Noble for a short talk, Q&A, and book signing event with some of your favorite Paleo authors, bloggers, and podcasters!
Diane Sanfilippo, New York Times bestelling author of Practical Paleo, The 21-Day Sugar Detox, and The 21-Day Sugar Detox Cookbook and co-host of The Balanced Bites Podcast. 
Liz Wolfe (Cave Girl Eats/Real Food Liz), author of Eat the Yolks and co-host of The Balanced Bites Podcast. 
Hayley Mason & Bill Staley (Primal Palate), bestselling authors of Make it Paleo, Gather, and The 30 Day Guide to Paleo Cooking.
If you would like to hear the talk and Q&A portion, please arrive at or before 7pm as we will be speaking for the first portion of the time, then signing thereafter. 
See you there!
Please note: All of our books will be available for purchase at the store hosting this event. You may bring previously purchased books to this event, but it's always strongly encouraged to supoprt your local booksellers as a thank you for hosting us whenever possible.