| | |
| --- | --- |
| P.A.L. [Parents of Accelerated Learners] Parent Workshop Series, FALL 2011 | |
Event Details
Calling All Parents...
Is your child an early reader? Showing advanced abilities- beyond same age peers- in music, art, math or other areas? Is she intensely curious or sensitive? Is he bored or acting out in the general ed classroom? A bit too good at negotiating? And are you looking for resources and ways you can support your advanced learner?
If so, join us for the P.A.L. Workshop Series and discover how we can help each other with the typical issues of accelerated learners.
Topics this season include: Positive Discipline & Your Advanced Learner; The G&T Process: Admissions & Testing; What's the Right Fit for My Child and Supporting Early Giftedness Through Play. Plus, we have a Spring series planned with special topics for preschool through high school, including Supporting Your Child's Gifts & Talents; The Power of Books: Bibliotherapy; Understanding Learning Differences & Twice Exceptionality, Special Topics in Gifted Education & a special event for the Gifted Education Community.
Visit theP.A.L. Workshops blog and be sure to join our NYC listserv.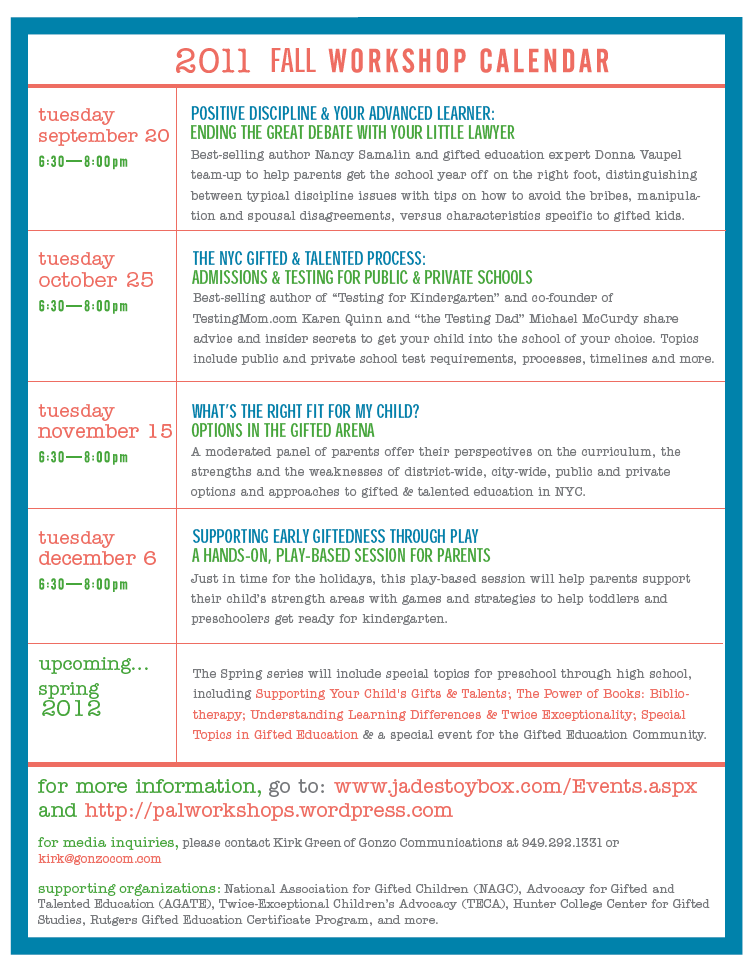 Where


The Downtown Community Center, Tribeca
120 Warren Street
1 block south of Chambers, between Greenwich Street and West Street


New York

,

NY

10013


Add to my calendar
Organizer
Parents of Accelerated Learners, NYC [PALNYC]
The Parents of Accelerated Learners, NYC [PALNYC] mission is to collaborate with educational organizations and experts to help parents support the cognitive, social and emotional needs of their children. Our offering of support includes educational workshops for parents and teachers, talent development-based resources and programs, mentorships and networking opportunities and a discovery platform for web and app-based learning tools for kids.  
PALNYC is particularly passionate about closing the education gap in NYC by working with local outreach organizations to ensure that every parent has the resources to pursue quality education for their child.
PALNYC is the founder of the NYC Gifted & Talented Symposium, a one-day event to support parents and high potential youth. To learn more about this event or sponsorship opportunities, contact Angelique LeDoux, Executive Director and Founder of the PALNYC & The P.A.L. Workshops at palworkshops@mac.com, or 212.343.8881. www.palworkshopsnyc.org.
Check out The PAL Workshops Blog for great workshops, resources and information to support your high potential learner year round. Join experts and practitioners in the field of gifted education and parent advocates in conversation about educating and nurturing these unique learners. 
2011-12-06 10:22:58
An Important Reminder!
Please note, the December 6 Session, "Supporting Early Giftedness Through Play" has been rescheduled for the Spring Series. We apologize for any inconvenience. All paid registrants will receive a complete refund automatically; please allow a week for processing via Eventbrite.
Please check out our Spring calendar launching in early January for the new date and other great topics for our 2nd season of P.A.L.
http://palworkshops.wordpress.com
Regards,
The P.A.L. Partnership
2011-12-06 10:24:04
Happy Holidays and Thank you for a Great First Year!
On behalf of the P.A.L. Partnership, we wish you all a Happy Holiday and look forward to seeing you in the Spring when our line-up resumes with more experts in gifted education, multiple locations in more boroughs to continue the dialogue and more great resources to help navigate the G&T programs in New York City.
So check back in early January for the P.A.L. Events Calendar.
http://palworkshops.wordpress.com