Our Friend Jerry Thompson Fundraiser, Cuba Libre Restaurant & Rum Bar, 801 Ninth St. NW, Washington, DC

Wednesday, November 17, 2010 from 7:00 PM to 10:00 PM (EST)
Event Details
Jerry and his family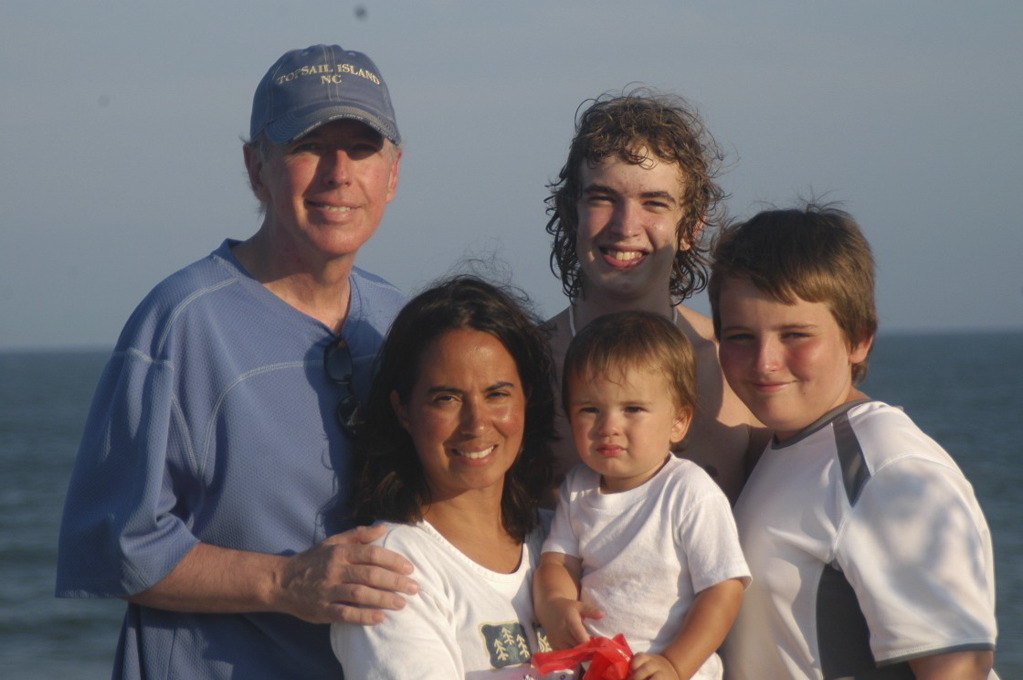 Come to  Cuba Libre Restaurant & Rum Bar and belly up to the bar with Wolf Blitzer, Dana Milbank, John King, Candy Crowley,Major Garrett,Bret Baier, Dana Bash, Ed Henry, Bill Plante, Miles O'Brien, Claire Shipman, Joe Lockhart, Mike Viqueira, Ken Strickland, Jeane Meserve, Jamie McIntyre, Jill Dougherty, Chris Plante and Doug Mills. On top of all that, "Suspicious Package" is in the house. Listen to sounds of the Washington Posts' cartoonist Tom Toles band rock the casbah !!!
All for a good cause. To help a fellow journalist, Jerry Thompson, a 25 year CNN cameraman and brain cancer victim.  Jerry ran out of medical leave, lost his job and can use all the help we can give him. All proceeds will go to help his family.
Have questions about Our Friend Jerry Thompson Fundraiser, Cuba Libre Restaurant & Rum Bar, 801 Ninth St. NW, Washington, DC ?
Contact the organizer
Attendee List
Sort by:

Date

|

First Name

|

Last Name
When & Where
801 Ninth St. NW,
Washington,


Wednesday, November 17, 2010 from 7:00 PM to 10:00 PM (EST)
Add to my calendar
2010-10-18 09:15:43
All kinds of news to update everyone with . Cubra Libre, along with their very generous offer of their restaurant and all the food for the fundraiser has also just offered to donate all the liquor for the event.  Their James Beard Award winning chef GUILLERMO PERNOT will be creating a special menu for the evening. More celebrity bartenders... Bill Plante, Miles O'brien, Jeanne Meserve, Wendy Rieger and Doug Mills of the NY Times have all signed aboard. Auction additions... A signed guitar by the rock group Styx, several more beautiful beach houses, Caps and Ravens tickets and a Limo for the night. To top it all off, James Rosen, Fox News Channel reporter and cartoonist extraordinaire will be drawing caricatures of party goers to help raise money for Jerry's family.
2010-10-21 11:34:34
News Flash !!!

Tom Sietsema of the Washington Post gives Cuba Libre Restaurant and Rum Bar a RAVE review. Told you the food was killer! Read about it by clicking on the photo !!!
2010-10-28 12:52:18
CHECK OUT OUR FANTASTIC  AUCTION ITEMS !!!

 

THE KENNEDY SPACE CENTER VISITORS CENTER  FULL DAY ALL BELLS AND WHISTLES TOUR FOR 4 PEOPLE.

BOOK:  "FAITH OF MY FATHERS' BY JOHN MCCAIN SIGNED IN PERSON  IN HIS OFFICE.    JOHN MCCAIN

GUITAR SIGNED BY THE ROCK GROUP STYX

COURTESY OF STYX AND JAY MCMICHAEL 

VIEWING, TOUR AND VISIT WITH DAVID GREGORY OF MEET THE PRESS FOR 6 PEOPLE

STILL PHOTOGRAPH FROM THE NY TIMES PULITZER WINNING PHOTOGRAPHER STEPHEN CROWLEY

SUITE AT THE CADET HOTEL IN SOUTH BEACH AREA OF MIAMI, 2 nights and 3 days including breakfasts in a suite at the hip Cadet Hotel in the South Beach area of Miami

 

2 VIP TICS TO COLBERT REPORT

2 ALL MOUNTAIN PACKAGES FROM WHITE TAIL RESORT

PICCADILLY POSH PHOTO SHOOT - A $1000 VALUE !

DINNER FOR 12 FROM GEPPETTO CATERING - Grilled Filet of Beef, Crab Cakes, French Fruit Cake and more! A $500 VALUE !

2 TICS TO CAPITALS GAME - Dec. 28th against the Canadiens, Acela Club Ledge, right behind the goal - includes all you can eat buffet, soft drinks, at-seat cocktail service and parking pass at the Verizon Center. 

FOOTBALL SIGNED BY THE RAVENS

2 STIIL PHOTOGRAPHS BY FMR PRESIDENT FORD'S PHOTOGRAPHER AND PULITZER WINNER DAVID KENNERLY

LIMO FOR A NIGHT IN A 12 PASSENGER STRETCH LINCOLN TOWN CAR

UNLIMITED 3 MONTH MEMBERSHIP AT STROGA YOGA PLUS  2 PRIVATE YOGA LESSONS WITH WORLD CLASS YOGA TEACHER FAITH HUNTER

2 TICKETS TO THE CAPITOLS VS HURRICAINES GAME, MAR. 29TH,2011. SEC 215 (CENTER ICE) ROW D, RIGHT AGAINIST THE RAIL!

3 TICKETS TO THE 2011 RAVENS VS BENGALS FOOTBALL GAME IN BALTIMORE

4 TICKETS TO THE NEWSEUM

CAPITAL MEATS - A 5 CUBIC FT. STAND ALONE FREEZER WITH 4 CASES OF MEAT, POULTRY AND SEAFOOD. THIS DONATION IS A $1000.00 VALUE

BARCARDI RUM BASKET - basket features a variety of rums from BACARDI®, the world's favorite and most awarded premium rum brand. Enjoy the taste and experience of the best-selling premium rums including: BACARDI® Superior, BACARDI® Gold, BACARDI® 8, BACARDI® Select, BACARDI® Reserva Limitada, BACARDI® LIMÓN, BACARDI® ROCK COCONUT, BACARDI® TORCHED CHERRY™, BACARDI® DRAGON BERRY, BACARDI® CLASSIC COCKTAILS PIÑA COLADA, and all of the tools you need to make a great tasting cocktail.

3 HOURS OF DESIGN TIME WITH INTERIOR DESIGNER TIM SCHELFE OF SCHELFE AND ASSOCIATES OF BETHESDA & RALEIGH,NC.

2 TICKETS TO THE DAVID LETTERMAN SHOW

 

BRING YOUR CREDIT CARD !!!!
2010-10-29 13:57:50
CHECK OUT OUR AUCTION HOUSES !!!!
BEACH HOUSE – PETER MORRIS
Nestled among majestic live oaks with serene treetop views of the ocean and nearby Turtle Creek, this beach house is the ideal setting to leave your cares behind. Guests experience a unique "tree house" feeling as they relax on the comfortable upper porch. Beachgoers enjoy direct access to the Atlantic Ocean with a short half-block walk down a paved street to the beach. 
http://www.rentalsatthebeach.com/OakIsland/VacationRentals/EastBeach/Details/IntheOaks/
The offer is for  any week from now until Memorial Day weekend 2011, with the exception of 11/20-27 and 12/25-1/1/11.
a $2,000 value
BEACH HOUSE –  SCOTT GARBER – CNN
$2200 in season
SOUND SIDE OF KILL DEVIL HILLS, NC
4 BR, TIKI BAR, OUTDOOR SCREEN ROOM, HOT TUB, SWIMMING POOL, BEACH FRONT, BOAT SLIP.
AVAIL JUNE 3RD – AUG 19TH, 2 WEEK BLACK OUT 4TH OF JULY.
AVOID BEACH TRAFFIC - RENTS FRIDAY TO FRIDAY
BEACH HOUSE – JOHN AND TARA QUINNETTE
COROLLA LIGHT, NC
House is part of the Corolla Light Resort community. This resort includes during peak season 2 ocean side pools, 1 sound side pool, and trolley service. Year round amenities include numerous tennis and basketball courts along with a indoor recreation center which houses 2 clay tennis courts, racquetball court, exercise equipment, locker rooms, and hot tub pool along with an Olympic size pool.
OFF SEASON WEEK BUT WINNER HAS OPTION OF FULL SEASON WEEK BY PAYING THE DIFFRENCE BEWTEEN OFF SEASON AND FULL SEASON.
http://www.OffTheRadarOBX.com//
5BR GULF SHORES BEACH HOME IN GULF SHORES ALABAMA. AVAILABLE BY A MUTUALLY AGREED DATE. Bob Cardin
VRBO # 175523
WEEK AT VILLA IN KINGSTON PLANTATION, MYRTLE BEACH, SC – TONI HOOVER AND TIM BOWEN
2BR, 2 BA, living room, dining room, full kitchen, washer/dryer, park/lake view, sleeps 6. 1 week stay, I will cover the departure cleaning fee, Months available Dec (2010), Jan, Mar, Sept, Oct, Nov, Dec. Good thru Dec. 2011. There is a golf course right across the street from the villa, Myrtle Beach International Airport about 20 minutes away. Also, Myrtle Beach is the PUTT PUTT GOLF CAPITOL OF THE WORLD!
Availability is first come, first served.
http://www.kingstonplantation.com/
DEEP CREEK LAKE CABIN FOR WEEKEND
Eileen O'Connor
Weekends is $750 for winter skiing and summer.  Weeks are $1500.
PLAN YOUR NEXT VACATION NOW AND AVOIDE THE HASSLE !!!
2010-11-04 13:53:31
2 NEW EXCITING ADDITIONS TO OUR AUCTION !!!
AUTOGRAPHED CAPITOLS JERSEY AND HOCKEY PUCK BY SUPERSTAR #8 ALEX OVECHKIN
SUITE AT THE CADET HOTEL IN SOUTH BEACH AREA OF MIAMI, 2 nights and 3 days including breakfasts in a suite at the hip Cadet Hotel in the South Beach area of Miami
2010-11-10 08:46:23
***ONLINE SALES ARE CLOSED BUT WE WILL HAVE A LIMITED NUMBER OF TICKETS AT THE DOOR***
2010-11-10 08:49:10
NEW ADDITIONS TO OUR AUCTION !!!
LUNCH WITH JOHN KING AND DANA BASH OF CNN AT CHARLIE PALMER STEAK HERE IN D.C.
THEY'RE PICKING UP THE TAB!
LARRY KING SIGNED SUSPENDERS WORN ON HIS SHOW.
ALSO, A VOICEMAIL MESSAGE HE'LL RECORD FOR THE WINNER Of THE SUSPENDERS
ANOTHER WASHINGTON CAPITOLS JERSEY, THIS ONE SIGNED BY THE TEAM AND DONATED BY TED LEONSIS, OWNER OF THE CAPS
A SITTING AND PENCIL SKETCH BY CNN CAMERAMAN AND ARTIST  
EXTRAORDINAIRE TIM GARRATY
3 NIGHTS AT THE GRAND HYATT DOWNTOWN MANHATTAN, NYC
4 $25 GIFT CERTIFICATES GOOD TOWARDS ANY FIVE GUYS BURGERS AND FRIES