Osamu y Su Grupo: Direct from Havana, Cuba

Sunday, July 14, 2013 from 8:00 PM to 11:00 PM (PDT)
Event Details
Osamu is one of Havana's best-loved rock musicians. Rockin' to a Cuban beat, Osamu and his band have the whole island moving to hits like "Chaca-chaca en la Azotea" and "La Candela."  "La Candela" and "Chaca-chaca en la Azotea." And their love of classic rock brings a virtual anthology of US and British standards to take you higher and higher!   Yori Gomez, one of Cuba's most in-demand young actresses, is featured on vocals; Raul Gonzalez on drums; Raul Suarez on bass and finally, Hector Telles Jr., one of the most respected rock singers in Havana add his special touch on guitar and vocals.
_
People often ask Osamu how he ended up playing rock with a Cuban beat and he enjoys telling them how he is the son of a guitarist from California and an actress from Cuba which means that he has both the blues and the rumba running through his veins.  "Growing up in Cuba," Osamu explains, "we would set up these crazy home-made antennas that could get AM radio reception late at night from places like Atlanta and Fort Lauderdale and we'd stay up 'til dawn listening to stations that played hit songs from the 60s and 70s by people like Lead Zeppelin, Pink Floyd, The Doors, The Beatles, Bob Dylan, Neil Young, KC…"
_
Now a legend of Cuban rock, Osamu was a founding of member of Cuba's premier grunge rock band, Havana, winning the prestigious CubaDisco Award with the Cd Las Puertas Abrirán. He has played lead guitar with Cuban and Mexican pop stars such as Anabel Lopez, Tanya Rodriguez, Amaury Gutierrez, Raquel Bigorra, Mercedes Ferrer, Liset Alea and Cesar Lazcano and has had the honor of opening concerts for Audio Slave in Havana and the Alan Parson Proyect in Mexico.

Osamu currently shares his time between Mexico, USA and Cuba, directing his own group, singing and playing lead guitar as well as writing, arranging and producing his own songs. His videos are seen almost every day on Cuban TV and have been nominated for the prestigious LUCAS awards. He has released four solo Cds in the last 4 years: Ven a Mi Vida (2006), Rock con Sabor (2008) and La Vida no Es tan Dura (2010) and his latest, 4ta Temporada (2013) which features a collaboration with his grandmother, legendary Jazz & Blues singer Barbara Dane.

In Mexico Osamu has performed at the Mexico City Hard Rock Café, the National Auditorium (Auditorio Nacional); the Zocalo (main Mexico City Plaza); and he was featured twice in the rock en español mega-festival "Vive Latino."

In the USA he performed at San Francisco's Yerba Buena Center for the Arts; Woodminster Amphitheater's World Music Festival, Oakland, California; La Peña Cultural Center in Berkeley, California and at "The Place" and other Miami clubs. Osamu has also played dates in Spain, Dominican Republic, Costa Rica and Guatemala.

The July 14th date promises to be a special event. Guest DJ from Miami, MAAH3Z is the son of Osamu and actress Aylin Mujica and both Osamu's father guitarist Pablo Menendez, director of the Cuban band Mezcla, and grandmother Barbara Dane, legendary blues/jazz singer, will be in the house. And the venue itself --Berkeley's ClouD 9-- is an intriguing underground performance space full of it's own unique surprises.

You can find Osamu's videos @  www.youtube.com/osamu537

These are a few favorites:
"Burbuja Feliz" http://www.youtube.com/watch?v=tEDQosglwh0
"No Me Cortes las Alas" http://www.youtube.com/watch?v=2vRhHBOKEcU
"Hoy Quiero Más" http://www.youtube.com/watch?v=JG8Z8ldbTZs
When & Where

ClouD 9
1320 9th St
Berkeley, CA 94710


Sunday, July 14, 2013 from 8:00 PM to 11:00 PM (PDT)
Add to my calendar
Organizer
BAY AREA FLAMENCO
Founded in 2005, the 
BAY AREA FLAMENCO FESTIVAL 
has grown into a popular and vital annual Bay Area cultural event. Celebrating Spanish Gypsy music and dance as a living culture and a legacy of world stature, the Festival has presented some of the most important figures in the history of flamenco as well as prodigies form today's generation of artists. Artistic director Nina Menéndez's unique curatorial vision distinguishes the Bay Area Flamenco Festival/ Festival Flamenco Gitano and its particular focus on grassroots flamenco from the Gypsy communities of Spain.
"These artists are bringing the Gitano essence of flamenco into the 21st century," explains Festival director Nina Menéndez. "They have an ease for improvisation that comes from living the art as a part of everyday life. No choreography is required, only an intimate connection among the dancers and musicians who interact freely on the basis of a shared legacy and an insatiable hunger to find the spark of 'duende' that transforms the mundane into the sublime."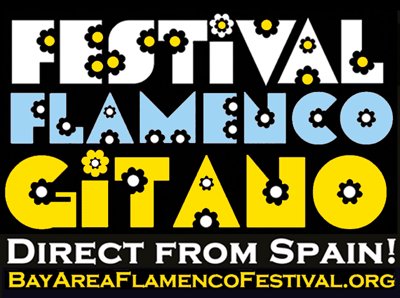 Osamu y Su Grupo: Direct from Havana, Cuba