ORLANDO: 21st Annual Estate & Charitable Gift Planning Institute Webcast

Wednesday, September 25, 2013 from 10:00 AM to 4:30 PM (EDT)
Event Details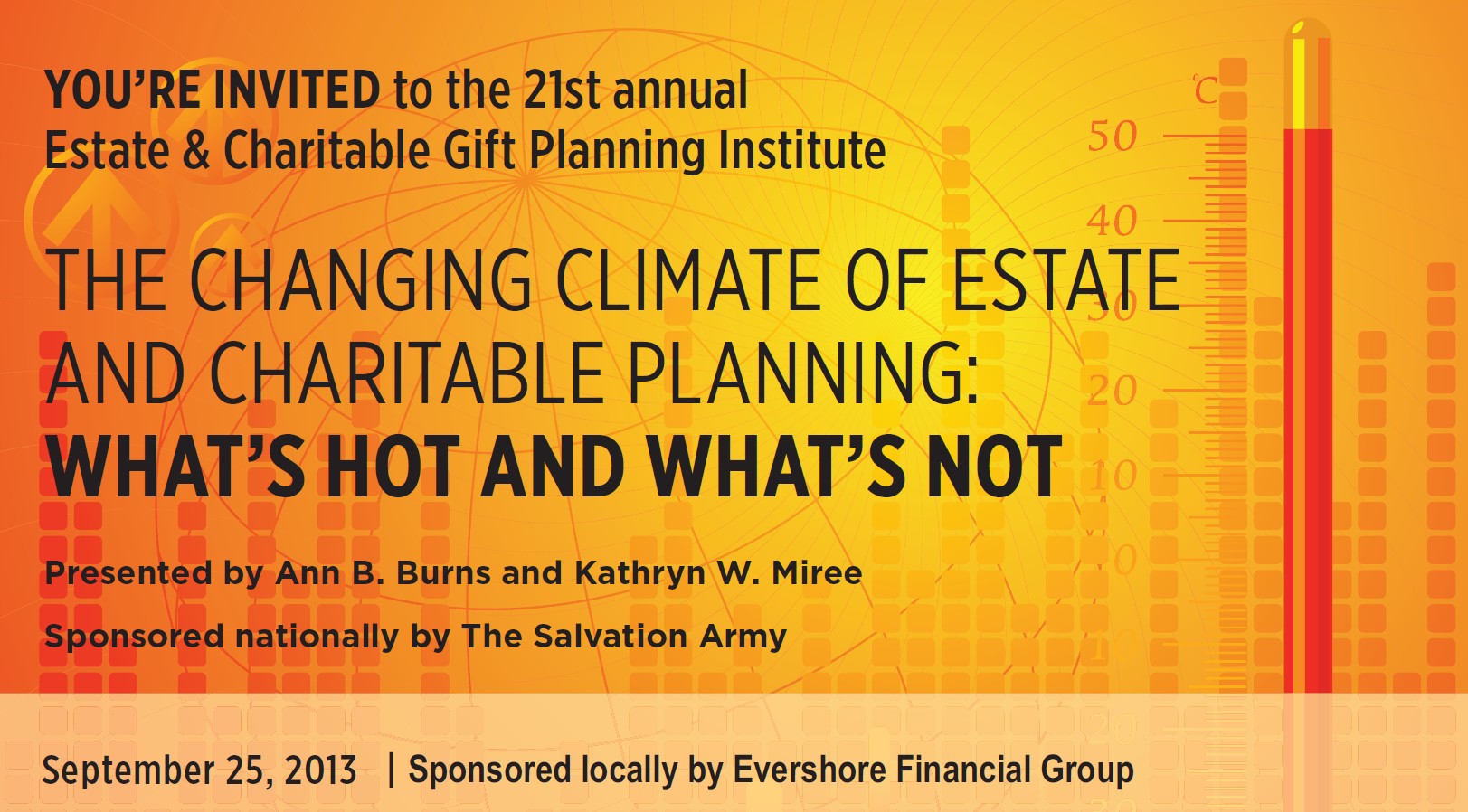 Who should attend?
Attorneys, CPA, financial planners, certified life underwriters, investment advisors, bank trust officers, charitable gift planners, other estate planning professionals, and anyone interested in providing and protecting assets to help ensure the financial future of family, self and community.
Continuing education credits
MCLE, CPE, CFP(R), and CTFA continuing education credits are pending approval, including one hour of ethics. Credit hours vary from state to state. Please contact us for your state accreditation. Please note: Insurance continuing education credits will not be available for this event.
Speakers

Ann B. Burns
Ann's practice focuses on estate and charitable planning, business succession planning, estate and trust administration, and fiduciary and tax litigation. Ann is the chair of the Trust, Estate & Charitable Planning group at Gray Plant Mooty.
Ann brings a unique mix of skills to her law practices as a certified public accountant (inactive) and a principal in the firm. She represents multi-generational families of wealth throughout the country, assisting and guiding them in their relationships with trustees and other advisors. Ann also represents individual and corporate trustees in estate and tax planning and in fiduciary controversies in state and federal courts.

Kathryn W. Miree
Kathryn is the president and primary consultant for Kathryn W. Miree & associates, Inc., now in its 11th year of operation. Kathryn provides a full range of planned giving, endowment, and foundation management services designed to help charities build long-term financial stability through planned gifts and endowment.
Kathryn spent 15 years in various positions in the Trust Division of a large southeastern bank rising to the position of Senior Vice President and manager of the Personal Trust Department. She then joined a regional brokerage firm to establish its trust company and serve as its initial President and CEP. In these positions she worked extensively with not-for-profit organizations and their donors in the management of private foundations, community foundations, charitable trusts, pooled income funds, gift annuities and endowments.
Agenda
10:00 Check-in & Registration
10:30 Ethics Session: Ethical Issues Are Still Hot

11:30 Session 1: Current Developments and Planning Opportunities in 2013

1:00 Lunch will be provided
2:00 Session 2: Ten Smart Charitable Planning Ideas After The American Taxpayer Relief Act of 2012

4:00 Session 3: Overview Discussion/Q&A

Seating is limited, so register today.
We look forward to your participation.

A02012-0613

When & Where

Summit Tower Conference Room
1900 Summit Tower Boulevard
#720
Orlando, FL 32810


Wednesday, September 25, 2013 from 10:00 AM to 4:30 PM (EDT)
Add to my calendar
Organizer
Evershore Financial Group
Evershore Financial Group offers securities and investment advisory services through Securian Financial Services, Inc., member FINRA/SIPC. Evershore Financial Group is independently owned and operated.
Speakers and hosts of any outside events may not be affiliated with Securian Financial Services, Inc. or Evershore Financial Group. Securian Financial Services, Inc. and Evershore Financial Group do not offer tax or legal advice. You should consult your tax and/or legal advisor regarding your own situation. Securian Financial Services, Inc. and Evershore Financial Group make no representation as to the completeness or accuracy of the information provided and disclaims any responsibility for, or endorcement of, the recommendations made or content included in an unaffiliated party's presentation.
Evershore Financial Group is headquartered in Palm Beach Gardens: 3300 PGA Boulevard, Suite 100, Palm Beach Gardens, FL 33410. 800.936.4310. EM 12-0095 DOFU 05/2012 503318
2013-09-20 13:13:02
IMPORTANT PARKING INSTRUCTIONS
http://printparkingpass.com/p/zouekSo0o0e1qbcntAktTg?s=Je94RO2Kl0qlNEpi26B-KQ
The parking garage at the corner of Summit Tower Blvd. and Maitland Summit Blvd. is available for you to use. Please print the parking pass and place it on your dashboard when you park.
With this parking pass, you may park anywhere in the garage except in spaces marked as "reserved" or "2-hour guest parking".
Because the parking priviledges are so heavily guarded at our building, it is very important that you use this parking pass to avoid ticketing and/or towing.
Please let us know if you have any questions.