| | |
| --- | --- |
| New Student Special Dining Etiquette Class 2 40 Minute Private Lessons Plus 4 Weeks Unlimited Group Classes & Discounted Packages 512 821-2699 | |
Event Details
Outclass the Competition Be at Ease
by Harold Almon 
eventbrite.com
Be at Ease School of Etiquette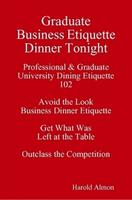 New Student Special  Dining Etiquette Class 2  40 Minute Private Lessons Plus 4 Weeks  Unlimited Group Classes and  Discounted Ongoing Membership Packages 
How You Eat Reflects on You 
Goggle Search Eti Q Test See How You Do 
2 40 Minute Lessons
Daily                     7:00 AM   or 11:00 AM
Nightly                  6:00 PM   or  8:00 PM
Sun                       9:00 AM   or  6:00 PM

Fri                        *3:00 PM
Sat                       *9:00 AM  or  6:00 PM
Wed                     *5:00 PM  or  6:00 PM   
First Meal and Grautity Included. 
Non-student On Demand and Group Lessons Available.  
Search Eventbrite Be at Ease School of Etiquette or call Harold Almon 512 821-2699
Save This Event
When & Where

Restaurants near UT and near Downtown Austin
Congress Avenue and 7 Street
Austin, TX


Organizer
Harold Almon Etiquette Coach Director Career Services and Life Skills Trainer Professionals & Graduate Students Be at Ease School of Etiquette Austin Texas Outclass the Competition 512-821-2699
I, Harold Almon,  provide etiquette coaching, job interview dining etiquette, university etiquette training, graduate business etiquette dinner tonight, Austin food tours Almon, outclass the competition graduate career services, resume writing etiquette and services, job sales kit preparation, and life skills comprehensive etiquette guides and etiquette lessons Austin that let professionals and graduate students acquire soft skills keys to advance and be at ease.
Austin TX · http://baesoe.com
New Student Special Dining Etiquette Class 2 40 Minute Private Lessons Plus 4 Weeks Unlimited Group Classes & Discounted Packages 512 821-2699