Music Hack Day Sydney

Saturday, April 28, 2012 at 9:00 AM

-

Sunday, April 29, 2012 at 5:30 PM (MAGT)
Event Details
Music + Software + Mobile + Hardware + Art + The Interwebs
Music Hack Day is an epic weekend of fun where hackers invent, build and show-off their hacks, just for the fun of it. Anything goes - as long as it's music related!
It's an opportunity for the tech + digital music community to get together and create new apps that explore and celebrate how music might be enjoyed and experienced in the future.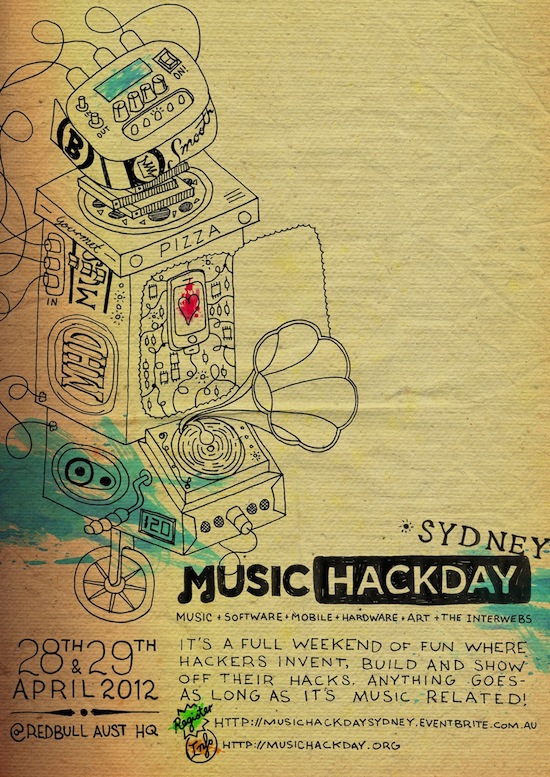 "This is about hacking purely for the hell of it. There are no commercial agendas, no constraints, just a chance to work with other like-minded people and make cool shit. This is art, made with ones and zeroes and a massive love for music"
"The way that we create, consume and appreciate music is changing every day, and hacking will be a key part of shaping the future of music for everyone. In Australia, developers need to connect more deeply with each other and with from those from around the world. Music Hack Day Sydney means we can all help to create what the future will look like".
- Dave McKinney, Filter Squad
+ More info to be released soon! Prizes - Afterparty - Program - Swag - Special Guests!
For more details and partnership enquiries, please contact: 
Kristy Wright - Culture & Community Manager @ Filter Squad / kristy@filtersquad.com
When & Where
2 Huntley Street
Alexandria
Sydney, 2015
Australia

Saturday, April 28, 2012 at 9:00 AM

-

Sunday, April 29, 2012 at 5:30 PM (MAGT)
Add to my calendar
Organizer
Discovr
Find + Explore with Discovr.
The Discovr series of mobile apps helps you find new music, new apps, and new movies. So far we've had more than 1.5 million downloads of Discovr, and we've reached Number 1 in the App Store in more than 50 countries. Check out Discovr Music, Discovr Apps and Discovr Movies. 
2012-04-22 23:27:50
Everyone's a Winner, Baby!
We are pleased to announce the first round of sponsors for Music Hack Day Sydney, happening later this month.
 It's the first showing in Oz for the global Music Hack Day franchise, and a solid list of local and international sponsors have thrown their support behind the event, generously providing prizes, API access and support and sustenance to keep the hackers doing what they came for.
API Partners will have the opportunity to deliver 5-minute demonstrations to the group, which will consist of developers, UI/UX designers, hardware tinkerers and creatives from various fields. Some will have the opportunity to offer extended optional workshops to those looking at working with their product. 
API partners include:
The Echo Nest                       
Rdio
Sonos                                    
Rovi Corporation                   
Triple J                                   
Musixmatch                            
OpenTok by TokBox              
SoundCloud                           
7Digital                                   
OpenEMI                               
Shoudio
Prizes are generously donated by the API partners and will be awarded for the best hacks featuring the API for each category.
In addition to API partners, Music Hack Day Sydney welcomes the official involvement of sponsors contributing to the overall prize pool, including Amazon Web Services, Otis Eyewear, ThoughtWorks and Github. 
The good folks at Red Bull are lending us their epic crib for the weekend, the fridge is well stocked courtesy of Asahi and our friends at The Sound Alliance and EMI Australia will be sending in the pizza delivery person.
Music Hack Day is lovingly hosted by Filter Squad and is happening over the weekend of 28/29 April at Red Bull's Australian headquarters in Alexandria, NSW.
There's plenty of news still to come, so stay tuned -
Discovr Twitter            Music Hack Day Twitter
2012-04-22 23:36:34
Guest Post by Syd Lawrence
Perhaps, the single most exciting aspect of Music Hack Day is the diversity of talent and eclectic mix of minds that co-habitate the hacking space; sharing ideas, questioning, creating and collaborating.
There's a shedload of interesting humans already signed up for Sydney, and they are coming from near and far to share the experience.
One such human is Syd Lawrence; he's making the epic trek from London just to join us for the first Aussie MHD weekender. He's a freelance developer, part-time University lecturer and we hear Syd's fans like to speculate as to whether or not he actually sleeps, because a new hack seems to appear on his blog every few minutes.
Syd has hacked the sh! out of the last few London hack days and if you don't keep your eyes on the prize, his wizardry might sweep the MHD Sydney prize pool. Start hatching your hack plans people – you've been warned! ☺
Read more about Syd:
Guest Blog by Syd Lawrence
What is a Music Hack Day?
So, are you into tech? Are you also into music? Well let's make something interesting to do with music and tech!
I've been to heaps hack days and, in my experience, this is generally how it goes down…
A whole bunch of developers, designers, tinkerers get together in a room seeing what they can come up with if they really push the boundaries. All of them work on fun and interesting projects right throughout the night.
Some people will be working on projects all night long, others will decide to wimp out and go back to a bed, but bear this in mind; those 8 hours you are asleep? Yeah, someone just finished another hack in that time.
Sponsors come along, provide you with some APIs to use and some assistance throughout the weekend. There's food and drink to make sure you are watered and fed. And there are even prizes for the best hacks!
Why you should attend
Are you in a full time job? Wish you had more time to play? Yes, you! You should definitely attend.
When was the last time you tinkered with something new?
Have you tinkered with a Kinect yet? How about the SoundCloud API? Or perhaps you wanna create a custom Rdio player? Right then, well now is your chance!
Hack days are the perfect opportunity. You get to tinker with new technologies and you are surrounded by many brilliant minds working on awesome things. Everyone is there to help.
Or perhaps you just want to check out the Red Bull HQ ;)
Oh, and you basically get free food and drink for a full weekend!
What kind of stuff gets made at Music Hack Days?
Many different things have been made over the past few years at Music Hack Days.
From Kinect hacks, Arduino based hardware hacks, through to high-level web apps, or mobile interactive installations.
Funny hacks, useful hacks, hackety hacks. You name it, let's make it!
My personal top 5 hacks
CTRL – Interactive Music Installation
Tourrent Plans – Better concert tour planning with science!
HearMyFace – A face expression based midi controller that injects true expressiveness into your music.
Midem Music Machine – Web based 3D animated audio visualisation.
Drinkify – Never listen to music alone again!
***
So, if all of that didn't get you excited, maybe this video featuring Syd and fellow pommy hacker Paul King, will. It was shot by Pauline de Zeeuw at Music Hack Day London, December last year.
And if you haven't registered yet, get your rear into gear and sign up here! (We promise we won't let Syd win ALL the prizes!)
See you soon.
2012-04-22 23:38:05
Spencertive joins the Music hack day A-team!!
We told you Music Hack Day Sydney is about promoting and celebrating creativity in its many blessed forms, so we're chucking a little something extra in the mix…
Contemporary artist, habitual tinkerer, electronic music lover and maker; David Spencer will join the Music Hack Day touring party from sunny Western Australia to create live art hacks at Red Bull Australia HQ.
You should Google him – he's a cool guy and people go nuts for his paintings.
Dave will be on deck to collaborate on projects and create sculptural pieces for the MHD Winners' Trophies out of repurposed objects, hardware and pretty much anything you leave lying around.
We're not sure what exactly is going to happen. We're just going to keep throwing more awesome in the Music Hack Day pot, give it a shake and see what falls out.
See you there!