Mooresville Senior High School (NC) Class of 1970 - 40th Reunion

Mount Ulla, NC
Event Details
www.MSHS1970.eventbrite.com (last updated 9/27/2010)
Mooresville Senior High School (NC)
Class of 1970
40th Reunion
------------------------------------------------------------------------------------------------------------------
Our 40th reunion was great.  About 30 of us enjoyed getting together before the football game on Friday night, although nobody enjoyed the game!  (The Blue Devils lost 58 to 0!)
And on Saturday night just under 100 gathered at the farm of Chuck & Janet Reece Moore for a wonderful evening!  We were also happy to have Richard and Elizabeth Lowder and Roy Watkins there!
Thanks to Janet & Chuck for hosting us, and thanks to ALL who contributed to the success of this 40th reunion. 
We presented several "door prizes" (a print, books and notecards by Mooresville's own Cotton Ketchie) and our prize winners included:
Traveled farthest to the reunion:  David Foltz
Married longest:  Sharon Plyler Broome,
Closest to 6/70 "Old Scratch" Prophecy:  Lucy McNeely Hastings
Most Grandchildren:  Debra Jacobs Smithdeal

Oldest

  Best Looking 1970 Graduate:  Arthur "Slug" Helms
The rain and thunderstorms held off until later after the reunion died down.
One business decision was made that night based upon a class vote:  we will have another "big reunion" event in 5 years, although it is possible we will have other "mini-reunions" prior to that.  A "60th birthday party" was suggested in 2 years since many of us will be 60 at that time.  Great idea!
This site will stay up for a while, and hopefully will be replaced by a permanent website soon!   Please register here and we will notify you about future events and send a notice to you when the website is up!
Here is a picture of most of our Class of 1970 classmates who attended...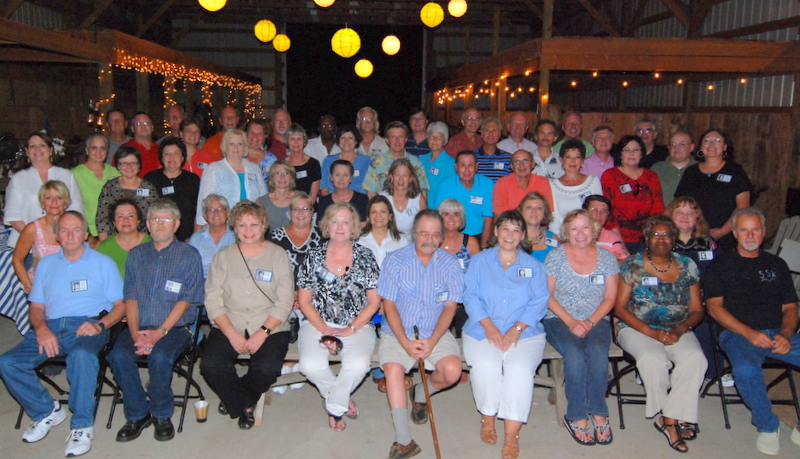 Front row (left to right): Perryn Deaton, Ronnie McElveen, Hazle Brooks, Nancy Henderson Russell, Rick Wingate, Joy Lee Mauney, Diane Osborne, Meryline Lowery, Barry Sigmon.
Second row:  Cathy Corriher McGillicuddy, Sherry Robinson Deaton, Jessie Howard, Pat Boyd, Linda Shoe Andrus, Sandy Gardner Harbinson, Karen McLean Hart, Arthur "Slug" Helms, Susan Rader Poole.
Third Row:  Carole Andrus, Beverly Sherrill Mayhew, Debra Jacobs Smithdeal, Jane Lowrance Burch, Marsha Raxter Josey, Donna Wilson McMillan, Diana McDonald Hyman, Jill Moore Giles, Mike Morrow, Freddie Jones, Debbie Deaton Brannon, Debby Upright Harrison, MaryAnn Ebert.
Fourth Row: Bobby Brawley, Lucy McNeely Hastings, Janet Reece Moore, Debbie Lackey Engelking, Sharon Plyler Broome, Michael Cook, Marlene Lyerly, Jeff Shoe, Walter Klepfer, Don Peiffer, Lamar Gulledge.
Fifth Row:  Roger "Doodle" Neill, Tommy Mills, Danny Russ, Stark Weatherman, Thurman Houston, WIllie Higgins, Gary Davis, David Foltz, David Christenbury, Gene Brannon, Hugh Beaver.
There were a few that got away before we got around to taking the picture.  They included:  Phil Archer (at 6-6 he would have been in the center of the back row), John Sholar, Cindy Fish Navarre, Jimmy Thompson, Ann Poston Gannam, Charles Torrence, and maybe a few others!
(Thanks for the pictures, Cathy!)
If YOU were NOT in the picture above and missed all the fun, please sign up here so that we can include you on pictures, announcements, future reunions, etc.   If you are on Facebook, we have a group on facebook, and if not, this would be a good time to join so that you can see more than 100 photos posted there by our "official" photographer (Cather Corriher McGillicuddy) and others in our class!
 ------------------------------------------------------------------------------------------------------------------
Can you believe that it has been over 40 years ago since we walked across the stage at the Roland R. Morgan auditorium to graduate??
As of 9/22, we have 74 people registered on our site, and most of those will be with us this weekend.  The largest group will be on Saturday night, but there are several people who can only make it on Friday night, so please be sure to come out for the game and tailgate party before the game to see them!
If you didn't sign up, please come anyway!  We'd love to see you and we should have plenty of food!  All of our reunion events are casual and laid back.  You don't need to get dressed up, you don't need to get your hair done and we don't care if you don't wear make-up!  (We've ALL changed since we were in high school!)
It is forecast to be hot on Friday and Saturday, so dress cool and comfortable! Forecast for 6 PM Friday is 85 degrees, but down to a comfortable 72 degrees at 9 PM!  Saturday will probably be similar.  (But a cool front is coming in on Sunday with a high of 79 and 50% chance of rain.  So, fall weather coming, and NO RAIN for our reunion events!
Here's more information on the Friday night tailgate and game:
The Friday night football game will be at the newly renamed "Coach Joe Popp Stadium" off of Magnolia Street.  Kick-off time is 7:30.  
5:30 PM - Before the game, we will gather in the parking lot closest to the tennis courts. Go down Magnolia, past our old football field, pass thru traffic light at Cabarrus Ave and turn in the first entrance on the left. 
Look for the "1970!" sign in the shade nearby, or find a bunch of people that you are certain are far too old to be your high school friends!
We will have a section roped off for us in the SW corner of the stadium (from the field, that would be the top left.)  Meet us there if you can't join the tailgate party.  Our group will be recognized by the announcer during the game.
After the game, as many as would like will probably go out to one or two local watering holes where we can continue to socialize and maybe enjoy something stronger than a Cheerwine!  (This will not be an "official" reunion event - you are on your own!)
Here is more information on Saturday event at Moore's Farm:
We'll start at 4 PM and serve dinner at 6 PM and continue until the food's gone, the music stops and the cows come home (no, just kidding, this farm has goats not cows, and they are NOT coming into the barn!) 
This will be a very casual BBQ located in and around the BARN on Chuck and Janet's farm so shoes and dress should be very casual!
Price for the Saturday evening event will be $18/person.  If you haven't already sent a check, there will be a table set up at the barn, and you can check in there.  We want everyone to come and don't let the cost be a road block! Don't stay home, please come out and enjoy the fellowship with your Mooresville Class of 1970!
The address for Chuck and Janet Reece Moore's farm is:
335 McNeely Road
Mount Ulla NC, 28125

Balloons will mark the road sign at the intersection of McNeely Rd and 150 East, and there will be signs pointing to parking. To get there, go out 150 East of Mooresville, take the left fork where 152 splits off and keep going, about 4.5 miles until you see the balloons!  The Moore farm is about 7.5 miles from downtown Mooresville.  

We will have music, talk and appetizers from 4 to 6 PM (yes, if you have a favorite, you are welcome to bring it.  We will already have plenty. Then dinner will be served at 6PM (Pork and Chicken BBQ, Baked Beans, Slaw). Beverages provided include Water, Tea, Soft and Soft Drinks (if you need anything stronger, bring your own). Dessert and coffee will be served afterwards.. 
Bring a lawn chair and we'll take advantage of the outdoors.  Dinner will be served IN the barn (with a concrete floor, tables and chairs!)
If you have memorabilia from our school years that you would like to bring and share for the night a table will be set up for these items.

Music, Dancing, Laughter and having a great time are the only requirements.  CASUAL DRESS! 
______________________________________________________________
PLEASE REGISTER!! Whether you are coming or not, this will provide us with your contact information, some updated information about yourself, and your participation at our 40th Reunion events.  We will continue using this site to provide updated information. 
Click the REGISTER button above to register.
It will LOOK like this:  REGISTER >
Except that the REAL button is at the top of the page!
 If you have contact information for class members who have not yet registered (see the list below of those who have) please give them this website so that they will get updated contact to us.  Call them, write them, email them, get the word out however you can! 
We have created a separate event site that will include an updated list of all those for whom we do NOT have contact info, or who have not yet registered on this site:  www.mshs1970missing.eventbrite.com
IN MEMORIAM
Robert William ("Bill") Archer
       Danny Barksdale
       Jimmy Ray Boan
David Luther Bustle
Rhonda Ellen Daughtery
James Oscar "Jimmy" Hensley
       Robert Earl "Bobby" Jones
       Wesley Luffman
Thomas Knott
Danny Wayne Overcash
Ronald Knox Patterson
     Some of these may not have graduated with us, but were still part of our class at MSHS.
See you in September!
Event Site Managed by Gary Davis, MSHS Class of 1970
Attendee List
Sort by:

Date

|

First Name

|

Last Name
Where
335 McNeely Road


Mount Ulla

,

NC

28125


Organizer
MSHS Class of 1970
Mooresville Senior High School (NC) Class of 1970.  Email MSHS1970@gmail.com for more information or if you have information about classmates.