| | |
| --- | --- |
| Men's Business Dress Etiquette Tying Ties to Business Suits Get a Better Tie Knot Length and Look 2 Almon's Etiquette Lessons for 1 | |
Event Details
Outclass the Competition
by Harold Almon  baesoe.com

Men's Business Dress Etiquette Tying Ties to Business Suits Get a Better Tie Knot Length and Look  Almon's Etiquette Lessons 2 for 1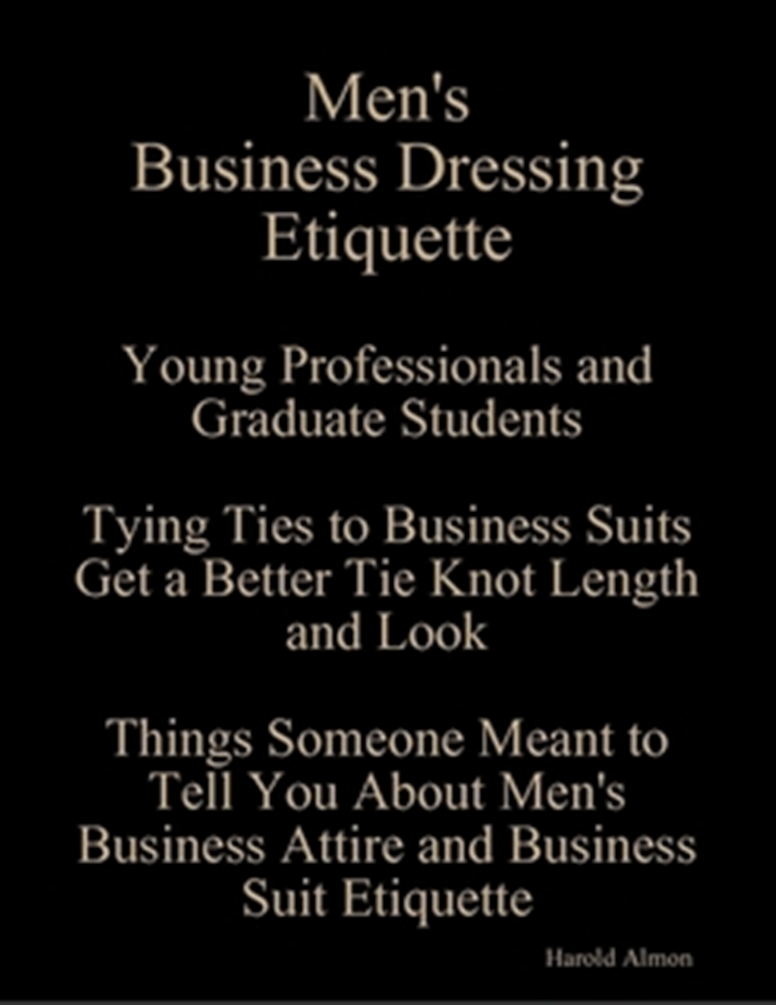 or
Almon's Men's Personal Grooming Etiquette Things to Do Things Expected from the Malf Half  Almon's Etiquette 2 Tours for 1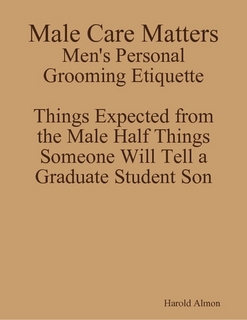 40 Minute Lessons
Sat 12:00 PM  2:00 PM   or by appointment           
       
Either Stand Alone Tour or Male Dress and Image Etiquette Semester Course five weeks of Almon's etiquette tours and lessons plus limited on line and telephone consultations 



Manners to Etiquette Outclass the Competition
Excellent opportunity to learn about  Men's Business Attire  
Tie Etiquette: Get a Better Tie Knot Length and Look -  

and rules on Shoes to Shirts, Men's Business Suits, and Men's Business Accessories.

Formal Wear Etiquette: Day formal wear rules for the Stroller, and Black Tie Etiquette: evening wear rules on wearing what you may know as a tuxedo.
Stand Out from the Crowd Wear the Company Uniform and Emphasizing Individual Style.  
Twenty Percent of Success is Dress                                        
or
Men's Personal Grooming Etiquette 
Almon's Etiquette Tours & Etiquette Lessons - Things (a Male Needs) to Do - Things Expected from the Male Half: Male Care Matters

Includes information on Changes and Checkups, Bathroom WC Conduct, Male Grooming Habits, Grooming Hair, Shaving Saving Face, Male Body Grooming  Techniques, Mens Skin Care, Nail Care,  Male Grooming Supplies & Products,  Sexual-Health, and That Talk. 

This tour will let you discover how to get hair that gets you noticed, how to pass the squint test and make your face not crack, and to take the fingernail test: how to  flash and pass.
Optional Tour
Business Social Etiquette - Cool Rules to Know:   traditions  governing  everyday social behavior, consideration, and taste: things of which professionals and university students need to know and be mindful. 

And

Men Surviving the Parent Company -Things Someone Meant to Tell You When You Think You Have Had It.
 
Non Student and On Demand Almon's Etiquette tours   
Group rates available

Almon's Etiquette guides can an be ordered at baesoe.com At Ease Press (AEP), Lulu, and Amazon.com 
Almon's Etiquette Tours are offered because the more your climb the corporate ladder the more etiquette and protocols matter.There comes a time to transcend sons-of-fives behaviors and boot strap ways and to display rules of etiquette for business on the way to the top.
RSVP day of event to confirm time and location
512-821-2699
Save This Event
When & Where

Be at Ease School of Etiquette in Austin c/o
Austin Malls and Downtown Stores Congress and 6 th
512-821-2699
Austin, TX 78704


Organizer
Be at Ease School of Etiquette in Austin baesoe.com 512-821-2699
Be at Ease School of Etiquette in Austin TX baesoe.com 512-821-2699 is the premier school and press providing , career services, resume writing services, job sales kit preparation, etiquette coaching, dining skills training: graduate business etiquette dinner training, Austin food tours, Almon's etiquette lessons, and Almon's etiquette guides that match manners to etiquette and lets technology professionals and graduate students acquire soft skills and social keys to advance more at ease and outclass the competition.
Men's Business Dress Etiquette Tying Ties to Business Suits Get a Better Tie Knot Length and Look 2 Almon's Etiquette Lessons for 1