Member Event- Tornado Alley
Bummer! Sales have ended.
Unfortunately, tickets for this event are no longer on sale.
Event Details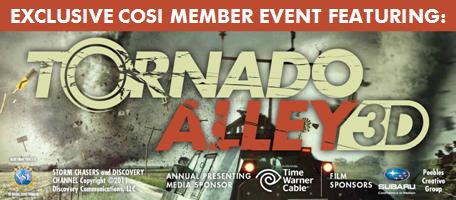 Sunday, April 1, 2012
11:30am – 1:00pm
(Doors open at 11:15am)
Experience the power of lightning, hold a cloud in your hand, create a flying hailstone and witness the shattering power of ice, then walk through a real cloud as you enter COSI's Extreme Screen Theater for a complimentary showing of Tornado Alley 3D.  Don't forget your free take-home weather activity and even complimentary popcorn!
Space is limited. Reserve your spot by March 26, or until event has reached capacity. Reservations can be made online or by calling 614.228.2674. Reservation is limited to the number of members listed on your membership card.