Love YOUR Life: A RENEWAL PROGRAM FOR THE OVERCOMMITTED PROFESSIONAL

Davis, WV
Who's Going
Loading your connections...
Event Details
Do You LOVE Your Life?
  Is your job engaging and interesting?
Or maybe your life is so hectic that you don't even know if what you have is what you want. If that's true for you, you are not alone!
The world is full of people rushing around between too many commitments made in a hurry...

AND it does not have to be like that!

Join us for a rejuvenating mountain weekend, and make a big step towards a life of no regrets!

LOVE YOUR LIFE! weekend

is a chance to disconnect from the daily grind, and connect with yourself, nature and other kindred souls.  You will hear your own voice, see possibilities, and become inspired!
Watch the Welcome video from Julia below!

 NOTE: Original event dates of 11/2 - 11/4 were changed due to the impact of Hurricane Sandy in WV.
Your package includes 10 hours of group activity; two nights lodging; breakfast, lunch and dinner daily. 
LOVE YOUR LIFE! THE RENEWAL
Get some fuel and reconnect with others! Susan Moore, the inkeeper, will provide wholesome, nourishing meals daily and an opportunity to create one dinner together.
Connect with nature and get your body moving! Lots of opportunity for rock climbing, mountain biking along spectacular trails, or beautiful hiking for all levels of fitness.  You could also play golf or fish in cold clear streams.
Stretch, center, and connect with your body! Join a yoga class, book a massage on a private yoga session.
Reflect and connect with yourself! Stargaze, watch sunsets, sit by the river and write in your journal.
Chill and connect with it all! Wander around, browse art galleries, talk to people, or learn to do nothing!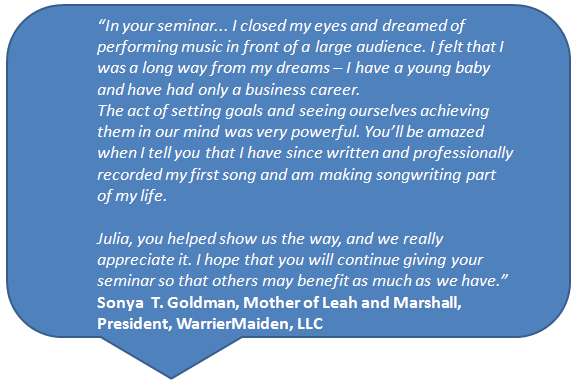 LOVE YOUR LIFE! TAKING STOCK
We will spend about ten hours together in the cozy living room of the Bright Morning Inn.  There will be lots of uplifting discussion and fun, hands-on-activities to help you:
Discover what gives you meaning, what makes you wake up excited and go to bed contented;

Find out what areas of your life are out of balance and where you would like to grow professionally;

Develop a Life Purpose Statement, and articulate your top values;

Find out how your life aligns with your values;

Learn to distinguish between "should" goals and "me" goals;

Commit to taking actions that will get you closer to accomplishing your goals.

Walk away fired up to accomplish two inspring "me" goals that will take you closer to

the life that you will actually have time to love!
If you choose to participate in our follow-up offerings, you will have structure, support, and accountability to turn your goals into reality.
PROGRAM BENEFITS
As a result of fully participating in this program, you can expect to experience:
Increased sense of well-being

Increased sense of personal power

Increased productivity at work

Improved work-life balance

Improved clarity

Improved relationships

Increased energy and exciement about life
Love YOUR Life! weekend is delivered by Julia Karpeisky, M.S., M.A., CPCC, PCC. Meet Julia!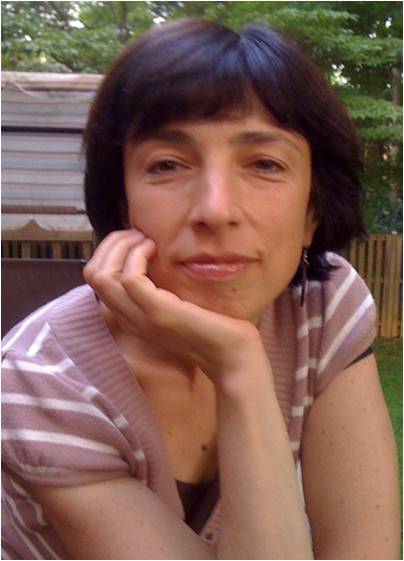 I took a lot of scary steps to create a life I love. I left a prestigious job with the Molecular Biology Department of Moscow State University to come to the US – alone with $200 to my name – and became the first Soviet graduate student at the University of Kentucky. Later on, in Washington, DC, I left a steady job with benefits because it went against my values. And I left a marriage, because I could not have the kind of relationship I wanted.
I have been a small business owner for the past 15 years, helping people understand themselves and others. As a professional coach, I partner with clients to create their lives as a true expression of who they are. (www.jmkcoaching.com) As a Russian interpreter, I facilitate communication in all kinds of settings - from the Oval Office to the prison cell in Guantanamo, from an oligarch to a homeless schizophrenic. As a consultant, I help Russian and American businesses build lasting partnerships (www.jmkcontact.com).  I live in Northern Virginia with my husband and two great kids.
My life continues to evolve, and for the most part I love it.  
I would also love a chance to help YOU move towards a wonderful place of ease and success, where you too would say: "I LOVE MY LIFE!"
Schedule                                                                      
Friday, December 7, 2012                                         

| | |
| --- | --- |
| 3pm - 6pm            | Check in |
| 6pm - 7pm | Dinner |
| 7pm - 9pm | Attitudes and beliefs essential for success |
Saturday, December 8, 2012
| | |
| --- | --- |
| 8am - 9am            | Breakfast (note: breakfast is available until 11 a.m.) |
| 9am - 12pm | Free time. Hikes, massages, journaling, 1x1 coaching |
| 12pm - 1pm | Lunch |
| 1pm - 4pm | Discovery:Life purpose statement; top 5 values; structured look at various areas of your life, and your job. |
| 4pm - 6pm | Free time. Hikes, massages, journaling, 1x1 coaching |
| 6pm - 7:30pm | Dinner. Opportunity to cook together. |
| 7:30pm - 9:30pm | Goal Setting |
Sunday, December 9 2012

| | |
| --- | --- |
| 8am - 9am | Breakfast (note: breakfast is available until 11 am) |
| 9am - 12pm | Free time. Hikes, massages, journaling, 1x1 coaching |
| 12pm - 1pm          | Lunch                |
| 1pm - 4pm | Goal examining: Will this goal take you closer to the life you love? Do you have what it takes to accomplish it? Is now a good time? Steps towards acgieving the goal. Commitment. |
CANCELLATION POLICY

Should your plans change and you need to request a refund, you may do so up until 11:59pm ET on October 5, 2012 by sending an email to juliamk@jmkcontact.com. Refunds will be provided minus a service fee of 12%. You may alternatively maintain a full credit on account to be used no later than June 30, 2013.  Usage of the credits may be proportionately used for coaching and other workshops provided by Julia Karpeisky and two room nights at Bright Morning Inn and Restaurant.  
Where


Bright Morning Inn and Restaurant
454 William Avenue


Davis

,

WV

26260