Living with Macular Degeneration
Raleigh, NC
Bummer! Sales have ended.
Unfortunately, tickets for this event are no longer on sale.
Event Details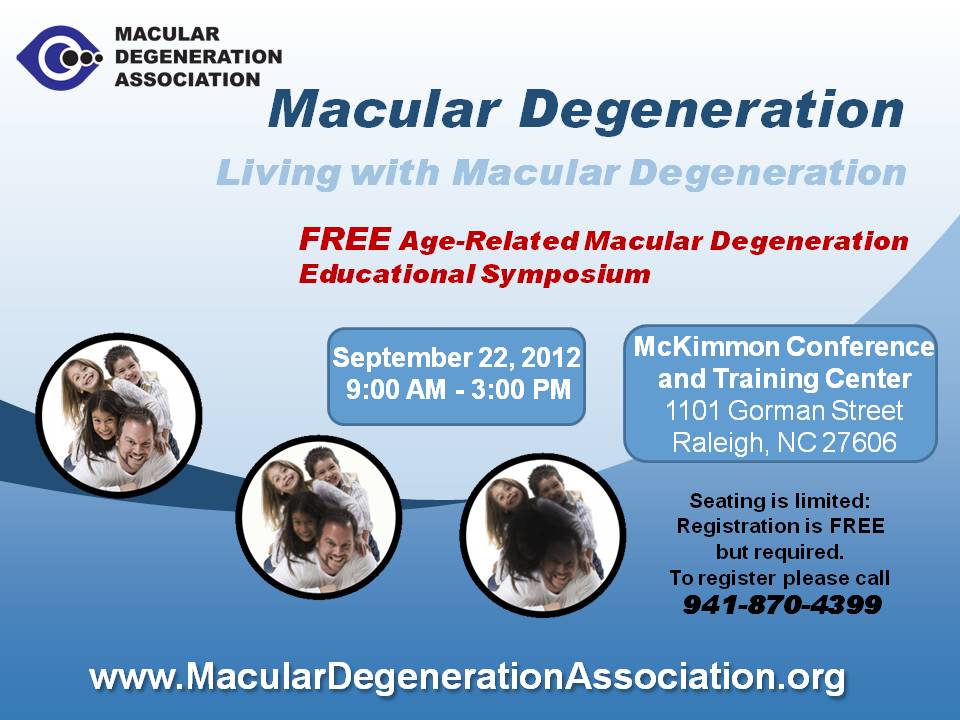 Macular Degeneration Association
Presents
"Living with Macular Degeneration"
FREE Age- Related Macular Degeneration Educational Symposium
Co- presented by: Doctors Vision Center


You are invited to join Program Chair Peter Hollis, O.D. (Medical Director, Doctors Vision Center); Retina Specialists Carey Pate, M.D. and Nitin Gupta, M.D. to learn about the latest advances in research, medications and treatments which have the potential to improve quality of life for those with macular degeneration. Meet the doctors and get answers to your questions from nationally recognized macular experts. Learn what you can do to keep your eyesight. This is a FREE educational program.
Saturday, September 22, 2012
9:45 AM - 3:00 PM
McKimmon Conference and Training Center
 1101 Gorman Street
Raleigh, NC 27606
Seating is limited. Registration is required.
To register please call (941) 870-4399
at www.maculardegenerationassociation.org
Or order tickets here.


On Saturday, September 22, 2012, the Macular Degeneration Association (MDA) will host an educational symposium in Raleigh, North Carolina at McKimmon Conference and Training Center, located at 1101 Gorman Street. The event is designed to give an overview of age-related macular degeneration (AMD), including the progression of the disease and the dangers of vision loss as a result. The symposium will also cover precautionary methods that may delay the onset of AMD and reduce retinal damage.
Event attendees will learn the latest treatment advances evolving in the macular field, including the revolutionary Macula Risk®test, a genetic test predicting one's likelihood of developing AMD. In addition to establishing an individual's genetic predisposition to macular degeneration, the test is also useful in formulating a customized treatment plan for those already diagnosed with AMD. This test is covered by Medicare and most major insurance companies.
Exhibitors and featured event speakers will offer participants many opportunities to learn about the latest advances in macular degeneration research,precautionary methods, medications, treatments, and low vision therapies.There will be talks on What is Macular Degeneration; Effects of the Disease; Early Precaution; Benefits of Genetic Testing; Nutrition, Low Vision; and Emerging Technologies.
MDA's educational symposium in Raleigh, NC will provide attendees with a unique opportunity to interact with nationally known macular experts, local doctors, fellow patients and caregivers in an open forum. 
For more information on the upcoming symposium in Raleigh, North Carolina, and for information on upcoming MDA educational events,including future genetic testing opportunities, contact us at: danielle@maculardegenerationassociation.org, or call (941) 893-4388
Special thanks to our wonderful sponsors: