Laguna Hills Grand Opening Ribbon Cutting Wine & Beer Tasting Extravaganza!
Laguna Hills, CA
Bummer! Sales have ended.
Unfortunately, tickets for this event are no longer on sale.
Event Details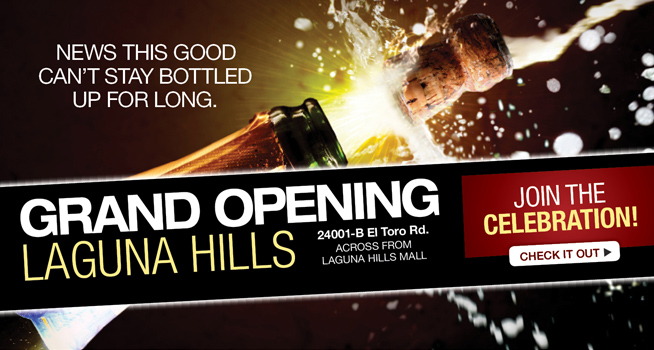 You are invited to join us for a Fantastic Wine & Beer Tasting Event!
 
• Live Music by Jazz Guitarist Doc Dosco 

California Cabernet Legends, Wine Tasting featuring: 
• Wagner Family of Wines; with National Sales Manager Chris Blasi, featuring Caymus Cabernet Special Select 
• Cakebread Cellars Napa Valley Wine Tasting featuring Cakebread Cabernet 
• Groth Vineyards Napa Valley Wine Tasting featuring Groth Reserve Cabernet 

Bottle Engravings 
• Patron Tequila Medallion Engravings 
• Gentleman Jack & Jack Daniels Single Barrel Whiskey and Woodford Reserve Bourbon; Bottle Engravings 

Craft Beer Tastings 
• Stone Brewing; Legendary CA Craft Brew 

• Riedel O Glass Give-Away 

6pm Ribbon Cutting
Laguna Hills, CA Mayor Melody Carruth has agreed to help us cut the ribbon at the ribbon cutting/check presentation ceremony at #1110 on Tuesday, August 28th at 6:00pm . She will be joined by members of the Laguna Hills City Council. In addition, CA State Senator Mimi Walters – who represents the district in which our store is located in the General Assembly in Sacramento – or her chief aide, will present a proclamation to Total Wine during the ceremony acknowledging our commitment to creating new jobs in California. 

Two charitable organizations are being recognized at the check presentation, and will be represented by their Executive Directors and members of their boards of directors ; Age Well Seniors Services & Saddleback Valley Educational Foundation. Each of the organizations will receive a check in the amount of $5,000. 


Contact Store for Details: (949) 206-1539