LA Premiere of the film 'JUST LIKE YOU - DOWN SYNDROME'

Wednesday, March 20, 2013 at 6:30 PM (PDT)

Los Angeles, CA
Event Details
_

Come Celebrate World Down Syndrome Day with us!!
at the LA premiere of the film
'Just Like You - Down Syndrome'
This inspiring film introduces you to 6 kids who share exactly what it feels like to live with Down syndrome.  Medical and health concerns, communication difficulties, learning needs and how to be a good friend are explained as only a child can –with honesty, love and humor.  Appropriate for all ages.
Presented by:  Just Like You Films in cooperation with The Down Syndrome Guild of Greater Kansas City, Rex and Jennifer Hudler's Team Up for Down Syndrome, The Down Syndrome Association of Orange County, The Down Syndrome Foundation of Orange County, The Pujols Family Foundation and Down Syndrome in Arts and Media. 
Celebrity Guests: Jamie Brewer, (American Horror Story), Dakota Hood, (The Hunger Games),  and more to come TBA
7:00 - Limo arrival of JLY stars
7:30 - LA Premiere of "Just Like You - Down Syndrome"
8:00 - Q & A with filmmakers and JLY stars
Space is limited!!  Reserve your seat today. 
IMPORTANT:  Please specify name of attendee when reserving tickets.  Names must be on the list to clear security gate!!

Just Like You, a 501(c)(3) nonprofit, makes a 13 minute film that answer questions about Down Syndrome by allowing the stars of the film to speak out on behalf of all people with Down syndrome to breakdown stereotypes and open doors.  We have received hundreds of comments like the one below from people across the country.  "This is the very best...(film)...I've EVER seen explaining Down syndrome to ANYONE - it is appropriate to show children as young as Pre-k, Elementary, Middle School, High School - and yes even those ignorant adults we all know and sometimes love (some are friends, some are merely acquaintances, some are FAMILY members) . . . . THEY ALL NEED TO WATCH THIS...!! It is made by three kids with DS and three of their typically developing friends - they cover the entire gamut of topics that need to be covered - from muscle tone, to "we are not always happy," to "we can be good friends," to sometimes I need extra help at school, to "don't use the R-Word," to "its ok to stick up for your friend with DS" - just to name a few. Parents ask me all the time if I know of a good book to read to their child's class that explains Down syndrome . . . here is my new advice - FORGET THE BOOK!!!!! Insist that this...(film)...be shown to your child's class or your child's grade - heck, your child's entire school needs to see..!!! Now, take 15 minutes out of your life right now to watch this incredible...(film)...!!"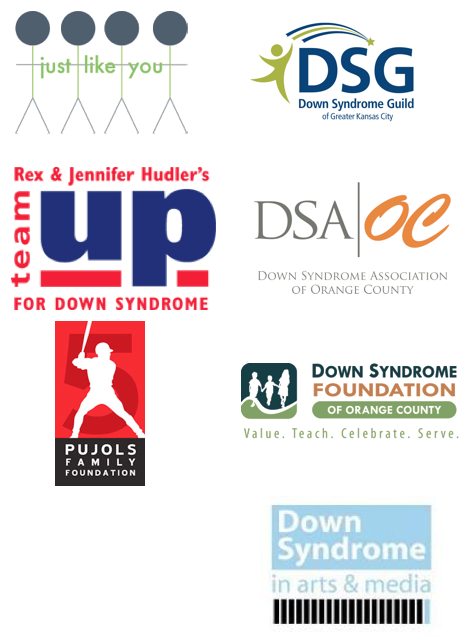 When & Where


20th Century Fox Studio Lot - The Zanuck Theater
GALAXY Parking Structure
2121 Avenue of the Stars


Los Angeles

,

CA

90064


Wednesday, March 20, 2013 at 6:30 PM (PDT)
Add to my calendar
Organizer
Just Like You Films
2014 Committee Chairs
Holly Miholovich
Liz Orr
2015 Committee Chairs
Anya Holmes
Wendy Zoog
2014 Honorary Chairs
René and John Meara

2014 Committee Members
Brynn Andrews
Jenny Atterbury
Jen Becker
Darby Brender
Emma Brooke
Natalie Busch
Mindy Day
Kathy Donovan
Amanda Durkin
Rebecca Flynn
Lora Garrison
Courtney Goddard
Kara Harmon
Natalie Hartman
Drew Hretel
Amy Hodes}
Marcia Jacelone
Scott Kaiser
Jenny Kim
Jenny Kuykendell
Kelly Lambert
Nikki Myers
Laurie Morrissey
Amy Nelson
Carrie Patterson
Heather Pluard
Denise Portnoy
Jill Presley
Amanda Rismiller
Lara Shelton
Mindy Wilson

Just Like You Films is an internationally recognized 501(c)(3) nonprofit organization that seeks to educate the world's first generation, who because of their knowledge and familiarity of individuals' unique differences are more compassionate and more connected human beings.
Our four films include Just Like You - Burns, Cancer, Down Syndrome and Just Like You - I Care for a Child Burn Survivor. We are currently in production of Just Like You - Autism. Our films have been viewed over 150,000 times on Youtube and distributed across the U.S. and worldwide. Recently, the Brazilian government authorized a program where JLY - Down Syndrome will be played in every state health care facility in their country. We partner with national organizations like the Phoenix Society for Burn Survivors, the Leukemia and Lymphoma Society and the Down Syndrome Guild. In 2013, the United Nations presented our Down Syndrome film to its members in a general session. And, we were honored with the 2013 TASH Positive Images in the Media Award. We receive incredible comments like these everyday...
"Just Like You Down Syndrome uses the voices and faces of people with and without Down syndrome to beautifully express the philosophy that the Special Olympics shares: to value others for their gifts, to approach each other with an eye to valuing what matters most, and to look past the superficial and our prejudices to embrace the power of the human spirit."
-Tim Shriver, Chairman Special Olympics
"Peer support is so valuable to children battling a chronic illness and Just Like You Films has provided a wonderful resource to encourage this support to continue from the time a child is diagnosed to when they are able to return to school. We are so grateful to have this tool to compliment the education we provide to teachers and classmates of children diagnosed with cancer. What better explanation could there be than from the kids themselves? Thank you Just Like You Films and all those who support them."
- Kim Lovitt, LMSW, Hematology Oncology, Social Work Coordinator,The Children's Mercy Hospitals and Clinics.
You can view JLY films and learn more about us at our website justlikeyoufilms.org.
We'd love any assistance you can give us in making sure JLY films are made available to those that can use them the most. Thanks so much for your donation and for helping us spread the knowledge, build understanding and create acceptance!