Jewish, Secular and Humanistic, American: Learning Tour of Philadelphia

Friday, October 28, 2016 at 7:00 AM

-

Sunday, October 30, 2016 at 12:00 PM (EDT)
Event Details
"Jewish, Secular and Humanistic, American"
A Learning Tour of Philadelphia
Secular Humanistic Judaism could only have been made in America. Our commitments to Jewish heritage, personal freedom and democracy, and the separation of religion and government have found unique and creative expression in the United States over the last 300 years. Join us for a unique exploration of this triple heritage through a fascinating learning tour of Philadelphia!
Highlights Include:

Private tours of historic synagogues

Walking Tour of Colonial Jewish Philadelphia

Secular Humanistic Judaism-focused tour of the National Museum of American Jewish History

Independence Hall, the Liberty Bell

Opening discussions to start each day led by IISHJ Dean for North America Rabbi Adam Chalom, a national leader in Secular Humanistic Judaism. 


For discounted lodging at Holiday Inn Express Philadelphia-Midtown (1305 Walnut Street), please call (215) 735-9300 and use code: HJE

---
Detailed Itinerary
Friday: Branches of Judaism
8:30-9:00am – Discussion – "Only in America: Jewish Denominations"
(Holiday Inn Express 1305 Walnut Street, Philadelphia, PA 19107)

9:00am - Board bus at hotel
 
9:30AM—Rodeph Shalom (Reform)
Congregation Rodeph Shalom dates its founding to 1795 with the coalescing of the first Ashkenazic congregation in the Western Hemisphere. Rodeph Shalom built its first dedicated sanctuary in 1871 on its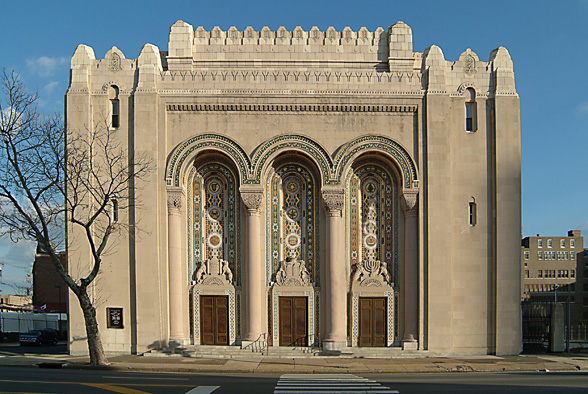 current site at Broad and Mount Vernon Streets. This striking edifice was designed by Frank Furness, considered the most exciting Philadelphia architect of his time. It was a showpiece of Moorish-style architecture. In 1873, Rodeph Shalom became a founding member of the Union of American Hebrew Congregations (which is now called the Union for Reform Judaism.)

The Philadelphia Museum of Jewish Art, located within historic Congregation Rodeph Shalom is dedicated to exhibiting contemporary art that illuminates the Jewish experience. Since 1975, the PMJA has organized solo and group exhibitions of work in the broadest range of mediums by artists of diverse backgrounds.

11:00AM—Mikveh Israel
Congregation Mikveh Israel, known as the "Synagogue of the American Revolution," is the oldest formal congregation in Philadelphia, Pennsylvania and the oldest continuous synagogue in the United States. "The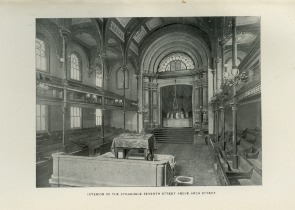 Hope of Israel," founded in 1740, has a two-fold tradition that is the synthesis of the Spanish-Portuguese Jewish ritual and the ongoing development of the American Jewish community. In Pennsylvania, and Philadelphia in particular, Jews found an environment of tolerance for their religious beliefs and traditions made possible by William Penn's 'great experiment'. The possibilities of economic and religious liberties in Philadelphia drew many Jews to the area, and by 1775 a community 300 strong existed in a city of 35,000.
12:00 Lunch on your own. Suggestions near Mikveh Israel:
          -Amada http://philadelphia.amadarestaurant.com/menu
         - Pizzicato 248 Market St Philadelphia, PA 19106 http://philadelphia.menupages.com/restaurants/pizzicato/
         - FARMiCiA 15 S 3rd St Philadelphia, PA 19106 http://farmiciarestaurant.com/
1:00 Board bus at Mikveh Israel

 
2:00—Beth Sholom (Conservative)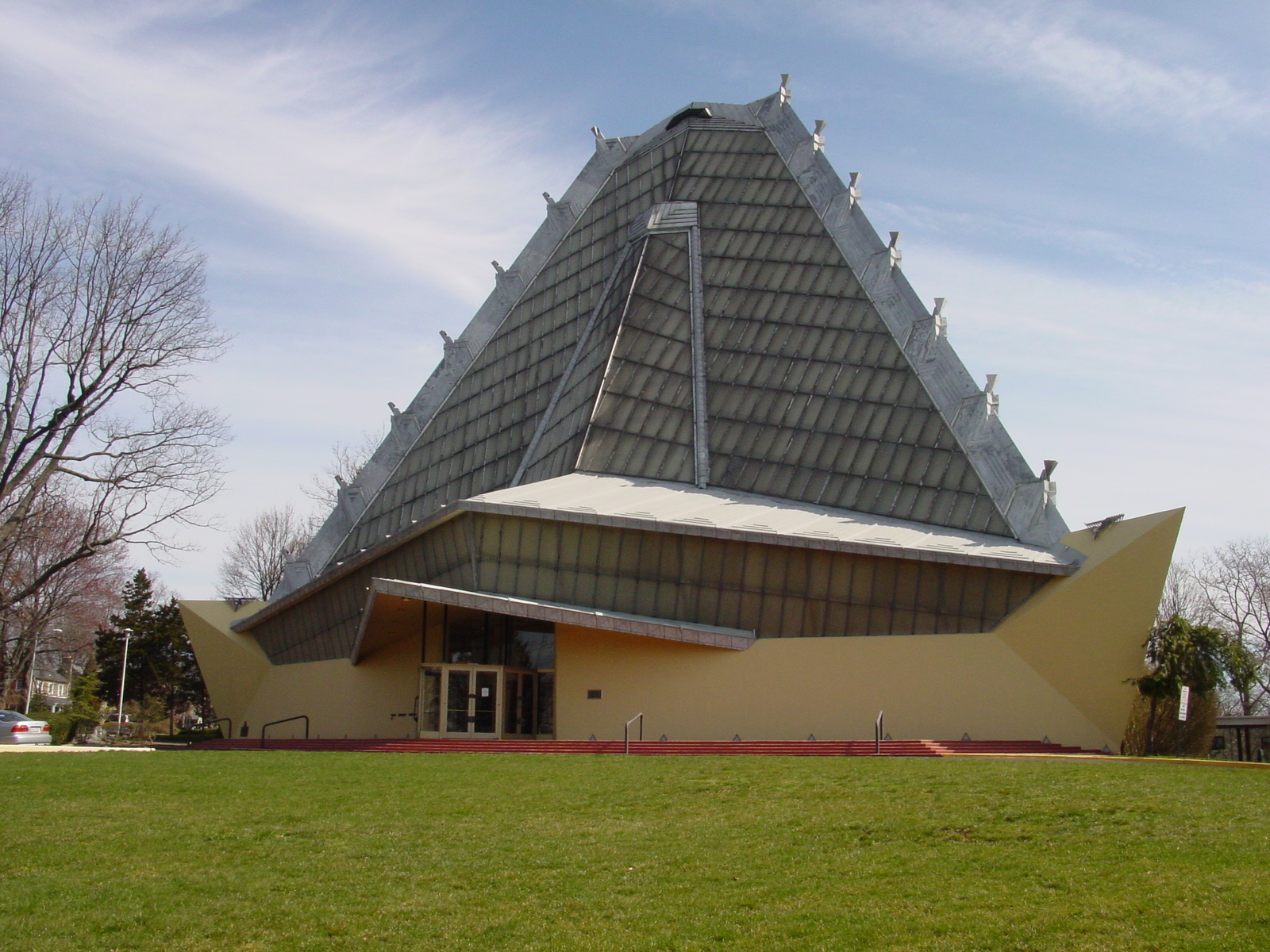 Beth Sholom, a Conservative Jewish congregation, was founded in 1918 and named "house of peace" in honor of the end of World War I. In 1953, Rabbi Mortimer J. Cohen persuaded Frank Lloyd Wright to accept the commission for the only synagogue he ever designed in his long career. The architect and the rabbi established a fruitful working partner-ship that led to one of a small group of religious buildings Wright completed. The synagogue was dedicated on September 20th, 1959, just over five months after Wright's death.
 
3:30 Board bus back to hotel

 
4:30 Shabbat Celebration, Review of Tour, and Dinner at Fratelli's Italian Bistro

---
Saturday: Jews in America
9:00am-9:30am – Discussion – "Only in America: Jewish American, American Jew"
(Holiday Inn Express 1305 Walnut Street, Philadelphia, PA 19107)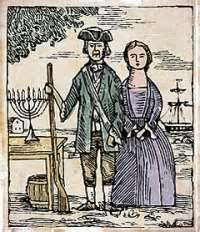 9:30 Jews in Colonial Philadelphia - Meet in hotel lobby for walking tour with Simmi Hurwitz.

Jews have lived in Philadelphia since at least Jonas Aaron in 1703, with its first congregation starting in 1745. What was the experience of Colonial era Jews, both Sephardim and Ashkenazim? How did the American Revolution affect this community?
Lunch on your own. Suggestions:
- Famous 4th Street Deli http://www.famous4thstreetdelicatessen.com/index_flash.html


2:00 National Museum of American Jewish History - Meet in lobby of museum for tour faciliated by Rabbi Adam Chalom.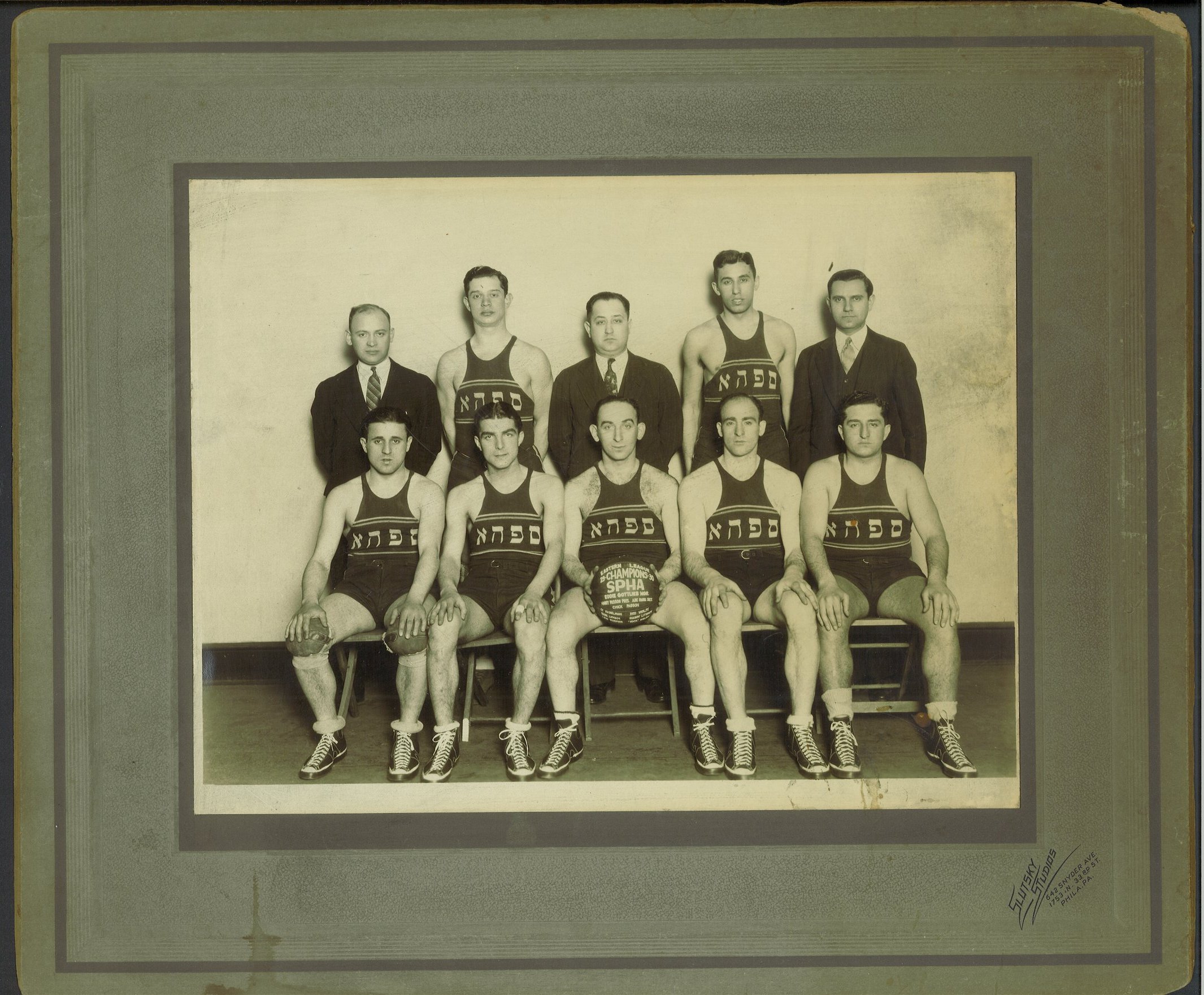 The National Museum of American Jewish History is a fascinating collection of artifacts and stories from over 350 years of Jewish life in North America. From the changes made by 19th century Reform Judaism, to the 20th century growth of the Jewish labor movement, to today's 21st centurty Jewish Diversity, Secular Humanistic Jews find connection from the roots and inspiration for their future. Many items on display were donated from the collection of Rabbi Peter Schweitzer of the City Congregation for Humanistic Judaism in New York City. A tour designed specifically around our interests!
Dinner on your own. Suggestions:
- Schlesinger's Deli www.schlesingersdeli.com
- Zahav 237 St James Place http://www.zahavrestaurant.com/
- More Than Just Ice Cream http://morethanjusticecream.com/
- Serafina http://serafinarestaurant.com/
- Spirit of Philadelphia Dinner Cruise http://www.spiritcruises.com/philadelphia/cruises/dinner-cruises
- Cibo: dinner and singing wait staff http://www.cibophiladelphia.com
Entertainment suggestion (can be booked as a group if enough interested):
7:30 Comedy Sportz Philadelphia: ComedySportz® is Philadelphia's longest running show. For the over 20 years, ComedySportz has entertained over 150,000 Philadelphia fans with its fast, smart and funny brand of improvisation.  $17.50/person
---
Sunday: American History and Identity
8:30-9:00am – Discussion – "Only in America: A Secular Democracy is Born"
(Holiday Inn Express 1305 Walnut Street, Philadelphia, PA 19107)


9:00 travel to: Liberty Bell, Independence Hall, President's House (tour facilitated by Rabbi Adam Chalom)
Liberty Bell
The State House bell, now known as the Liberty Bell, rang in the tower of the Pennsylvania State House. Today, we call that building Independence Hall. Speaker of the Pennsylvania Assembly Isaac Norris first ordered a bell for the bell tower in 1751 from the Whitechapel Foundry in London. That bell cracked on the first test ring. Local metalworkers John Pass and John Stow melted down that bell and cast a new one right here in Philadelphia.

Independence Hall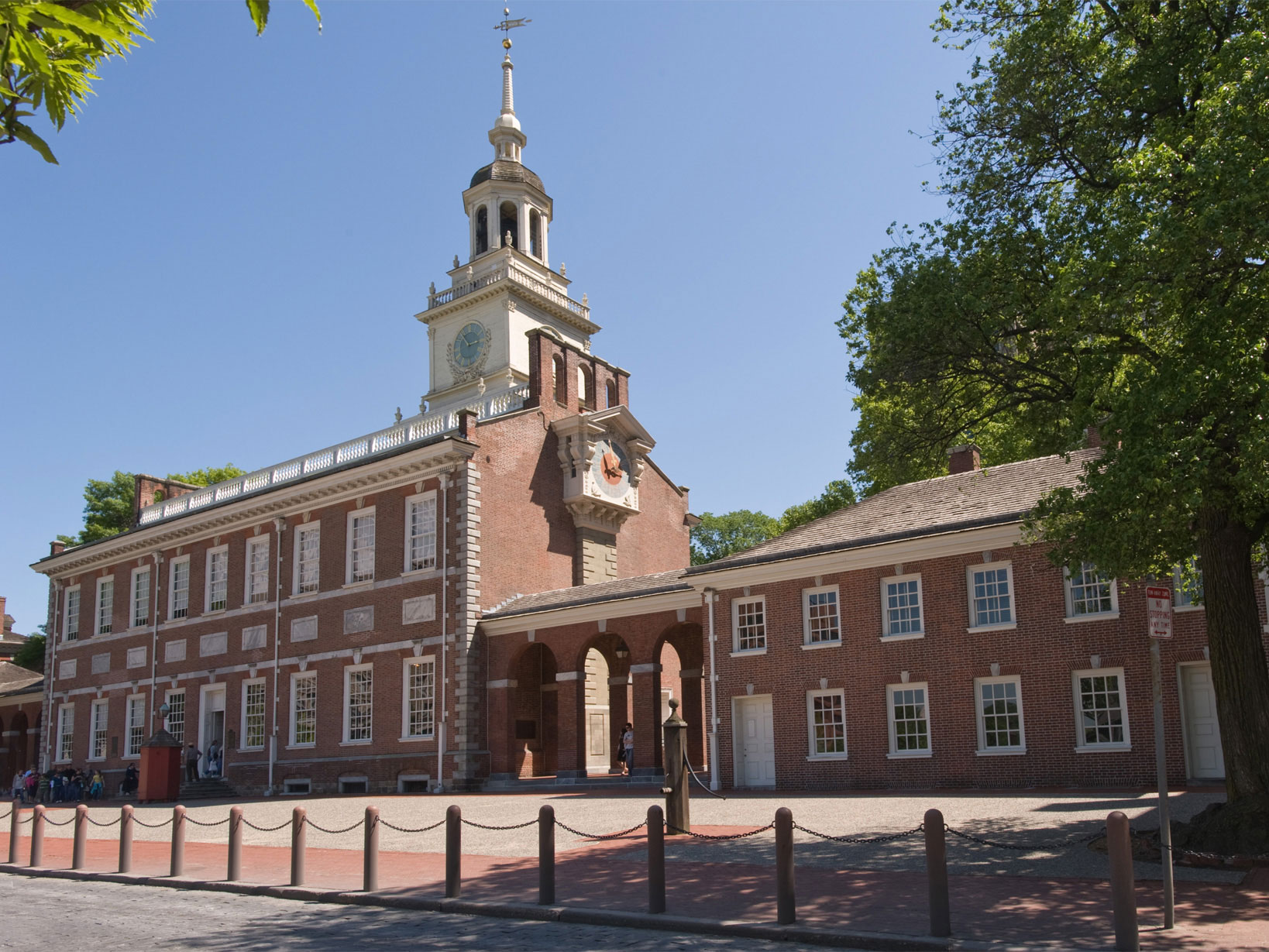 Independence Hall is the birthplace of America. The Declaration of Independence and U.S. Constitution were both debated and signed inside this building. The legacy of the nation's founding documents - universal principles of freedom and democracy - has influenced lawmakers around the world and distinguished Independence Hall as a UNESCO World Heritage Site. Built between 1732 and 1756 to be the Pennsylvania State House, the building originally housed all three branches of Pennsylvania's colonial government.
President's House
Freedom and Slavery in the Making of a New Nation explores the paradox of slavery and freedom at the nation's first executive mansion, in which Presidents George Washington and John Adams lived during their terms and where nine enslaved people served the first president.

12:00 Shalom and Bon Voyage
---
ADD ON RECOMMENDATIONS if you come early or extend your stay
            The Univ. of Pennsylvania Museum of Archealogy and Anthropology (Penn Museum)
---
For more information on
Jewish, Secular and Humanistic, American:
A Learning Tour of Philadelphia
please contact IISHJ Operations Manager Kate Forest
operations@iishj.org or 847-383-6330.
Save This Event
When & Where

Philadelphia

Philadelphia, PA


Friday, October 28, 2016 at 7:00 AM

-

Sunday, October 30, 2016 at 12:00 PM (EDT)
Add to my calendar
Organizer
International Institute for Secular Humanistic Judaism
Secular Humanistic Judaism celebrates cultural Jewish identity through a human-focused philosophy of life. The International Institute for Secular Humanistic Judaism offers professional training for Secular and Humanistic Jewish Spokespersons, Leaders, Educators and Rabbis. It also provides general adult education through seminars, Colloquia, and publications  For more information, visit www.iishj.org, email info@iishj.org or call 847-383-6330.
Jewish, Secular and Humanistic, American: Learning Tour of Philadelphia