Intel Bay Area Girl Geek Dinner

Wednesday, August 15, 2012 from 5:30 PM to 8:30 PM
Event Details
REGISTERING FOR INTEL GIRL GEEK DINNER:
*** UPDATED: The Wait List is now CLOSED.*** 
All lottery winners have been selected and notified, Please check your email if you received an email from Eventbrite that you are off the waitlist
IF YOU RECEIVED AN EMAIL YOU HAVE 12 HRS TO CLAIM YOUR TICKET
1. You must first click on the link in the email from Eventbrite AND THEN claim your ticket by RE-REGISTERING again for your spot.  
Any unclaimed tickets will be released to the next person on the waitlist. Sorry for the confusion, this is simply how Eventbrite works!
 *     *     *     *     *     *     *     *     *     *     *     *     *     *     *     *     *     *     *     *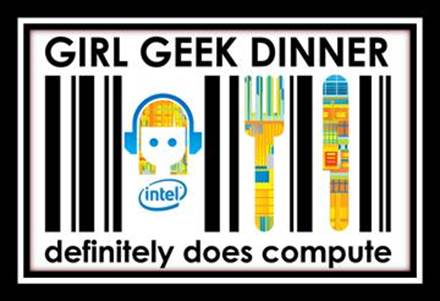 Join us for Intel's inaugural Bay Area Girl Geek Dinner on Wednesday, August 15 in Santa Clara, California for an evening of mingling, food and drinks, speakers, demos, and more!
Meet the rock stars of Intel!
Learn how to write your name in binary code.
Wander around the Intel Museum and discover the history of Intel and the technology around building a chip.
Get a first look at the cool new gadgets Intel has created, feel the weightlessness of the Ultrabook, and more.
Tie this all together with a fun scavenger hunt and enter to win the ultimate prize - the Ultrabook. 
(Hint: bring your camera/camera phone!)
Intel Girl Geek Dinner Agenda:
5:30pm - 6:30pm:       Registration, demos, and mingling over appetizers and cocktails
6:30pm - 7:15pm:       Discussion: Leveraging Diversity to Spur Innovation & Build Excellent Products
7:15pm - 7:45pm:       Fireside chat with Senior Vice President Renee James
7:45pm - 8:30pm:       Networking over desserts and coffee
Intel Girl Geek Speaker Bios:
    

Renée James

Senior Vice President

General Manager, Software and Services Group

Renée J. James is senior vice president and general manager of the Software and Services Group for Intel Corporation. She is responsible for worldwide software and services R&D and product delivery for all segments of Intel's product portfolio. In addition, she is responsible for the Intel worldwide developer programs. She is the P&L owner for Intel's software & services businesses as well as the Intel software subsidiaries. James is chairman of: McAfee, Wind River Systems and Havok. McAfee is a multi-billion dollar, world-class security software company. Wind River Systems is a leading real-time operating system vendor and embedded software provider. Havok is a leading middleware provider offering software products for high performance gaming such as physics and animation.

Previously, James was vice president of Developer Programs for Intel. In this capacity, she was responsible for overseeing Intel's relationship and development efforts with partners such as Microsoft. Prior to that, she was the director and COO of Intel Online Services, Intel's datacenter business. James has contributed to several key software and services R&D efforts during her tenure at Intel: the first software video codecs (Indeo) and the Application Programming Interfaces (APIs) for the unification of Unix on Intel Architecture. Additionally, she was part of the pioneering team working with Independent Software Vendors (ISVs) to move applications to the Intel Architecture.

James also serves as a non-executive director on the Vodafone Group Plc Board of Directors. James is an independent director on the VMware Inc. Board of Directors and is a member of the Audit Committee at VMware Inc. She is also a member of the C200.

James joined Intel in 1988 with the acquisition of Bell Technologies. She received her bachelor's degree in 1986 and master's degree in 1992, both from the University of Oregon.                                  

         

Tammy Cyphert

Vice President, Intel Architecture Group

General Manager, PC Client Group Operations

Tammy Cyphert is vice president of the Intel Architecture Group and general manager of PC Client Group Operations & Central Outbound Marketing Functions. She is responsible for driving internal and external facing operational excellence across the client organization. Cyphert drives customer excellence programs, business metrics improvements, velocity and efficiency programs, organizational health, training and events for the PC Client Group.  In addition, she leads PC Client Group Central Outbound Marketing which includes event and launch management and centralized outbound messaging.

Prior to this role, Cyphert held positions as vice president of the Sales and Marketing Group. She was director of Global Operations and Productivity, responsible for SMG global outsourcing solutions, the Customer Excellence Program, sales productivity and training programs. Cyphert was previously director of operations for Intel Americas Inc. responsible for revenue planning and demand forecasting for the Americas Sales and Marketing Organization's (ASMO) $20 billion annual business (approximate) managing all aspects of ASMO supply management, pricing, customer interface, order management, supply-line programs and internal operations programs.

Cyphert joined Intel in 1991, has held a variety of leadership roles and has managed a number of large teams and groups within Sales and Marketing.

Cyphert graduated from Golden Gate University with a bachelor's degree in business management.




Kimberly S. Stevenson

Vice President, Information Technology Group

Chief Information Officer

Kimberly "Kim" Stevenson is vice president and Chief Information Officer (CIO) of Intel Corporation. She is responsible for the corporate-wide use of Information Technology (IT). Intel's IT organization delivers leading technology solutions and services that enable Intel's business strategies for growth and efficiency. The IT organization is comprised of over 6,000 IT professionals worldwide.

Previously, Stevenson was vice president and general manager of Intel's Global IT Operations and Services. In this role she led both the strategic and tactical support of Intel's world-wide infrastructure components, including Data Centers, Network and Telecommunications, Enterprise Application Support, Client computing and a 24x7 internal Service Desk.

Prior to joining Intel, Stevenson spent 7 years at the former EDS, now HP enterprise services, holding a variety of positions including vice president of Worldwide Communications, Media and Entertainment (CM&E) Industry Practice, and vice president of Enterprise Service Management where she oversaw the global development and delivery of enterprise services. Before joining EDS, Stevenson spent 18 years at IBM holding several executive positions including vice president of Marketing and Operations of the eServer iSeries division.

Stevenson obtained a bachelor's degree from Northeastern University. She holds a master's degree in business administration from Cornell University where she is an appointed member of the Cornell University Johnson School Advisory Board.

Vida Ilderem

Vice President, Intel Labs

Director, Integrated Platform Research

Vida Ilderem is vice president of Intel Labs and director of the Integrated Platforms Research with focus on three research areas of System-on-Chip (SOC), Wireless Communication, and Physical Platforms. Prior to joining Intel in 2009, Vida served as vice president of Systems and Technology Research at Motorola's Applied Research and Technology Center. Vida holds a PhD in EE from Massachusetts Institute of Technology, and has 27 issued patents. Vida is raising 3 children that attend college and high school. She loves to read, travel, and hike/Zumba. 

 

Ann Kelleher

Vice President, Technology and Manufacturing Group

Co-General Manager, Fab/Sort Manufacturing

Ann B. Kelleher is vice president of the Technology and Manufacturing Group and FSM Co-General Manager for Intel Corporation.

Previously, Kelleher was site and plant manager for Fab 11X in Rio Rancho, NM where she was responsible for all aspects of the operation, i.e. safety, people and operational metrics for 45nm high-volume manufacturing and 32nm ramp.

Kelleher has also been the plant manager for Fab 12 in Chandler, Arizona, prior to which she was the factory manager of Fab 24 in Leixlip, Ireland. Kelleher joined Intel in 1996 as a process engineer, going on to manage technology transfers and ramps in a variety of positions spanning 200mm and 300mm technologies.

Kelleher received a bachelor's degree (1987), master's degree (1989), and Ph.D. (1993) in electrical engineering from University College Cork, Ireland




Charlyn Villegas (Master of Ceremonies)

Manager,

Intel Studios Creative Services

Charlyn Villegas manages the Santa Clara based Creative Services team at Intel Studios, where she has produced corporate videos for Intel for over 7 years. Though her background is in film and television, producing videos for Intel has been the most challenging and rewarding experience in her 12 year career in video production. She started her career at TechTV in San Francisco, and then worked on a travel technology-focused magazine show called, Travel Gear, for the Travel Channel. Her greatest and most anticipated experience is on the horizon in the form of a sabbatical at the end of the year. Charlyn is very happy and honored to be the MC at Intel's very first Geek Girl Dinner.
Attendee List
Sort by:

Date

|

First Name

|

Last Name
When & Where

Intel Corporation
2200 Mission College Blvd
Executive Briefing Center, RNB Lobby, Intel Museum
Santa Clara, CA 95054


Wednesday, August 15, 2012 from 5:30 PM to 8:30 PM
Add to my calendar
Organizer
Bay Area Girl Geek Dinners
Google hosted the first Bay Area Girl Geek Dinner in January 2008, inviting 400 girl geeks to enjoy sushi, an open bar, Google schwag, great conversation and even better networking at Charlie's cafe on the Google Mountain View campus. Events sponsored by Facebook and Yahoo! soon followed. Startups like LOLapps and Polyvore followed suit.
Today, Bay Area Girl Geek Dinners have been hosted by a diverse set of companies including Genentech, Palantir, Microsoft, Citrix Online, Electronic Arts…
The ask is simple — buy dinner and drinks for girl geeks, and give away a piece of co-branded schwag (to extend the lifetime of the event). Invite female speakers in areas of their expertise, from well-known names to the up-and-coming. Encourage networking amongst the girl geeks and recruiting by the sponsoring company. Everyone wins.
Want to be Notified of Future Bay Area Girl Geek Dinners?
Join the BAGGD mailing list here.
Want to SPONSOR a Future Bay Area Girl Geek Dinner?
Contact us here.
Meet the BAGGD Team!
Sukrutha Raman Bhadouria (Managing Director of Bay Area Girl Geek Dinners)
After earning her M.S. in Electrical Engineering from USC, Sukrutha now works as a Sr SW Engineer at salesforce.com. Sukrutha is involved in Girl Geek Dinners because she wants to change the world for girls, one geek dinner at a time. Follow her on Twitter at @sukruthasays.
Angie Chang (Founder of Bay Area Girl Geek Dinners)
Angie is currently working as a Director of Growth at Hackbright Academy. She enjoys running the mentor program and finding partner companies for Hackbright. Previously, she was the editor-in-chief and co-founder of Women 2.0, a media company which promotes women in high-growth, high-tech entrepreneurship. She has held positions in product management and web/UI production at startups in the Silicon Valley. Angie started organizing Bay Area Girl Geek Dinners in January 2008 and was thrilled when Sukrutha joined the one-woman team at BAGGD in 2011. She holds a B.A. in English and Social Welfare from UC Berkeley. Follow her on Twitter at @thisgirlangie. 
Intel Bay Area Girl Geek Dinner