Inaugural International Bazaar: Helping Haiti

Saturday, May 7, 2011 from 10:00 AM to 3:00 PM (EDT)
Event Details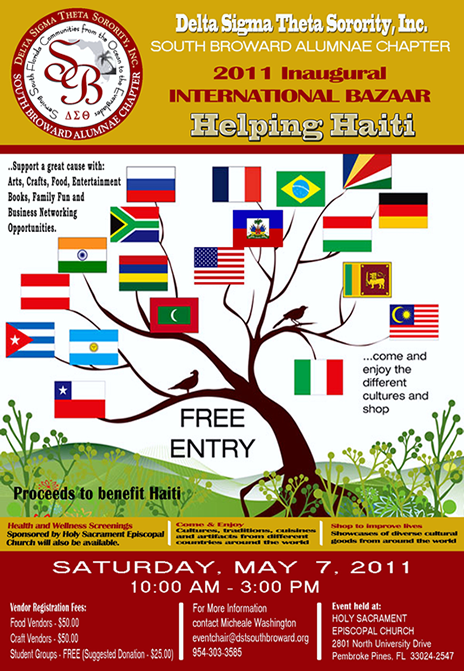 Greetings,  
Please join us.    Please forward.     Please post.     Please announce.       
We need your help for Delta Sigma Theta Sorority- South Broward Alumnae Chapter International Bazaar: Helping Haiti, to be held on Saturday, May 7, 2011 at Holy Sacrament Episcopal Church, 2801 N. University Dr., Pembroke Pines, Florida 33024.
·         Please join us as a vendor, a donor, a volunteer, a sponsor, a guest.  
·         Please forward this opportunity to friends.
·         Admission to this event is free and open to the public.
·         Vendor registration is due on or before May 4, 2011 (ONLINE REGISTRATION ONLY).
·         Free Health and Wellness Screenings will also be sponsored by Holy Sacrament Episcopal Church.
The International Bazaar provides a great way to earn money and recognition for a business, special project or service, while: acquiring quality cultural goods, eating fantastic international foods, making new friends, having fun, and Helping Haiti!
 Hours: Vendors will be allowed to sell/promote their goods or services on Saturday, May 7th, 2011 from 10:00 AM to 3:00 PM. Vendors may begin set up at 8:00 AM, however will not be allowed to set up after 10:00 AM. Vendors may not dismantle their vendor space until 3:00 PM.
Cost: Your cost will be $50.00 (price reduction) purchased by 5:00 p.m. May 4, 2011. This Payment MUST BE MADE IN FULL and is NON-REFUNDABLE. (ONLINE REGISTRATION ONLY). 
Space: The vending space provided will be 10' x 10'. Vendors are responsible for providing their own tent, chair(s) (if applicable), table(s), trash can, and electricity. Please adhere to the Vendor Checklist for required specifications. An area has been allocated for all vendors to sell their products. Space is allocated on a first-come, first-served basis. No space is guaranteed until the vendor payment is received in full and all applicable documents are completed by the specified due date. Remember, the spaces will go quickly.
Flyer, Vendor/Entertainment Information and Registration Form, and Wish List are available for download at http://www.dstsouthbroward.org/international-bazaar.html 
REGISTRATION FORMS MUST BE FAXED OR EMAILED IN ORDER TO COMPLETE REGISTRATION PROCESS.
954-303-3585 - phone
954-699-0405 - fax
For additional information, please contact: Micheale Washington,  eventchair@dstsouthbroward.org,
Thanks for any support you can provide. 
Best Regards,
Eileen  
Eileen Davis- Jerome, Ed.D.
International Awareness and Involvement Committee Chair
When & Where

Holy Sacrament Episcopal Church
2801 North University Drive
Pembroke Pines, FL 33024


Saturday, May 7, 2011 from 10:00 AM to 3:00 PM (EDT)
Add to my calendar
Organizer
Delta Sigma Theta Sorority, Inc., South Broward Alumnae Chapter (SBAC)
Delta Sigma Theta Sorority, Incorporated, South Broward Alumnae Chapter (SBAC) was chartered on April 17, 2009.  Our service area is from the Atlantic Ocean to the Florida Everglades, and from the Miami-Dade County Line north to Griffin Road. 
With focus on our Five Point Programmatic Thrust; which include Economic Development, Educational Development, International Awareness and  Involvement, Physical and Mental Health, and Political Awareness and Involvement, the members of SBAC are committed to service as we follow in the footsteps of our beloved Founders.
To ensure success, we need your help!  SBAC Scholarship Fund and Community Service Projects are supported by funds that are raised from the revenue generated from events hosted by the chapter and through donations from individuals and organizations.  100% of all income is reinvested in the community.  Your generous support makes the difference in the lives and communities that we service.
for more info visit:
http://www.dstsouthbroward.org
Inaugural International Bazaar: Helping Haiti