Holiday Happy Hour to Benefit First Graduate
San Francisco, CA
Bummer! Sales have ended.
Unfortunately, tickets for this event are no longer on sale.
Event Details
You're Invited to a Happy Hour at Tonic's Royal Tug Yacht Club Benefitting First Graduate!  
First Graduate is a non-profit in San Francisco that helps students become the first in their families to graduate from college.  Our aim is to equip students with the resources, opportunities and networks necessary to be successful.  

Guest Bartenders 
Two of our very own Board Members (Pat Pow-anpongkul from Trulia and Marcelo Quinones with Bingham) will be guesting bartending the evening.  A light competition will be encouraged (all of the tips from the evening will benefit First Graduate)!  
You'll Get to See Student Work
We will display work from students including their recent speeches about what they've learned as a first generation college-bound student (also called Presentations of Learning), a college roadmap for students as well as large board with a visual of top three colleges each one of our HS Seniors is applying to this fall.  
Video: #InspireAFirst (Infographic: What Does It Feel Like To Be FIrst?)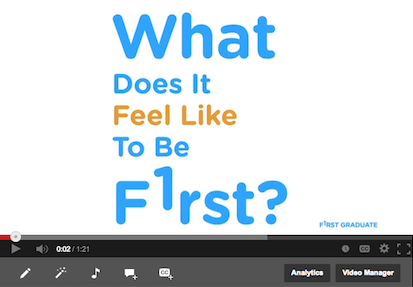 Whether you've been a volunteer in the past, or you were invited by a friend or collegue, we're delighted to have you join us as we celebrate the start of the holiday season. 
Cheers,

FG Staff