Green Schools NYC 2013 ~ Spring Conference & Resource Fair

Saturday, April 20, 2013 from 10:00 AM to 4:30 PM (EDT)

New York, NY
Who's Going
Loading your connections...
Event Details
Green Schools NYC 2013 ~ Spring Conference & Resource Fair

Calling ALL Schools, NGOs & Companies to
EXHIBIT and Register to attend Today!
Saturday, April 20th, 10am to 4:30pm
A Student-Driven, Citywide Event Hosted by:

Lycee Francais de New York
 505 East 75th Street, New York


NETWORK with schools, businesses and other sustainability experts

SHARE your greening experiences

DISCOVER resources to meet your sustainability goals

HEAR world-renown expert speakers

ATTEND training workshops with experts

SAMPLE innovative green products

EXPLORE sustainable, energy-smart solutions

LEARN to be a global leader in your own community

Coordinators: GSA Public, Private and Independent Schools of NYC
NOTE

:
Community Service hours offered to attending students.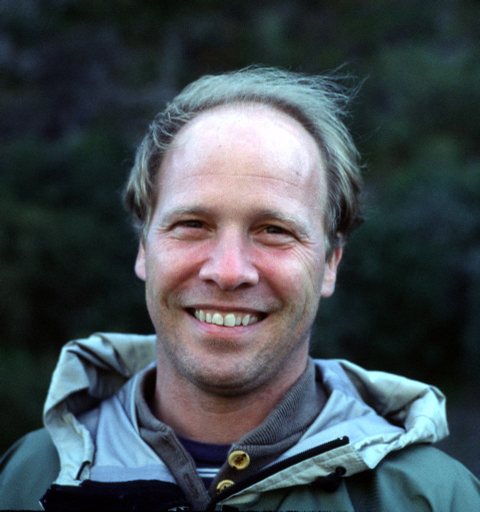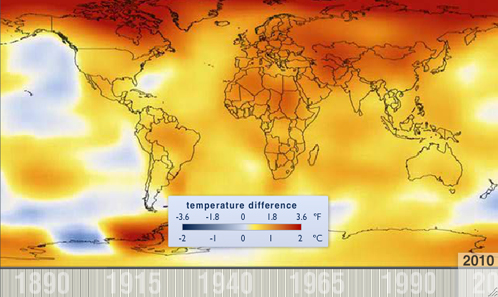 A GSNYC 2013 Keynote: Climatologist, Prof. Peter B. deMenocal. Watch Peter on CNN >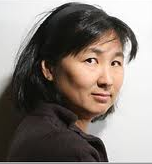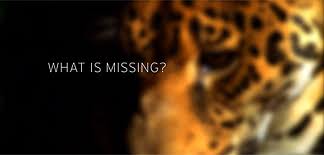 A GSNYC 2013 Keynote: Maya Lin, What Is Missing Memorial. Upload A Memory >                                                              
GSNYC 2013: Schedule and Speakers
Stand Up! to the Climate Cliff. Learn what YOU and your community can do to make a BIG difference, and help grow the new green economy.

Sat., April 20th ~ Conference & Resource Fair

09:00 to 10:00am   Registration & Check-in
10:00 to 11:00am   Welcome & Opening Keynotes
                               Peter deMenocal, Chair, Dept. Earth & Environmental Sciences
                                         Lamont-Doherty Earth Observatory, Columbia University 
                               Maya Lin, Architect and Artist, What Is Missing?

11:15 to 12:00pm   Break-Out Workshops

                              Renewable Energy: Powered By Wind & Sun (Site Tours)
                                         -- Ken Higgins, Sustainability Director and Dean of Students, Town School
                                         -- Terrence Kennedy, Facility Director, Lycee Francais de New York
                                         -- Katriina Prutzman, Mechanical Engineer, Urban Green Energy
                                         -- Jacob Sneeden, Regional Coordinator, EPA Green Power partnership
                                         -- Davetta Thatcher, NYSERDA
                              Sustainable Food: What's Landing on Your Plates
                               -- Nancy Easton, Executive Director, Wellness in The Schools
                                      -- Stephen O'Brian, Director, NYC DOE Office of School
                                      -- Steven Ritz, Dean of Students, Hyde Leadership Academy  

                                      -- Danielle Sanders, Whole Foods and Whole Planet

                                      -- Lisa Suriano,  Co Chair, NY Coalition for Healthy School Food               

                               Why Should We Care? Action, Education & Awareness
                                -- Katie Ginsberg, Executive Director, CELF
                                       -- Katy Perry, Director, green Cup Challenge  
                                          -- Will Hopkins, Director of Sustainability, Dalton School
                                       -- Howie Waldman, Green Dean, Fieldston School

12:15 to 01:15pm   Lunch (generously provided by FLIK Dining)

01:15 to 02:00pm   Plenary Panel

                               The Politics of the Environment       
                                          -- Rachel Amar, Policy Director, Waste Management    
                                          -- Hon. Gale A. Brewer, Councilmember, NYC Council
                                          -- Eric Goldstein, Senior Attorney, Natural Resources Defence Council
                                          -- Ron Gonen, Deputy Commissioner, NYC Department of Sanitation
                                          -- John Shea, CEO, DOE Division of School Facilitie
02:00 to 03:30pm   GSNYC Food Court & Resource Fair
                                         [in Partnership with Veggiecation]
~~~

Thurs., April 18th  ~ Film & Lecture
6:00 to 8:30pm        The City Dark, a film by Ian Cheney
                                Introduced by award-winning filmmaker Ian Cheney, 

                                Followed by discussion with Mr. Cheney, whose many films
                                include The Greening of Southie, King Corn and Truck Farm.
                                (Seating will be on an unreserved, first-come basis)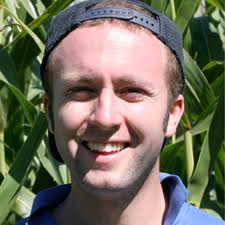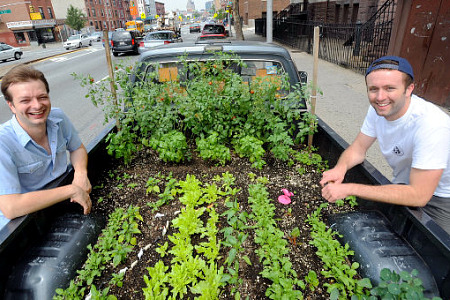 A GSNYC 2013 Keynote (Thursday, April 18th): Ian Cheney >

Students & Their Schools Leading The Way!
GSNYC 2013 School Coordinators:

 

Ethical Culture Fieldston School


Lycee Francais de New York

Collegiate School

The Town School


NYC Department of Education, Division of School Facilities

GSNYC 2013 wishes to thank our Co-Sponsors:
Some of GSNYC's Exhibitors (list in formation):
GSA SCHOOLS: Allen-Stevenson School, Beacon School, Bronx Design & Construction Academy, Chapin School, Dalton School, Ethical Culture Fieldston School, Lycee Francais de New York, NYC DOE, Pratt Institute, PS 29 Cobble Hill, Hewitt School, North Country School, Saint Ann's School, Samuel Gompers High School, St. Luke's School
COMPANIES & NGOs: Anne Fontaine Foundation, Apple to Zucchini, Appalachian Mountain Club, Audubon NY, Butterbeans, Brooklyn Grange, Candle 79, Center for Health, Environment and Justice, Children's Environmntal Literacy Foundation, Clean Plates, Cloud Institute for Sustainability Education, Community Envirocenter, ConEd Solutions, Earthwatch Institute, Environmental Associates of New York, EPA Green Power Partnership, Getting Tools To City Schools, Go Green Foundation, GSA: Green Cup Challenge/Sc3, Grow NYC, Guerilla Haiku Movement, Health Corps, iEat Green, JC Food, Junior Energy, Marner Architecture, Million Trees NYC, NYC Outward Bound Schools, NYSERDA, Seeds in The Middle, National Wildlife Federation, NY Coalition for Healthy School Food*, NYC H20, Spelt Right Food, Safe School Food Coalition, Sane Trash, Solar 1, Student Conservation Association, Sustainable Summer, The Terra Mar Project, Trail Blazer Camps, Urban Green Energy, Veggiecation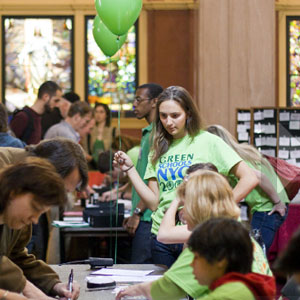 GSAx Resource Fairs (Collegiate School, GSNYC 2009)

GSNYC: Exhibitors and Sponsors

Interested in Exhibiting or becoming a Sponsor?
Register NOW!

Bringing Experts from Schools, NGOs, Business and the Community together to exhibit, share knowledge and grow the Green Revolution.
Join students and club leaders, school administrators, business officers, facility managers, teachers, parents, community leaders and elected officials, green businesses, NGOs and environmental groups who care about our shared future. Explore best practices. Discover ways to reduce money, and your climate impact.
For more info, contact us at: info@greenschoolsalliance.org
or visit our website
GSA Is Greening The Big Apple!
Uniquely created "by schools for schools," the first Green Schools Alliance resource event was launched in NYC at the Allen-Stevenson School in October 2007 to "empower students and their schools with the skills, knowledge, and tools necessary to meet their energy and sustainability goals."  Other Schools hosting GSA resource events have included: Town School, United Nations International School, Spence School, Collegiate School, Dalton School, Nightingale-Bamford School and the Martin Luther King High School Complex.
When & Where


Lycee Francais de New York
505 East 75th Street
York Avenue and East River


New York

,

NY

10021


Saturday, April 20, 2013 from 10:00 AM to 4:30 PM (EDT)
Add to my calendar