Global Product Management Talk on Twitter @ProdMgmtTalk

Monday, April 11, 2011 from 4:00 PM to 5:00 PM (PDT)
Event Details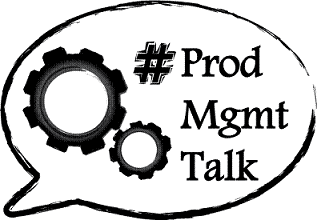 ProdMgmtTalk is a weekly virtual twitter discussion/gathering of people who identify as professional product managers AND those who are responsible for managing poducts from inception through launch, AND people with the title and/or in the department of "Product Manager, Product Marketing Manager, Product Management" AND people who develop products, are responsible for products, are concerned with the success of products and companies that produce products!
ProdMgmtTalk takes place on twitter by using the hashtag #ProdMgmtTalk within the twitter posting, and by searching for hashtag #ProdMgmtTalk to follow the twitter stream. 
Between Events:
Website: #ProdMgmtTalk http://www.prodmgmttalk.com
Email us: prodmgmtmrktg@gmail.com
Read: http://paper.li/ProdMgmtTalk
Follow us on: Twitter: http://www.twitter.com/ProdMgmtTalk
Like us on: Facebook http://on.fb.me/fCZoLS
Make suggestions at: Uservoice http://bit.ly/fPIGob
Subscribe: http://bit.ly/gHIWcO

Before Event:
RSVP: http://bit.ly/fThgve
Speaker Calendar: http://bit.ly/gV5xsM
background info: http://bit.ly/eFAB6G
questions to ponder: http://on.fb.me/fFRi7b

During Event:
twebevent http://bit.ly/dTTbk8
tweetchat http://bit.ly/eC3D09
automatically add #prodmgmttalk to your tweets to show up in twitter stream

After Event:
Blog your insights and read others http://bit.ly/eOFmB6
Twitter Transcripts & Lists http://bit.ly/htNQju
Sponsor Opportunity: http://bit.ly/eiyE8q
When & Where


Website: http://www.prodmgmttalk.com
Monday, April 11, 2011 from 4:00 PM to 5:00 PM (PDT)
Add to my calendar
2011-04-07 12:26:39
April 11, 2011 Topic:
"If you were to going to spend close to $250K on a project how much discussion would be involved?  How many meetings and how much buy-in would be necessary? What type of ROI would you need to get it approved?  Now, if you were going to hire a new product manager how much of that occurs?  
It is amazing how companies that put so much emphasis on market data can trust a hiring decision to a gut instinct. This week's topic will explore the best practices around interviewing and bringing on board a new PM.
About Speaker:
Larry McKeogh
Currently available product manager with firsthand experience of both good and bad company interview techniques. He started Rocky Mountain Product Camp, scheduled for April 26, 2011. Larry has over 10 years of software and hardware product management experience built on top of an electrical engineering degree that was applied to HDTV and advanced imaging system design.He also has a background in nuclear power plant instruction and operation. Larry participates in triathlon and outdoor activities year round in Boulder, Colorado.
Contact:
Larry McKeogh
twitter: http://www.twitter.com/lmckeogh
LinkedIn: http://www.linkedin.com/in/larrymckeogh
Background info:
http://lmckeogh.posterous.com/you-get-what-you-pay-for
http://www.accompa.com/product-management-blog/2011/02/10/tips-for-interviewing-product-managers/
http://www.bothsidesofthetable.com/2011/03/17/whom-should-you-hire-at-a-startup-attitude-over-aptitude/
http://www.smbceo.com/2011/03/29/hiring-best-people-for-business/
Domain experience question: http://www.280group.com/blog/?p=1284&cpage=1
Questions for both sides of the interview table:
1. Starting at the beginning, is product management well understood at your company? Why do you say that?
2. How does a company decide the type of product management skill level needed?
3. Are you looking for domain expertise? Are others e.g. HR, engineering?
4. What interview format(s) do you use (1:1, panel, scenario, presentation) and why?
5. What question(s) have you used to truly assess a candidates qualifications?
6. How, as a candidate, do you convey your value in a short period of time?
7. How important is culture and fit to your group?
8. Now that you've made the decision, how do you position your new PM for success?