Glappitnova

Saturday, February 23, 2013 from 5:00 PM to 7:00 PM
Who's Going
Loading your connections...
Event Details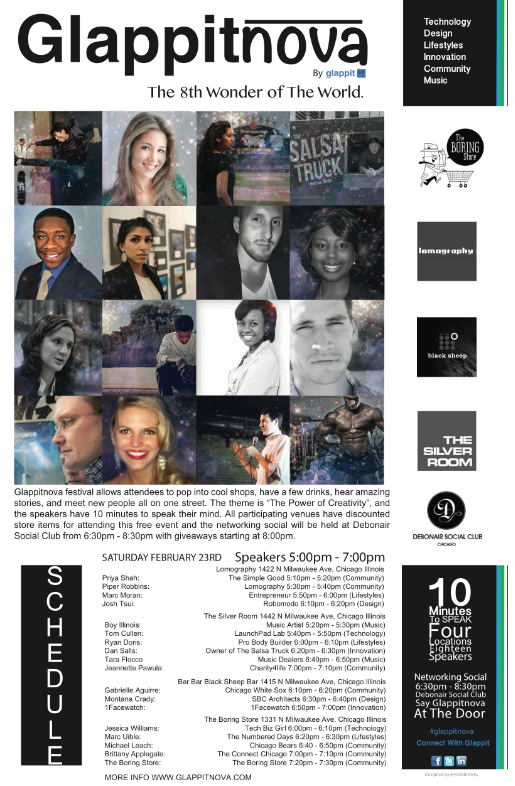 Glappitnova is a blog and festival of Chicago's best, held in multiple venues along Milwaukee Avenue.
"The 8th Wonder of The World," in Chicago's Wicker Park Neighborhood
Cultural Enthusiasts to Experience Glappitnova 
CHICAGO, FEBRUARY 18, 2013 – Emerging social marketplace startup, Glappit will launch its first ever festival in the trendy Wicker Park neighborhood on Saturday, February 23rd, from 5pm-7pm brining together Chicago's best creators and shakers. Glappitnova will be held in multiple venues along the ever popular Milwaukee Avenue, topping everything off with a networking social held at Debonair Social Club from 6:30pm - 8:30pm. The festival is free and open to the public.  
The festival hopes to give cultural enthusiasts the opportunity to drop into their favorite shops or bars and hear short stories from numerous speakers from a variety of industries – all while experiencing the vibrant culture of Wicker Park. 
"We're leaving it up to the attendees to customize this live experience; we want the stories of our speakers to spark discussion. It's really their prerogative, our intention is for people to learn or showcase a unique skill. We're hoping for greater connectivity," says Nick Brown, Founder of Glappit.
The goal of the Glappit brand and the Glappitnova festival is uniquely focused on storytelling, interactive experiences, and information sharing all while having a good time doing it. The festival will bring startups, influencers, creatives, seekers and doers together in hopes of sparking that interactive connection. 
"Despite Chicago being an emerging hub for culture, technology, and business, we believe those hubs aren't necessarily interconnected. That's why Glappitnova provides a great opportunity to bring people, talents and culture together because everyone has a little something to share," says Mike Webb, Co-Founder of Glappit.
The discussion leader's time-slots will be staggered to allow attendees the opportunity to check out as many of the great speakers and venues that Milwaukee Avenue offers. The Glappit crew believes participants who experience Glappitnova will learn something uniquely different, recognize someone from TV, put a face to an individual they read about, or even hung out with but didn't know how truly awesome they are. That is what Glappit hopes to accomplish in their latest effort. 
"We're starting small but we have great expectations of Glappitnova growing into something similar to South by Southwest (SXSW) mixed with a Speakers' Corner and held in the great city of Chicago. We will add our unique flavor to it because this is, of course coming from the guy with a company named Glappit," says Brown. 
Glappitnova's speaker schedule list is located at: http://glappitnova.eventbrite.com "The speakers range from Bachelor contestants, to video game developers of Mortal Kombat."  The categories for the first Glappitnova Festival are: Comunity, Design, Technolgy, Lifestyles, Innovation, Music. 


Here is the confirmed speaker's list to date. 

Jeannette Cherie Pawula http://www.linkedin.com/in/jeannettepawula Charity4Life, The Bachelor, more
Dan Salls Owner The Salsa Truck http://thesalsatruck.com 1st Food Truck in Chicago
Music Dealers http://www.musicdealers.com HBO, CBS, Dexter, The Good Wife, etc
1Facewatch https://www.facebook.com/1FACEWATCH Forbes, Gizmo, News, more
Josh TsuiCo-Owner of Robomodo http://www.robomodo.com Mortal Kombat, Tony Hawk, more
Marc Moran Co-Founder of RSVP Gallery http://marcchristophermoran.tumblr.com Artist, Superfun, Fashion, more
Marc Ubile Director The Numbered Days http://thenumbereddays.com Huffington Post Best Parties in the Chi
Boy Illinois https://www.facebook.com/imilli Karmaloop Tv, SXSW
Tom Cullen Co-Founder Launch Pad Lab http://launchpadlab.com/team Chicago Ideas Week Site, more
Priya Shah Co-Founder The Simple Good http://www.thesimplegood.com World Wide Photo Sharing Blog
Piper Robbins http://www.lomography.com Intern to Store Owner
Brittany Applegate http://www.youtube.com/watch?v=jg63pCbKGN4&feature=player_embedded Influencer
Ryan Doris Pro Bodybuilder https://www.youtube.com/user/ryand304 Sponsored athlete
Montana Crady http://www.scb.com Model Shop Manager
Jennifer Walling www.linkedin.com/in/jenwalling Executive Director of Illinois Environmental Council
Participating venues are The Silver Room, The Boring Store, Lomography, Bar Bar Black Sheep Bar, and Debonair Social Club. Connect with Glappit on Twitter , Facebook and Linkedin to stay informed. More information can be found at www.glappitnova.com.
Organizer
Glappit
Glappit is a social marketplace to share, discover, and sell information surrounding your location. We connect people based on interests, and anylize the shared information to be sold for our user's benefit. Forget a like, retweet, or pin, gimme money now. Outside of the online world, we have amazing festivals known as Glappitnova where storytelling, performaces, parties, and competitions come to life. This tech-lifestyle startup is currently building the back-end technology. If you need more information send a message to info@glappit.com.
The Founder is: @ynickbrowny
The Co-Founder is @imikewebb